Gamecocks blow late lead, get swept by Georgia
SOUTH CAROLINA GAMECOCKS BASEBALL
Entering the ninth inning, Brett Kerry had cruised through four no-hit innings, pitching a shutout and striking out four batters along the way as the Gamecocks held onto a one-run lead.
Then things started to unravel quickly: double skips over Jacob Olson's glove and into left, a RBI single gets rocketed to right, then a one-out single finds green grass in right again.
Before Kerry knew it, he was leaving a tie game after recording one out in the ninth, a game the Gamecocks ultimately lost 4-2 to Georgia to get swept in the series.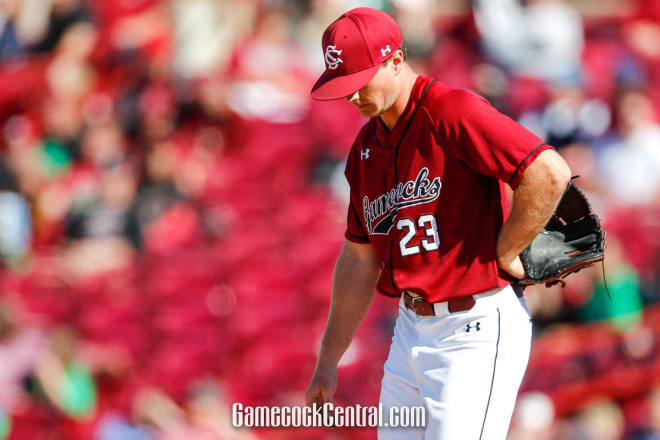 "He deserved to get a win today, there's no doubt about it. We had them shut out on one or two hits going into the ninth inning," Mark Kingston said. "They all deserved a better fate, that entire team deserved a better fate. Again, sometimes baseball can be very cruel. We have to fight back from it and we will."
Also see: Gamecocks impress local hoops prospect
The Gamecocks looked dominant through the first eight innings, giving up just one hit behind starter TJ Shook and Kerry.
Kerry came out to start the ninth and gave up those back-to-back hits to tie the game before Sawyer Bridges came in with one out and gave up a three-run homer to the No. 9 hitter Tucker Maxwell to give Georgia a lead South Carolina couldn't come back from.
Kerry is credited with his first loss of the season after leaving with runners on the corners that ultimately came home on the Maxwell shot to right after he initially showed bunt to start his at-bat.
"It's just one of those fluky things. It was a bad pitch and I'm sure he wishes he had it back. Again, it's just one of those things," Kingston said. "They were trying to safety squeeze and take one run there. They sure didn't think he'd hit a three-run homer. We just made a bad pitch and he snuck it around the pole."
The Gamecocks (14-6, 0-3 SEC) couldn't rally in the ninth, getting a solo home run from Jacob Olson but nothing else.
After being no-hit through three innings and putting two runners on through four innings, they'd take the lead in the fifth, loading the bases and using a two-out RBI single to center from Quinntin Perez.
It was just the first hit he's had since Feb. 23 and he delivered in a big moment, finishing 2-for-4 and driving in the Gamecocks' first run.
"It was good to finally come up and get a hit in the right situation," he said. "I worked, made a couple adjustments with coach and it finally played off."
Hitters struggled after the fifth, getting shut out and picking up two hits after that scoring inning.
The Gamecocks would strike out 14 times against Georgia Sunday, bringing their total to 41 this weekend.
"Obviously we pitched really, really well for the most part. We just have to put it all together," Kingston said. "I told our hitters this is big boy baseball in terms of the pitching they faced. Guys that have swings that might be a bit long, you got a really good lesson on how to make the adjustment this weekend."
Also see: Scoop from Friday's Board of Trustees meeting
In his first weekend start of his career, Shook pitched around trouble in the first but dominated after that. He'd load the bases with no outs to start the game but got out of it with two pop ups and a strikeouts.
After that it was all Shook, who carried a no-hitter into the fifth inning before a leadoff double. He finished pitching four-plus shutout innings, striking out six and walking three. Of those three walks, only one came after the first inning.
He'd leave after giving up that double in the fifth and Brett Kerry pitched out of the jam with a fly out and two punch-outs. Kerry would pick up where Shook left off, pitching four no-hit innings of his own, giving up just one base runner on a walk before struggling in the ninth.
"It was definitely interesting. It's probably not the way you want to start a game, especially a game as big as this, but I'm lucky I got out of it," he said. "I'm glad I continued throughout the game with some success."
Also see: Full updates and analysis from Sunday's game
Player of the game: Perez picked up two hits and drove in the team's first run on an RBI single in the fifth.
Key moment: After a solid four innings, Kerry was sent back out to start the ninth before giving up the tying run. He was pulled and was credited with two more runs in the inning.
Up next: South Carolina hits the road for a midweek game Tuesday against Furman at Fluor Field in Greenville. First pitch is scheduled for 6 p.m. and there is no broadcast scheduled yet for it.