Errors cost Gamecocks as they drop series
SOUTH CAROLINA GAMECOCKS BASEBALL
South Carolina came into SEC play with a .973 fielding percentage and averaging an error an outing, but it never really came back to hurt them in a game.
Saturday it did.
The Gamecocks committed three costly errors early against Georgia as they couldn't hold onto an early lead, losing 8-7 and dropping their fifth-straight series against the Bulldogs.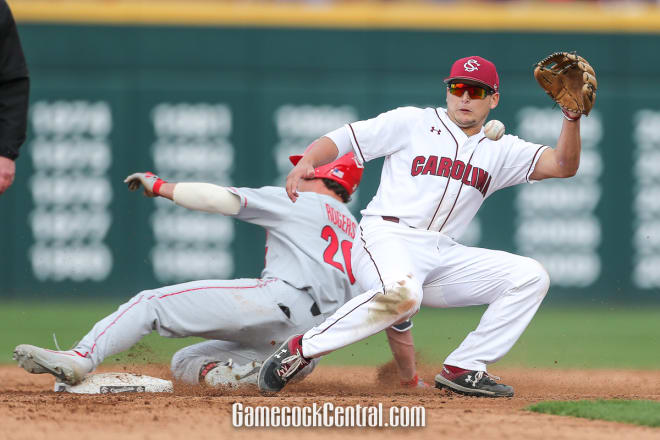 "Those are routine balls that need to be made at this level, period. I just saw errors made, there's no excuse there," Mark Kingston said. "I didn't see bad feet, I just saw routine plays that should have been made."
Also see: Gamecocks impress local hoops prospect
The Gamecocks made three errors Saturday, tying a season high, with a wild pitch mixed in as well.

It's the twelfth time in 19 games they've committed at least one and the seventh time they've had multiple, contributing to three unearned runs the Gamecocks (14-5, 0-2 SEC) gave up Saturday.
That didn't help Reid Morgan (2-0, 3.38 ERA) in his outing as he gave up five runs, four earned, over four innings. After pitching around two walks in the first two innings, Morgan gave up a run in the third before a four-run fourth for the Bulldogs.
Morgan gave up all of his runs on six hits the last two innings of his outing, doubling his season walk total with two Saturday, against what Kingston called a "veteran, strong, talented team."
"They hit everything that was placed. Everything I threw outside they'd take the other way. They have a good eye," Morgan said. "They see pitches down, they see pitches up and when they see pitches up they'll rip it and get a hit. It was pretty difficult to get through their lineup but at the same time I have to command my pitches better than I did today."
Also see: Scoop from Friday's Board of Trustees meeting
The Gamecocks jumped out to an early lead, using homers from Luke Berryhill, Ian Jenkins and Andrew Eyster to score six runs over the first four innings but plate just one run after that.
After going up 5-1, South Carolina was outscored 7-2 over the final six innings.
They'd get the leadoff hitter on in four of the last six innings but had just two hits against Georgia's bullpen. After striking out 15 times Friday, they struck out 12 times in game two against some hard-throwing pitchers.
"It was really the velo in my opinion. Most big leaguers can't hit 99 consistently and being in college it's tough," Berryhill said. "We can do it, we just have to make some adjustments and have a good approach going up to the plate. I think it's the velo that got us today but we'll bounce back tomorrow."
One of their best chances came in the eighth inning when, after a Chris Cullen sacrifice fly and Brady Allen walk, pinch-hitter Noah Campbell came up representing the tying run and grounded into a fielder's choice before Nick Neville struck out looking to end the inning.

Saturday was the second time all season Campbell didn't start a game, this time with a shoulder injury.
"Noah hurt his shoulder on a check swing yesterday on one of those fastballs from Hancock. He was not at full strength today and couldn't really throw," Kingston said. "We had to make the decision on do we DH him or do we give him the day off. I didn't feel like he could give us four or five at-bats today. I thought maybe he'd give us one at bat like he did there at the end."
Also see: What Frank Martin said after the Gamecocks' exit from the SEC Tournament
The back-end of the Gamecock bullpen did try and settle things down and give the offense a chance to work, shutting out Georgia the final three innings and holding them to just two base runners the final 3.2 innings of play.
Dylan Harley, in his second outing this weekend, pitched 1.1 shutout innings and gave up just one hit before Cam Tringali pitched 2.1 perfect innings with three strikeouts.
Harley, who came into this weekend with a 11.57 ERA, has thrown two scoreless innings against Georgia with three punch-outs.
"He's a very important guy for us," Kingston said. "He hasn't gotten off to the start we wanted this year but hopefully he's turning a corner. It's a really good team he's pitching against and he's having good success. We're hoping that's something we can build on."
The Gamecocks are now on their first losing streak of the year and the first skid since dropping back-to-back games in the SEC Tournament at the end of last season.
They'll come out Sunday looking to avoid getting swept for the first time since last year's series against Georgia.
"We just have to battle back from some of the mistakes we've had today and refine our approaches we had at the plate," Berryhill said. "It's really just more mental stuff than anything: handling balls, we just have to be mentally tough and bounce back as much as we can."
Also see: Full updates and analysis from Saturday's game
Player of the game: Luke Berryhill had two hits and a RBI and scored twice Saturday.
Key moment: The Gamecocks had the tying run up to the plate in the eighth but Noah Campbell grounded into a fielder's choice and Nick Neville struck out to end the threat.
Up next: The series concludes Sunday as the Gamecocks try to salvage the series. Sunday' game is scheduled to start at 1:30 p.m. on SEC Network Plus.