Gamecocks cruise to midweek win
SOUTH CAROLINA GAMECOCKS BASEBALL
TJ Shook knew pretty early Tuesday he had his best stuff entering his second start of the season, but had to slug through two innings and a mound visit from pitching coach Skylar Meade to showcase it.
Once he did, the redshirt sophomore turned in a career outing, setting the tone as the Gamecocks two-hit The Citadel Tuesday night in a 9-0 win at Founders Park.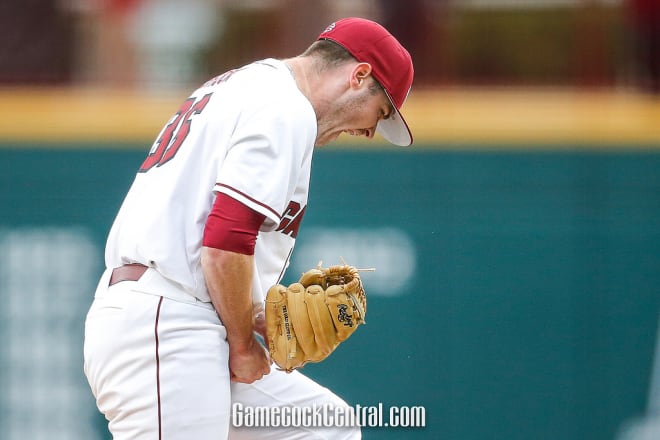 "Coach Meade came out to talk to me and said I need to get my stuff together," Shook said. "I just started attacking the zone and trusting my stuff and that's what took care of things."
Also see: Full recap on what Wolford had to say Tuesday
After pitching around two walks in the second, Shook settled in and pitched arguably the outing of his career, tossing 6.1 shutout innings and striking out 12, both career highs.
He gave up one hit, a two-out single in the third but got around it and didn't allow a hit the rest of his outing. After the single, he retired 10 straight batters and 13 of the final 14 he faced.
With at least one weekend rotation spot up for grabs with Carmen Mlodzinski out with a foot injury, head coach Mark Kingston said he's not ready to put Shook (2-0, 3.38 ERA) in that conversation just yet but that could change if he keeps pitching like he did Tuesday.
Of Shook's 101 pitches, 64 were for strikes.
"Weekend role, probably not yet, but I would love to see him pitch like this every Tuesday night. There's no doubt about it," Kingston said. "I thought for the first time this year he was a consistent strike thrower. It was strike after strike after strike. That's why he went into the seventh on 100 pitches and had 12 strikeouts. To me, that was his best command of the year and we want to see that repeated. If he pitches like that, he's got a chance."
Also see: Big-time quarterback prospect takes in USC practice
Once Shook got out of that second inning, it was the offense's turn to work.
The Gamecocks put up eight runs on six hits in the second inning to jump out to a quick lead and never look back.
Andrew Eyster led the inning off with a solo home run, his third of the season. Through six games he was hitting just .227 but now leads the team with a .386 batting average.
He finished the game going 1-for-3 with two walks and two runs scored and is slashing .386/.451/.682 in 12 starts.
"I feel better than I ever have to be completely honest. I'm seeing the ball well and I feel like I have all kinds of time to recognize the pitch and swing. I don't feel like I'm getting beat by anything. I just feel extremely comfortable seeing spin, laying off spin," Eyster said. "It's just minor adjustments and I feel really, really good right now. I'm hoping to continue that."
In just his third start, George Callil belted his first career home run, crushing a middle-middle fastball on a 2-1 count for two-run shot to the visiting bullpen.
He now has five RBI this season and is hitting .250 in eight at-bats and could become a more frequent player in the lineup if he continues at this pace.
"It was good. I knew I got it pretty good but I was still running as hard as I can," Callil said. "I'm not taking any chances until I know for sure. It was nice to get that first home run out of the way."
After putting up a season-high 17 hits in Sunday's win over Clemson, the Gamecocks had nine runs on seven hits Tuesday with eight of their nine runs coming on four extra base hits.
Shook and John Gilreath, who had 2.2 scoreless innings, combined for just two hits and pitched a shutout while striking out 16 total batters.
"Obviously it would have been really easy for us to come out flat after a big weekend and I thought the guys did a really nice job in the pregame, batting practice and in our infield work and prepared to play a really good game today and we did," Kingston said. "I thought Shook and Gilreath were excellent on the mound, and kind of set the tone for everybody else."
Also see: Observations on rivalry weekend and thoughts on the Friday starter spot
Player of the game: Shook was dominant in his second start of the year, picking up a career-high 12 strikeouts and allowing just one hit.
Key moment: After walking the first two batters in the second inning, Shook responded with three straight outs with two strikeouts to end the threat. The Gamecocks scored eight runs in the bottom half of the inning.
Up next: The Gamecocks have a quick turnaround hosting Gardner-Webb Wednesday at 4 p.m. Hayden Lehman will be the starting pitcher. The game will be streamed on the SEC Network Plus.