Gamecocks dominate Clemson, take series
SOUTH CAROLINA GAMECOCKS BASEBALL
Coming into Sunday's game, TJ Hopkins and the rest of the Gamecock seniors had never beaten Clemson twice in the same year and didn't want to leave after their careers never beaten their arch rival.
They can't say that anymore.
Led offensively by Hopkins and Luke Berryhill and by a dominant pitching performance, the Gamecocks crushed Clemson 14-3 Sunday to win their first series over the Tigers since 2014.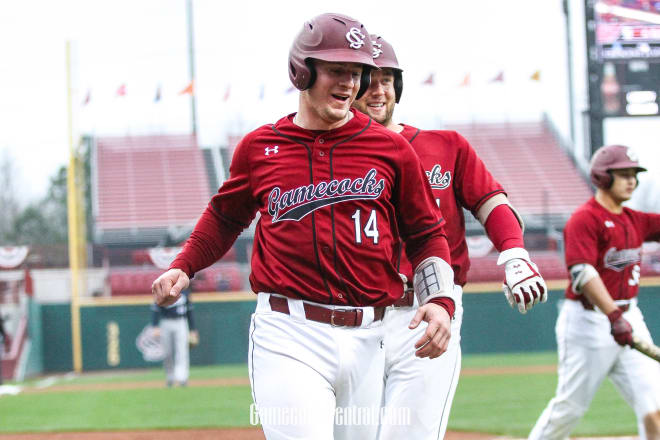 "I grew up a huge South Carolina fan," TJ Hopkins said. "It took three years of my college career to get it done and it's never felt better."
Also see: Big defensive back recaps visit to Gamecocks' practice
Hopkins had a homer and a two-run double while Berryhill belted two home runs Sunday as the two combined to drive in nine runs with Berryhill having a game-high five. They're now tied for the team lead with 16 RBI through 11 games.
The Gamecocks (9-2) picked up a season-high 17 hits against Clemson and of the nine starters Sunday, seven had at least one hit. Six of those had multi-hit days with Hopkins finishing 4-for-5 with four RBI and a triple away from the cycle.
Berryhill picked up five RBI Sunday and now he and Hopkins are tied for the team with 16 runs driven in this year. Six different players drove in at least one run and three players had at least one extra base it.
They jumped all over Clemson early, chasing starter Justin Wrobleski after just a third of an inning as part of a five-run first before scoring five in the fourth and three more in the sixth.
"I think our hitters were very aggressive, very relentless. Also, if they didn't get their pitch they let it go. That's what good offenses do. That's what good hitters do," Gamecock head coach Mark Kingston said. "They're going to walk to the plate very aggressive. If you get your pitch, let it fly. If you don't, you take it and go get the next pitch. I think they did a tremendous job of that; 14 runs on 17 hits? That speaks for itself."
Also see: Latest team scoop, insider notes on recruits this spring
Then, once they got up, it was Reid Morgan's turn to dominate.
After eight strong innings last weekend, the junior righty turned in another quality start Sunday.
He'd scatter eight hits over his outing and allow just three runs, two earned. Morgan (2-0) struck out five and left with two outs in the sixth to a standing ovation. Of his 100 pitches thrown, 69 were strikes.
He still hasn't walked a batter in 20.2 innings this year and has a 1.74 ERA through three starts.
"The seniors that are here, doing that for them for their last go-round just fired me up," he said. "I told myself to do it for them. I went out there, did my thing and had fun doing it."
Also see: What Will Muschamp said breaking down the quarterbacks, team this spring
Player of the game: Berryhill finished 3-for-4 Sunday and had three extra-base hits. He had a game-high five RBI.
Key moment: After Clemson scored two runs in the sixth inning, the Gamecocks loaded the bases in the bottom of the inning and got three runs out of it to nip any chance of a comeback in the bud.
Up next: The Gamecocks take on The Citadel at 4 p.m. Tuesday on the SEC Network Plus. No starter has been named yet.
RELATED GAME COVERAGE