Gamecocks don't waste Morgan's outing, walk-off Valpo
SOUTH CAROLINA GAMECOCKS BASEBALL
South Carolina struggled to find consistent offense for eight innings. They had scraped together a run on six hits before the ninth inning. Then that's when Stuart Lake stepped in.
The Gamecocks' assistant coach got the entire team together for a between-inning mosh pit and, three pitches into the ninth inning the Gamecocks had launched two home runs to walk-off Valparaiso 3-2 Saturday night.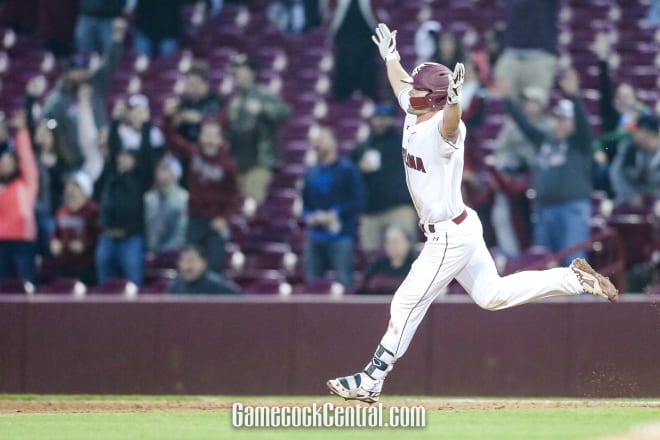 "In the dugout Coach Lake got everyone going and everybody's screaming and pushing each other in a circle," Jacob Olson said. "We did it the last time we walked off and it's just a thing we do now. This team has a lot of hear and that's why a lot of things happen."
Also see: How South Carolina plans to improve the run game this season
Luke Berryhill tied the game, launching the first pitch of the inning to the Gamecock bullpen in right-center before Olson launched another solo shot, this time over the wall in left.
It was Berryhill's first game-tying homer of his career and two pitches later, the Gamecocks were celebrating as Olson touched home plate.
"I just put it in my head that I wanted to be the hero in that moment," Berryhill said. "Heroes do what heroes do. You have to come up in the big time."
The duo helped salvage a win out after a dominating start from Reid Morgan, who finished one out away from a complete game.
It's the third outing of his career he's pitched at least seven innings with Saturday's performance the longest outing from a Gamecock pitcher since Tyler Johnson's complete game in 2016.
"When you have Reid on the mound, it doesn't matter who we're playing," Olson said. "I don't care if we're playing the New York Yankees, I'd be completely confident in him. That's all I can say. When he's on the mound, I feel like we're unstoppable."
Also see: Quick notes on a few hoops visitors this weekend
He picked up a career-high 10 strikeouts in 8.2 innings, carrying a perfect game into the fourth inning and retiring the first 11 batters he faced before giving up a two-out single in the fourth.
After motoring through the first five innings of the game, Morgan (2-0, 1.88 ERA) hit trouble in the sixth. He'd put two runners on with one out and give up back-to-back RBI hits before getting a double play to stop the bleeding.
Gave up just two hits his final 2.2 innings and did allow his first walk of the season, something he can laugh about now.
"I knew that and the first thing I did was look at Jacob and I was pissed. I was like, 'Why?' Iwas like it's going to happen, they're going to come,'" Morgan said. "I'm not going to be perfect all season. I told my self I might as well get it out of the way now. I got back in the dugout and people were giving me hell over it. It was funny."
Click for Saturday's box score
Saturday is the Gamecocks' third walk-off win over the first 15 games of the season and second time they've hit a walk-off home run.
It was the first win of the season with the Gamecocks trailing entering the eighth inning.
"Every guy in the dugout has to believe. The players got together there at the end of the dugout and did some sort of rally cry and we started to hit," Mark Kingston said. "You always have to believe. You can't let any doubt or negativity seep in. you have to believe it and hope you can see it through."
Also see: Full updates from Founders Park Saturday
Player of the game: Despite not getting the decision, Morgan stitched together a phenomenal outing, finishing one out shy of a complete game and striking out 10 batters.
Key moment: Valparaiso pulled starter Tieman before the ninth inning and reliever Montana Quigley gave up back to back home runs to start his outing.
Up next: Game three will start at noon Sunday with no starter announced yet. It will be streamed on the SEC Network Plus.