Gamecocks drop Auburn rubber match
SOUTH CAROLINA GAMECOCKS BASEBALL
In the end, it was just too big of a hole to dig out of.
Needing a win Sunday to clinch their first SEC series win of the year, the Gamecocks showed a lot of fight but ultimately couldn't overcome a shaky start, falling 7-5 to Auburn and dropping the series.
South Carolina has now lost its first three SEC series for the first time since 1992, the team's first year in the conference.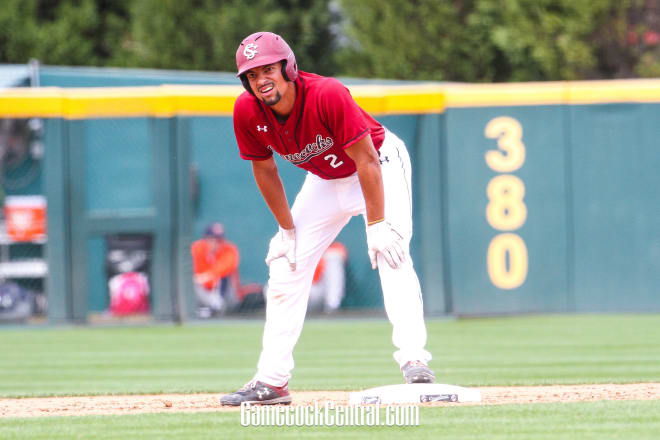 "I mean, obviously losses like this aren't fun to go through but we're not halfway through the (SEC) season," Cam Tringali said. "We have plenty of time to get it around. We have that one inning where we gave up a six spot but I thought all weekend our pitching staff looked great. Our offensive approach looked great this weekend. If we build off that, then nothing changes."
Also see: Desmond Evans has Gamecocks high on list after visit
The Gamecocks (17-11, 2-7 SEC) took the lead early, loading the bases with one out in the first and Chris Cullen driving in a run on a five-pitch walk.
It was a short-lived lead though, with the Tigers scoring six runs in the second inning to take a lead they never surrendered the rest of the way.
Starter TJ Shook (2-1, 4.15 ERA) was chased after 1.1 innings after giving up a two-run homer and walking two batters after that.
It was his shortest start since lasting just an inning against Winthrop on Feb. 19 and left giving up four runs—all earned—on two hits. He'd throw 42 pitches, just 22 for strikes.
"Shook just lost it there. I don't know how to explain that. It shouldn't happen. He was fine in the first inning, got the first guy out, got the next guy 0-2 and hit him," Mark Kingston said. "He couldn't control the bleeding and that's not acceptable for a guy who has been in the program that long. That can't happen, can't happen."
Also see: Alex Huntley gets to go in-depth with John Scott Jr.
Tringali came in for him and allowed both runners he inherited to score. He'd allow a RBI single on 0-2 to Matt Scheffler before giving up a three-run shot to Edouard Julien.
"It really goes back to the guy before. I had a chance with two. I had him two strikes and two outs. I had a fastball up and didn't get it up enough," Tringali said. "He gets a base hit and pushes it to the next guy. I had a fastball in that clearly wasn't in enough and he put a good swing on it. That's the difference in the game."
After that he'd settle in, allowing just one run the rest of his outing.
The redshirt freshman pitched a career-high 4.2 innings, not allowing a run the final three innings of his outing. He'd give up just three hits, one being the big home run, but retired nine of the final 10 batters he faced.
Brett Kerry came in to pitch the final three shutout innings, allowing just one hit.
"I feel like we should have won that game 5-2 or 5-3 but we were real sloppy there in the second and that's why we lost," Kingston said.
The Gamecocks tried to make it a game in the eighth with Ian Jenkins and George Callil launching solo shots to left field to trim a four-run lead to just two but they couldn't get over the hump.
They'd put two runners on to start the ninth but three-straight pop outs from the middle of the order—Luke Berryhill, Jacob Olson and Chris Cullen—ended the game.
"I thought that was a no-brainer with Luke there and Jake there, you're trying to drive a ball in the game or take a guy with that wind," Kingston said of the ninth inning. "We weren't going to waste Berryhill, who was obviously swinging a very hot bat today. He looked like he found his swing again. With the personnel we had, that was a no-brainer."
Berryhill finished with three hits, his first multi-hit day since March 16 and Callil had a career-high three hits and was a triple away from the cycle.
Offensively they struck a season-low four times but it wasn't enough in the end Sunday. Of their 27 outs, 14 were either fly outs or pop ups.
"Saturday and Sunday we cut down the strikeouts big time and had a lot more competitive at-bats," Berryhill said. "We made really good progress this weekend. In practice this week refined our approach with two strikes and I think it really paid off."
Also see: Gamecocks expecting a big baseball signee to enroll this summer
Player of the game: George Callil notched a career-high three hits and was a triple away from the cycle while also making a nice leaping play at short for an out.
Key moment: South Carolina loaded the bases with one out in the first with power hitters coming up and only got one run out of it with a strike out and pop up ending the inning.
Up next: South Carolina hits the road for a midweek game in Charlotte Tuesday against No. 5 NC State before traveling to Alabama for a three-game series starting Thursday. First pitch Tuesday is scheduled for 7 p.m.