Gamecocks drop heartbreaker in series finale to Florida
SOUTH CAROLINA GAMECOCKS BASEBALL
GAINESVILLE, FLA.—Like plenty of games in the SEC before Saturday, South Carolina found itself with a chance late to hold on and win a conference series.
Up a run in the ninth with freshman Wesley Sweatt on the mound, the Gamecocks were a strike away from doing just that and getting that elusive first series of conference play on the road at Florida.
Sweatt fired low to Austin Langworthy on a full count, walking him and things unraveled from there as he'd walk the next batter before giving up a three-run walk-off homer to Jordan Butler.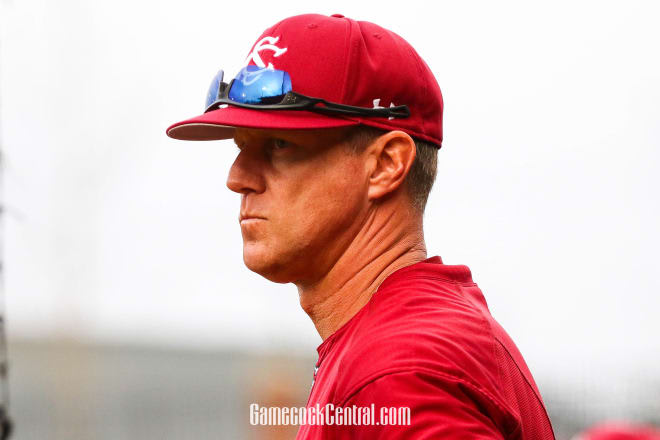 "We can't beat ourselves, and that's what this team needs to continue to learn. A lot of times we lost games we've beaten ourselves," Mark Kingston said. "We got two quick outs in the last inning then we walked two guys. Freshmen need to understand when the job requires you to throw strikes you throw strikes. You don't help a team like that on the road. We're close, but close isn't good enough."
Also see: Latest recruiting scoop from Rivals camp
With Saturday's 6-4 loss, the Gamecocks are now 11-7 in games decided by two runs or less, and it's the first time they've been walked-off this season.
After a back-and-forth first four innings that had things knotted up at two runs apiece, the Gamecocks (21-15, 4-11 SEC) jumped out to a two-run lead in the fifth after a run-scoring fielder's choice and a RBI single from Jacob Olson.
After that, the Gators scored four unanswered runs for the win. They'd plate one in the seventh to cut into the lead before Sawyer Bridges escaped a bases-loaded jam in the seventh.
Sweatt (2-3, 4.75 ERA) escaped a two-on, one-out threat in the eighth unscathed and got two quick outs in the ninth before things started to unravel. They've now lost three times this year when leading after eight innings and are 16-3 in those games.
"The close games we've lost is because something happening in the game of us not playing sharp baseball," TJ Hopkins said. "Wes is a competitor and a really good pitcher here. I feel comfortable when he's on the mound. It's one of those things where you have to be as sharp as you can be."
Also see: What did we learn from this year's spring practice
Of the 10 pitchers South Carolina threw out this weekend, all but two are in their first or second year with the program and, while a loss like Saturday's hurts with Kingston calling it a "missed opportunity," he hopes his young pitchers can grow from it.
"Experience is expensive. It's hurtful sometimes. He was out there with the game on the line and if he makes a couple more pitches we win the game," Kingston said. "He was out there for a reason—because we have confidence in him—and we'll continue to have confidence in him. This kind of experience will be very valuable and it's painful as you go through it. I wish, he wishes and the whole team wishes he would have done a better job on the last couple hitters but it doesn't change our feelings on him."
Click for Saturday's box score
The Gamecocks are off to a rough start in SEC play with just four wins over the first half of the conference season and haven't won back-to-back conference games all year.
Now they're hoping a loss like this doesn't compound and turn into more losses in the future with little margin for error the rest of the way as they fight to make the SEC Tournament.
"If it hasn't snowballed by now it won't snowball," Kingston said. "We get ready to play the next game hard, that's what we do."
Also see: Recruiting scoop on Tisdol, Kaba, more
Up next: South Carolina's road trip continues with the Gamecocks traveling in the midweek to play North Carolina at BB&T Ballpark in Charlotte Tuesday. First pitch is scheduled for 7 p.m.