Gamecocks drop midweek game
SOUTH CAROLINA GAMECOCKS BASEBALL
Coming off a weekend where the Gamecocks put up just 10 runs over three games against Tennessee, offensive struggles continued Tuesday night against North Carolina A&T.
Despite a solid pitching performance from a quartet of Gamecocks, offensively they picked up just five hits and were shutout for the first time in 40 games, dropping Tuesday's game 2-0.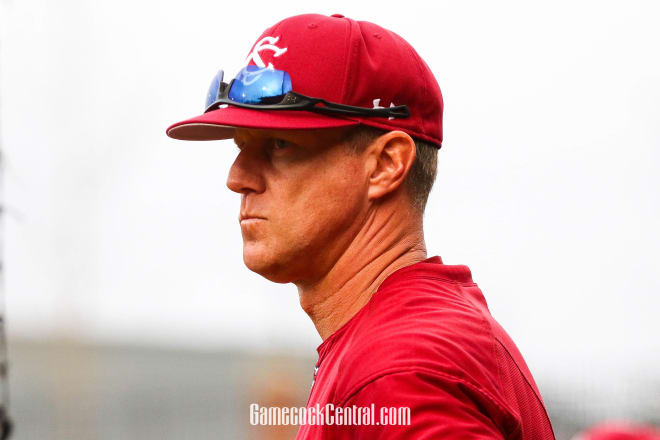 "Congrats to NC A&T. They pitched well, played great defense and they beat us tonight. I would have like to seen us be able to score one run tonight but we weren't able to," Mark Kingston said. "They pitched really well and they beat us."
Also see: Latest football and basketball recruiting scoop
It's just the second midweek game they've lost this season but the Gamecocks are now 4-6 over their last 10 games and three of their last four. Since SEC play started they're averaging just over four runs per game and have struck out 80 times over the same span.
"We need to get better. We've known that for a while," Kingston said. "We need to get better. I don't need to see the stats right now to know that. We're going to keep getting better."
They'd only allow two runs on four hits, but offensively is where the Gamecocks struggled Tuesday night, getting shutout for the first time this season.
They'd be no-hit through two innings before a George Callil two-out double in the third ended a perfect game big from A&T starter Michael Johnson, who allowed just three hits in his outing.
It was the fifth time the Gamecocks have mustered just five hits in a game, which ties a season low and they struck out 11 times, including twice with a runner on third to end the game.
Also see: What Coleman Hutzler said in his spring availability
"Not good enough," Kingston said. "They threw some really good pitchers. Obviously the stats bear out that they were good. They threw good guys out there but you're at South Carolina, you should be able to handle that."
After Callil's double, they put a runner on in seven straight innings to end the game, including four times getting a runner in scoring position but couldn't scratch anything across.
They'd strike out 11 times and hit 0-for-10 with runners on and went hitless with runners in scoring position, stranding eight.
"Take better at-bats," Kingston said of his team's hitting approach with runners on base. "Our pitching was great; our defense was great. I don't know how many runners we left on base tonight but it was too many."
Also see: Latest team scoop from spring practice
Dylan Harley gave the Gamecocks what they needed from the pitcher spot, going a career-long 4.2 innings in his first start since March 3.
He gave up two runs on back-to-back two-out hits in the third inning but settled down after that. He walked just one batter compared to five strikeouts and scattered three hits over his outing.
He'd hit trouble in that third inning, walking Dustin Baber with two outs before giving up an RBI double and a run-plating single after that. The second run came on a play at the plate where Luke Berryhill dropped the ball on a throw home from Brady Allen.
Harley (1-2, 7.77 ERA) has a 3.48 ERA in five outings (10.1 innings) since moving out of the weekend rotation.
"He threw strikes, he had good stuff and the fastball was up to 93. his changeup was at a better speed to played up his fastball in that 80 to 81 range," Kingston said. "So he started to get some swings and misses on that, so he started to throw strikes except for the two-out walk that led to their two runs. It was a better outing, he's making progress and we need him to."
Player of the game: Wes Sweatt kept his team in the game allowing just one hit in 3.1 scoreless innings with his team down a pair of runs.
Key moment: The Gamecocks got a leadoff double from Luke Berryhill and got him to third with one out but two strikeouts ended the threat.
Up next: The Gamecocks are back at home this weekend hosting Auburn in a three game series. First pitch Friday is scheduled for 7 p.m. on the SEC Network Plus.