Gamecocks drop midweek game to Gardner-Webb
SOUTH CAROLINA GAMECOCKS BASEBALL
After Tuesday's shutout win over The Citadel, Mark Kingston said he had a good feeling before the game that bled over into the nine-run win.
Wednesday, he noticed the same style of preparation but the results weren't the same as the Gamecocks tied a season-low with five hits and the bullpen gave up seven runs to lose 10-2 to Gardner-Webb at home.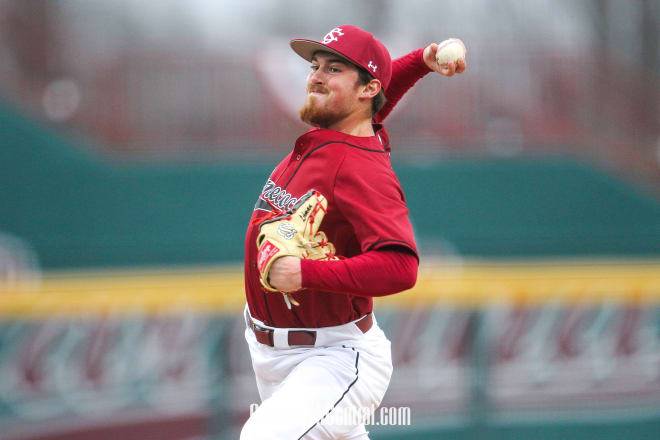 "Credit Gardner-Webb," Kingston said. "They played better than us tonight in a lot of areas and they deserved to win."
Also see: Full recap from today's defensive player availability
The Gamecocks (10-3) had no answer for Bulldog starter Noah Davis, who tossed six innings of two-run ball and struck out eight.
He'd allow two runs in the fourth inning with the Gamecocks loading the bases with one out and getting a pair of runs on a sacrifice fly and a Jordan Holladay RBI single but that was it.
"He changed speeds, he was throwing a cutter that we just didn't have an answer for that kept us off balance all night," Kingston said. "He looked like a fastball-slider guy in our scouting reports and the videos we watched and he added a couple wrinkles tonight that we just didn't handle very well."
Also see: Big-time quarterback prospect takes in USC practice
With Chris Cullen out getting some rest for his back, Holladay started at first and Wes Clarke started at catcher to spell Luke Berryhill, who had caught the previous 11 games and needed a break.
Berryhill slid to the designated hitter spot with Clarke catching and hitting eighth in the first major lineup shakeup in a while.
The Gamecocks offensively picked up just five hits, tying a season-low set Feb. 17 against Liberty, and didn't have a hit the last 3.1 innings and put just one base runner on the final three frames.
They struck out 11 times Wednesday and are averaging 10.2 punch-outs per game.
"It needs to improve, there's no doubt about it. You can't strike out as much as we have. We're averaging nine or 10 a game and that needs to go down," Kingston said. "I think that it will as all our new players get at-bats and experience but it needs to happen quickly."
Also see: Observations on rivalry weekend and thoughts on the Friday starter spot
Pitching-wise, starter Hayden Lehman dug his team into an early hole, giving up three runs over the first two innings of the game before typical Saturday starter Dylan Harley came in for his first relief appearance of the season.
He'd give up three runs, all earned in 1.1 innings before leaving after loading the bases in the fourth. All three runners he put on would come home to score as the Gamecock bullpen gave up seven runs, six earned, on nine hits and walked four.
"It just wasn't good enough," Kingston said. "Command wasn't good enough, stuff wasn't good enough and Gardner-Webb made us pay."
Click for Wednesday's box score
Player of the game: Jacob Olson went 3-for-4 with a double and made a few really nice defensive plays at third.
Key moment: Still in the game in the seventh, Parker Coyne came in with the bases loaded and needed one out to get out of a jam. Instead he threw two wild pitches to plate a pair of runs and another came home on a passed ball to end the Gamecocks' chances of a comeback.
Up next: The Gamecocks start a three-game series this Friday with first pitch scheduled for 7 p.m. at Founders Park. No starter has been named yet but it will be televised on SEC Network Plus.