Gamecocks drop opener in Knoxville
SOUTH CAROLINA GAMECOCKS BASEBALL
KNOXVILLE, TENN.—South Carolina fought hard to get back into a game Friday night they quickly fell behind in early. After falling behind four runs through two innings, the Gamecocks scraped and clawed to get it within two runs.
That's when things started to snowball.
The Gamecocks couldn't keep up with Tennessee the rest of the way, getting outscored 10-2 the final seven innings behind spotty defense and the inability to string together hits to drop the series opener to Tennessee 15-5.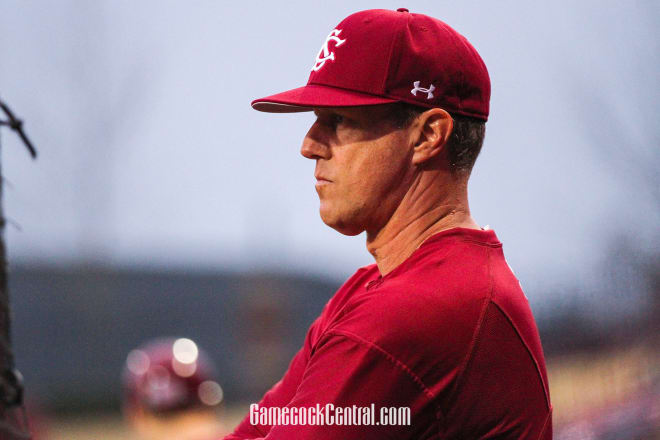 "We were sloppy early on. We got a good workout in here last night on this turf and I didn't expect that early on. We were sloppy early and gave them some free bases, we gave up a run on a throw away and I thought we settled in after the first couple innings defensively. We didn't give up any more errors the rest of the way but on Friday night in the SEC you have to play clean baseball."
Also see: What Bobby Bentley said in his spring media availability
The Gamecocks gave up 15 runs on 17 hits, both season highs breaking their old mark of 11 runs allowed in a loss to Clemson 15 hits given up earlier this year against the Citadel.
Tennessee scored in six of the eight innings it hit in, and they put up multiple runs in every inning they scored in but one, including a four-spot in the sixth inning off reliever John Gilreath.
Gilreath finished giving up six runs, all earned, on six hits.
In his third weekend start, Wes Sweatt (1-2, 5.68 ERA) got knocked around a little, giving up eight runs—six earned—on 10 hits. He walked two and didn't strike a batter out for the first time in an outing this season.
The 3.1 innings is the shortest start of his career and Sweatt didn't get as much help as needed behind him. Andrew Eyster and TJ Hopkins collided in the outfield, dropping a fly ball that plated a run and the Gamecocks committed two errors through the first five innings and struggled to make routine plays all night.
"They battled him. They put the ball in play and we made some mistakes early that gave them some momentum," Kingston said. "Later on he just couldn't put them away. They did a good job with two strikes and they just couldn't put them away there."
Also see: Scoop on a big, big list of visitors this weekend
Eyster had to leave the game after colliding with Hopkins, coming off the field gingerly. Joel Brewer replaced him and picked up two hits, the first multi-hit game of his career.
Offensively the Gamecocks put themselves into a few good spots but couldn't string together enough hits at a time to mount a major rally.
Jacob Olson, Brady Allen and Ian Jenkins each homered and the Gamecocks got two more runs before the seventh inning but nothing after that with Tennessee answering every run South Carolina went on Friday night.
Olson now has the team lead with his ninth home run this season with three of the team's five runs coming of solo homers.
"It's a good pitching staff we're facing. We ended up with 11 hits, which is not bad on a Friday night in the SEC. obviously we can hit the home run but we need to hit some more timely home runs. We need some more production when guys are on base."
The Gamecocks would put multiple runners on base with less than two outs three separate times Friday and get one run combined out of it. They hit 2-for-14 with runners in scoring position and stranded 10.
"During the game I'm not even thinking about it. If you had told me I wouldn't have even known. It's baseball, man," Olson said. "You just have to get the job done. We'll be fine. We're going to come out tomorrow ready to play."
That was the first loss to Tennessee since 2015 and just the third time since 2015 they've lost four straight conference games. It's the largest margin of defeat in a game since losing 14-1 against Kentucky last season.
Now they'll need to win Saturday to avoid losing five straight SEC games since 2001.
"It's just one of those days," Olson said. "We struggled we had guys on base and have to forget about it and come back with an edge. That 15-5 is not what we want to see. We're going to come back from that and be just fine."
Also see: What we learned from pro day
Player of the game: Joel Brewer had two hits in his first extended run this season.
Key moment: The Gamecocks loaded the bases in two innings and got just one run out of it. As a team South Carolina struck out 10 times Friday.
Up next: The Gamecocks try to even the series Saturday afternoon at 6 p.m. with Reid Morgan on the mound. The game will be televised on the SEC Network Plus.