Gamecocks drop opener to Auburn
SOUTH CAROLINA GAMECOCKS BASEBALL
Heading into this weekend's series with Auburn, Mark Kingston wanted to see better at-bats from his team against one of the nation's best pitchers in the SEC. He got his wish Friday night, but it wasn't enough to stop a three-game losing streak.
The Gamecocks scored two runs off four hits against Tanner Burns, ultimately dropped the series opener to the Tigers 4-2.
They're now 8-5 in games decided by two runs or less and have started 1-6 in SEC play for just the second time since joining the conference in 1992.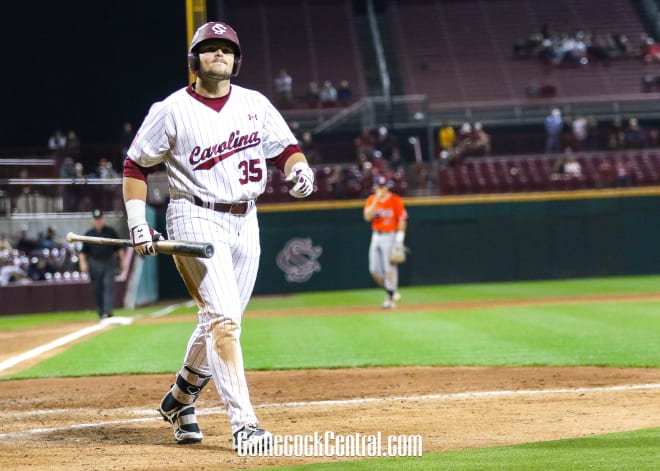 "We want to win. We keep losing close games so this team needs to continue to grow up. I told the team after the game they competed and made the adjustments offensively that we demanded of them," Kingston said. "We saw better, more competitive at-bats but we want to win. We want to win, period. We're all tired of saying it's almost there. We're here to win, so that's where the frustration comes from."
Also see: Scoop on a few visitors this weekend
The Gamecocks (16-10, 1-6 SEC) struggled to get going against Burns, who came in as D1Baseball's top starting pitcher in the country.
Despite putting together quality at-bats most of the night—they averaged around 4.3 pitches per batter—they pieced together just two hits and put one runner in scoring position through five innings.
They got to Burns in the sixth inning with Noah Campbell launching his fourth homer of the year, a two-run shot to right to cut the lead then to just one run for the Tigers.
They'd put runners on base in all but one inning Friday and hit 1-for-13 with runners on and 1-for-4 with runners in scoring position.
Kingston did say he thought his team barreled a few balls up with Campbell and Brady Allen both hitting balls he admittedly thought were gone when they left the bat.
"Obviously he's one of the best pitchers in the country in the ratings or whatever you want to talk about, he's up there in all of them," Campbell said. "I feel like as a team we committed to having a better two-strike approach and having a better approach overall and just attack. I feel like we showed tonight what we're capable."
Also see: Latest scoop on a big time hoops visitor this weekend
For Campbell, he finished the day 1-for-3 with that two-run blast hitting in the two-hole for just the third time this season. Over his last four games, he's 5-for-14 with two extra base hits and two RBI. He's also stolen two bases.
"He clearly has found his stride offensively," Kingston said. "That's about four games in a row where he's been Noah again. He's clearly back to where he needs to be offensively."
The Gamecocks (16-10, 1-6 SEC) got what they needed from their pitching, limiting Auburn to four runs, three of which came in the second inning. They'd throw up zeroes through six straight innings before a two-out RBI double in the ninth.
In his first Friday-night start, Lloyd looked good outside of one rough patch to start the second inning. After a leadoff walk and wild pitch, he'd give up four straight singles to plate three runs before settling in nicely.
"I was throwing strikes, they were just hitting everything. I was throwing right there," Lloyd said. "I had to work around it. I got a little out of breath; I like to have a little rhythm and I got out of that. Once I got back on it, I was straight after that."
He'd finish scattering six hits over five innings with only two coming outside of that second inning. He'd rack up a career-high eight strikeouts to just two walks.
Cam Tringali and Wes Sweatt would relieve him and had some success before a leadoff single in the ninth and a run-plating double with two outs in the inning.
"He had good stuff tonight. His fastball was consistently 93; he had good poise," Kingston said of Lloyd. "He only walked two guys and had eight strikeouts. On a Friday night in the SEC, that's everything you could ask for out of a freshman."
Also see: Gamecocks get huge news from big baseball signee
Player of the game: In his first test against high-level competition, Daniel Lloyd looked good, striking out eight and scattering six hits over five innings.
Key moment: South Carolina put the leadoff man on in the eighth of a one-run game and got him to second with one out thanks to a sacrifice bunt but a fly out and strikeout ended the threat. Auburn scored its insurance run in the following half inning.
Up next: Game two of the series is Saturday with first pitch scheduled for 1 p.m. on the SEC Network. Reid Morgan (2-0, 2.56 ERA) is scheduled to start.