Gamecocks drop road contest with Wyoming
SOUTH CAROLINA GAMECOCKS MEN'S BASKETBALL
Entering the toughest part of its non-conference schedule, the Gamecocks needed to start off December with some positive momentum and playing a 2-6 Wyoming team on the road seemed like the place to start.
Through the first half, it looked good for South Carolina, but things changed quickly and the positive momentum never came as the Cowboys came back from trailing at half to beat South Carolina 73-64 Wednesday night.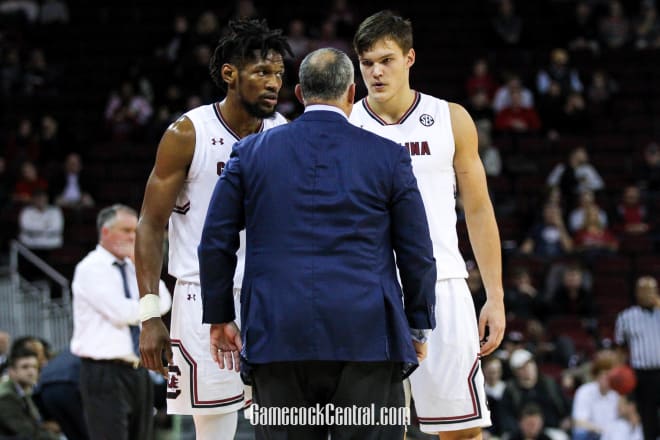 South Carolina, after leading by four at the half, was outscored by 13 over the last 20 minutes.
Wyoming would come out on fire in the second half, going on a 15-4 run, capped by an alley-oop dunk to take a six-point lead with about 14 minutes to play.
It was part of a nightmare second half for the Gamecocks, who watched their four-point lead evaporate and Wyoming storm back to lead by as many as 12 out of the break.
Offensively, the Gamecocks couldn't crack the Cowboys' zone defense, shooting 9-for-30 from the field and missing one of the six three-pointers they took in the second half. They also turned the ball over 11 times as they couldn't get anything going offensively after building that lead at half.
They shot 33.8 percent from the field overall, 3-for-20 from beyond the arc. Wyoming hit 10 threes Wednesday and shot 44 percent in the second half.
The Gamecocks got off to a quick start, going on an 8-0 run to start the game before Wyoming came back to make it a four-point game at half.
South Carolina, paced by AJ Lawson's 12 first-half points, shot 37.1 percent from the field but forced seven turnovers as Wyoming scored 33 points but couldn't get any consistency on offense with leading scorer Justin James battling foul trouble.
Chris Silva, who struggled to start the season, shot 3-for-14 with 11 points and eight rebounds.
The Gamecocks battled foul trouble all night with freshman Keyshawn Bryant fouling out, Maik Kotsar adding four fouls to the team total and Felipe Haase picking up three.
Player of the game: AJ Lawson continues to show sparks of being a really good player, scoring in double figures again with 15 points on 16 shots. He finished one rebound shy of his first-career double-double.
Statistical leaders: Lawson, 15 points; Lawson, 9 rebounds; TJ Moss, 4 assists
Up next: South Carolina finishes up its two-game road trip Saturday, traveling to No. 5 Michigan (9-0) at noon on FS1.