Gamecocks fall in quarterfinals of SEC Tournament
SOUTH CAROLINA GAMECOCKS BASKETBALL
NASHVILLE, TENN.—It was deathly quiet in the Gamecocks' locker room.
Chris Silva sat, minutes after he and his team got bounced from the SEC Tournament one game in by Auburn, in a stunned silence trying to process what just happened over the last two hours.
The senior, who tried to do everything in the team's 73-64 loss with 24 points and 11 rebounds, sat up and tried to explain through tears the emotion going through his head as his career may now be over.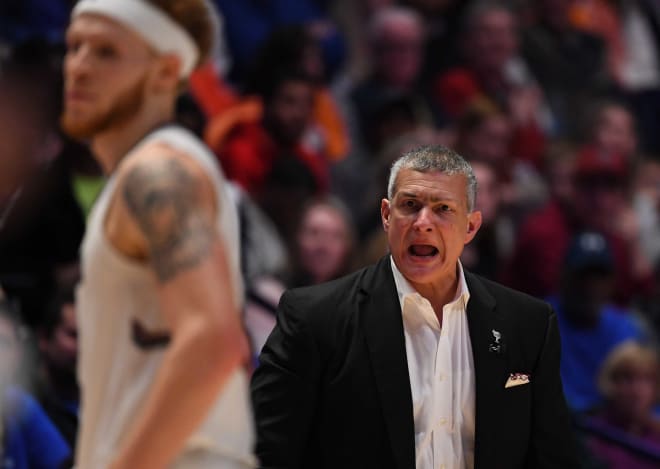 "Disappointed. It's hard," Silva said, choking up. "I wanted to finish on a good note to go to the tournament and possibly win it all. That's the way this has to end."
Also see: USC standing out with four-star receiver
Despite Silva's twelfth double-double of the season, the Gamecocks (16-16, 11-7 SEC) tried to hang with the No. 22 Tigers Saturday, leading by as much as six in the first half and headed into the locker room tied at 36.
Auburn used a big run to push their lead to almost double-digits before the Gamecocks stormed back to cut the lead to one but never took the lead after that in the second half.
They struggled to find any consistency offensively in the second half having a hard time finding a solution for Auburn's zone defense with AJ Lawson trying to shake off the rust from an ankle injury that sidelined him for two weeks to end the regular season.
After going 10-for-13 from the free throw line in the first half, the Gamecocks shot just five free throws in the second and made just two with Silva missing the front end of one-and-ones three times and no guard shooting a free throw in the second half.
"That's where not having AJ hurts us. He's the one guard that has some size that can get shots over the zone and can drive the zone. Their zone kind of spreads out and gets on you and we couldn't drive the zone," Frank Martin said. "It put tremendous pressure to make plays off the bounce and we just couldn't drive the ball. That was the difference."
Lawson played his first game since Feb. 26 after spraining his ankle against Alabama but didn't start, coming off the bench to play 13 minutes. He didn't score and had just one rebound while still a little hampered.
"I was close to 100 percent but I was trying to play for the first time in two or three weeks. I was trying to give everything I had. I wasn't perfect but I was trying to help my team get this win," Lawson said. "It didn't happen the way we wanted."
The Gamecocks were outscored 37-28 in the second half and struggled to defend the three after halftime with the Tigers connecting on 13 of their 34 attempts from three, including five in the second half.
Jared Harper and Bryce Brown combined for 46 points and eight threes.
"We guarded action in the first half pretty good. They knew we extended our defense so they spread us out and tried to drive us to make rotations longer," Felipe Haase said. "That's what they did. We started rotating and they're a good three point shooting team. They played their game and we couldn't do much on defense. They're a good team being ranked the whole season. They just played better than us."
Also see: Scoop from Friday's board of trustees meeting with Tanner, Pastides
After scoring 40 points in the paint against the Tigers in a 80-77 win earlier this year, the Gamecocks scored just 16 points in the paint. Outside of Silva's 24 points, Maik Kotsar and Alazno Frink had two points and hauled in just two rebounds. Felipe Haase had 12 points, six of those coming off threes.
"I wouldn't even grade it," Kotsar said of his performance. "As a team we didn't execute the things we were supposed to both on offense and defense."
The Gamecocks shot just 10-for-26 from three and didn't get the contributions from SEC Sixth Man of the Year Hassani Gravett, who scored five points on 2-of-12 shooting while battling an illness.
"I feel like I wasn't' able to contribute and help my team in a positive way today," Gravett said. "I know for sure I gave everything I had and left it on the court. I don't want to make excuses but I'm sick and on the court it was hard to breathe. That's not an excuse for why I didn't hit shots but I wish I could have another opportunity to do it again."
The Gamecocks now wait to see their postseason fate and will learn Sunday night if they earn a bid to the NIT, something Martin would jump at the chance to compete in.
"If they call," he said, "I'd love the opportunity to run another ball practice."