Gamecocks living on the Wild(er) side as RFr. safety announces presence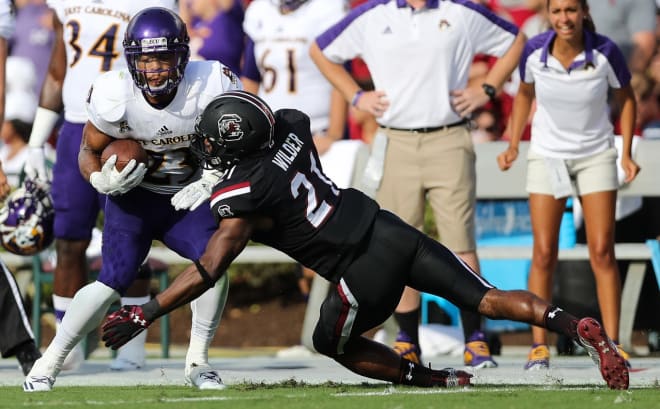 When East Carolina running back Anthony Scott took the handoff from quarterback Philip Nelson on a first-and-goal play from the SC 10 early in the fourth quarter of last Saturday's contest at Williams-Brice Stadium, many residents of Gamecock Nation probably knew little about redshirt freshman safety Antoine Wilder.
Moments later, he introduced himself, announcing his presence with thunderous bravado.
Roaming from his safety position, Wilder met Scott around the 5-yard line and jarred the football loose. It popped high into the air and caromed off a USC player in the end zone, where D.J. Smith fell on the ball for a Gamecock touchback.
Again, South Carolina had denied the Pirates inside the red zone.
For Wilder, the play culminated more than year working and waiting to make a big play for the Gamecocks.
"When I saw him running at me, I thought he might try to juke me, but he lowered his head and come full steam right at me," Wilder said. "So I just went at him the exact same way he came at me. After the ball popped up, I picked him up and saw he didn't have the ball. So, I dumped him and tried to find the ball."
Ironically, Wilder didn't play a single defensive snap at Mississippi State, but continued to earn the coaching staff's trust with another solid outing on special teams. With injuries at safety mounting, Wilder was given a chance to show what he could do against East Carolina, playing 38 snaps.
ALSO SEE: The INSIDER REPORT has scoop on two top-notch defensive targets. When will both visit USC again and what are USC's chances? | In-state 2018 standout Derion Kendrick discusses latest in USC's pursuit |

"(Coach) T-Rob are physical coaches and they love physical players," Wilder said. "That's my game. I'm good at tackling. They just say, 'Antoine, go hit somebody.' I want to hit somebody. I'd rather get a hard hit than an interception any day. I'm a hitter. That's me all the way. I'm working on my man-to-man game."
Wilder finished with five tackles and made his first career start at safety.
"Antoine's a physical player," Will Muschamp said Tuesday. "(We've told him to) play to your strengths and improve your weaknesses. He's really recognized those things and worked on what he's got to do to improve and help us. He's been a really good special teams player for us. A lot of times as a young player, you build trust on special teams for making good decisions. He's built up some confidence in us. He earned the opportunity to play, and he did some nice things."
After committing to the Gamecocks over Mississippi State in June 2014, Wilder attracted interest from Louisville, Georgia and Kentucky. But he stuck with his commitment to USC.
ALSO SEE: Want to ask our staff ANY questions about Gamecock football or recruiting? The Insiders Forum has you covered!

"I wanted to play in the SEC," said Wilder, who graduated from Hapeville Charter School in Atlanta. "I'm a very physical player and the SEC is known for running the ball. When I was in high school, I just told myself, 'If you can play in high school and know how to tackle, you can play anywhere. It just depends on whether you're scared or not."
Just like many young players, Wilder arrived at South Carolina 16 months ago eyeing the opportunity to play as a true freshman.
Instead, he redshirted, forced to wait his turn as he adjusted to the hyper speed of the SEC game, the intensity of practice and the complexity of the defensive schemes at the major college level.
"I had a tough time learning the defense," Wilder acknowledged. "That was probably my biggest issue, learning the playbook. My high school team probably called about six plays. Early on, it was a rough experience coming here. You have to know different positions. You have to be in the film room a lot. Coming from high school, you're big-time and expecting to play. But when you get here, you're not the best guy. There are a lot of guys better than you.
"If you keep playing hard, it comes naturally. But I'm glad I redshirted. I major in psychology and I need a Master's degree, so I need a (fifth) year of schooling. (After my first year) I finally got the defense. It's pretty easy now."
WILLIAMS MUST DO IT AGAIN: After barely getting off the sidelines at Mississippi State, junior running back David Williams re-emerged against East Carolina by rushing for 67 yards on seven carries in the win over the Pirates, highlighted by his 25-yard run off an option pitch on fourth-and-1 in the waning moment that secured the victory. Muschamp was pleased with how Williams performed, but wants to see that type of performance every week from the Philadelphia native.
"He played extremely well in the game and ran as hard as he's run since we've been here," Muschamp said. "But it's about consistency in your performance. We don't need to be one-hit wonders around here. We need to do it consistently well all the time."
NOTES:
-- Rashad Fenton lined up at multiple positions last weekend, including nickel, and Muschamp said the same thing could happen Saturday night at Kentucky. "There's some matchup things we like to look at depending on each week," Muschamp said. "That's why we try to cross-train our guys at multiple spots to get the best guys on the field. He's a guy who can play nickel, he can play corner and obviously we'll do some things (with him) in the return game, too."
-- Muschamp on BUCK LB/DE Darius English, who struggled with injuries in the spring but is off to a solid start with 11 tackles, 1 sack and a team-leading 2 QB pressures in the first three games: "He had a great summer, a really good camp and a very good first three games. He plays extremely hard and works hard on the practice field. He doesn't say a lot, but we're really proud of how he is playing and how he prepares himself. He has been a great example for Dennis Wonnum and a lot of our young players who are playing. You need to have that to show young guys, this is how we do things. This is how you prepare like a pro. So I've been really proud of Darius."