Gamecocks nail game-winner to beat Mizzou
Anything weird that could happen in a football game did Saturday at Williams-Brice.
South Carolina braved a monsoon, lightning delay and late-game comeback from Missouri to beat the Tigers 37-35 on a game-winning 33-yard field goal from Parker White. It was White's second game-winner of his career.
It's the team's third straight win over the Tigers and keeps the Mayors' Cup in South Carolina one more year.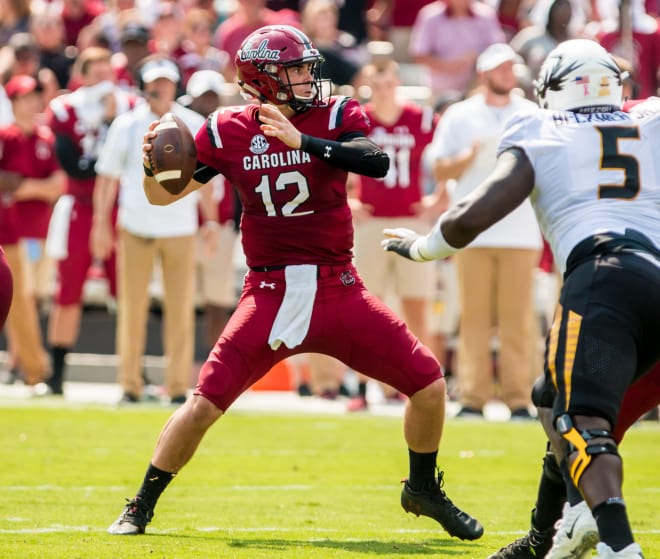 It was the first come-from-behind win this season for South Carolina, and they're now 5-10 when trailing at halftime under Will Muschamp.
Also see: Missouri game recruiting notes
Missouri was driving inside Gamecock territory when a 74-minute lightning delay halted preceedings with less than three minutes left. After play resumed, Missouri scored but Michael Scarnecchia stitched together a game-winning drive in his first career start.
The drive, a nine-play, 53-yarder was the first game-winning one of Scarnecchia's career and he finished going 20-for-35 with 249 yards and three touchdowns filling in for injured Jake Bentley.
After Missouri scored on back-to-back possessions to go up 17-7, Scarnecchia found Edwards again from 17 yards out to bring the Gamecocks (3-2, 2-2 SEC) within a field goal before Missouri went on to kick to two field goals to end the half and take a nine-point lead into halftime.
That's when things changed, at least for the time being. With rain falling after halftime, South Carolina scored a touchdown on its first drive of the second half, going 66 yards in 12 plays and capped by a Deebo Samuel touchdown pass.
The rain would stop at the end of the third quarter, just in time for Missouri to score and pull within two points after a missed two-point conversion. The Tigers took the lead on a 44-yard field goal after a botched punt gave them good field position.
Also see: Full updates from Williams-Brice Saturday
Player of the Game: Jaycee Horn had three tackles but made almost every play possible in the secondary with four pass breakups and had a tackle on a long run that prevented a touchdown.
Team leaders: Passing: Scarnecchia, 249; Rushing: Rico Dowdle, 53; Receiving: Bryan Edwards, 73; Tackles: Steven Montac, 9
Up next: South Carolina hosts Texas A&M at 3:30 p.m. next week with that game being televised on the SEC Network.
*** Current subscribers: To discuss this story, head over to The Insiders Forum, our private, members-only message board!
*** Not a subscriber? Get in-depth and insider coverage of the South Carolina Gamecocks with a subscription to GamecockCentral.com!