Gamecocks pitch, power their way past UNC
SOUTH CAROLINA GAMECOCKS BASEBALL
CHARLOTTE, N.C.—After a gut-wrenching loss Saturday against Florida, it would have been easy for South Carolina to limp into Tuesday's game against No. 17 North Carolina and fall victim to another lopsided loss to the Tar Heels.
The Gamecocks chose to do the exact opposite, coming ready to play and taking another midweek game for their second win at BB&T Ballpark this season, dispatching the Tar Heels 5-2 thanks to dominant pitching from underclassmen arms.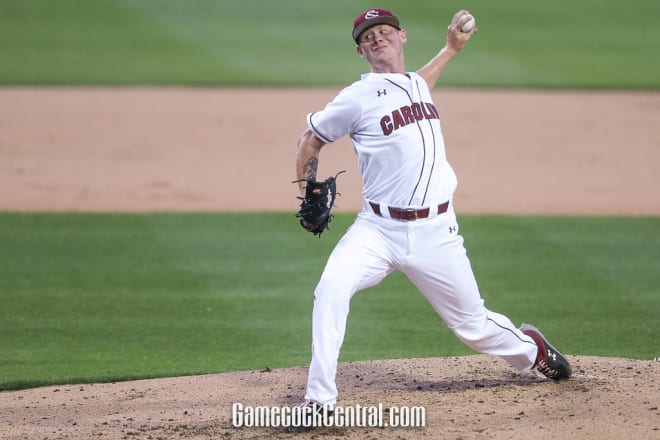 "It's definitely good to bounce back. We all know we're one step away, one inning away, one pitch away half the time," Dylan Harley said. "I think tonight instead of being passive we ended the game how we should."
Also see: Insider notes on Michael Wyman's commitment
They could have easily thrown in the towel again after being up 4-0 with Harley giving up a two-run homer in the sixth inning but didn't, closing the game out strong after a TJ Hopkins solo homer the next half-inning and shutting the Tar Heels out the rest of the way.
"When you get up 4-0 and the other team hits a big two-run homer it can start to feel like, 'Oh boy here we go again,'" USC head coach Mark Kingston said. "TJ getting that run back on the board for us was very, very important."
Harley (2-2, 8.90 ERA) was a big reason for the win, coming in after Daniel Lloyd started the game with two shutout frames to start the game, pitching around four base runners over the first two innings.
The freshman lefty came in and looked as good as he has all season in relief, retiring the first 10 batters he faced, including striking out the side in his first inning en route to six total punch-outs.
It's the fewest runs he's given up in relief since allowing one run against Tennessee March 24.
"In the first inning, I came in and it was probably the first time all year I threw a first-pitch slider and it was a good pitch. After the first pitch I told myself, 'I'm not going back to how I was throwing.' I kept a level head and attacked guys knowing my defense was behind me."
Also see: Four-star DL target outlines commitment timeline
The Gamecocks (22-15, 4-11 SEC) gave up just two runs, both coming on a two-run homer off Harley, on four hits and struck out 14 against a North Carolina team slashing .274/404/.457 and averaging over seven runs per game.
John Gilreath and Brett Kerry closed the game pitching a shutout the last three innings and allowing just one hit while striking out five. Kerry earned his fourth save of the year.
For Gilreath, he allowed one hit in 2.1 innings with four of those strikeouts and over his last three outings (five innings), he's given up just one run on two hits and one walk while striking out six.
"The fastball is starting to get into that upper-80s range again where the majority of his career it's been in the 84-85 range," Kingston said. "We're starting to see the stuff start to play up again, which is important, and he's throwing strikes. At our level, we're going to recruit the guys that have enough stuff and if you throw strikes with that stuff, you have a chance. He's giving himself a chance finally."
South Carolina jumped out to a quick lead, plating four runs over the first four innings thanks in part to an Andrew Eyster homer and a RBI double from Brady Allen.
The win comes after a grueling stretch of SEC play where the Gamecocks lost a rubber match Saturday on a walk-off homer only to rebound against a top-25 team.
It was a quiet bus ride back from Gainesville, Kingston admitted, but he said the team did a good job flushing it before Tuesday's game.
"It was a tough series. We were two seconds away from winning that series," Hopkins said. "Any win after that, bouncing back to a Tuesday game is great for the team."
Also see: What we're hearing on Javion Cohen's de-commitment
Player of the game: Despite giving up the home run, Dylan Harley look as good as he has all season. He struck out six in 3.1 innings and retired the first 10 he faced.
Key moment: After Harley gave up those runs in the sixth inning, Gage Hinson came in and put a runner on with two outs but struck out the next batter to end the threat.
Up next: South Carolina returns home for its only home series in April, starting a three-game set with Texas A&M on Thursday. First pitch from Founders Park is scheduled for 7 p.m.