Gamecocks swept in Friday doubleheader
SOUTH CAROLINA GAMECOCKS BASEBALL
TUSCALOOSA, ALA.—South Carolina baseball finds itself in a position it hasn't been since joining the SEC 27 years ago.
The Gamecocks scuffled in a doubleheader Friday against Alabama, putting up just one run on seven hits over 18 innings, capped by a 4-1 loss in game two to drop their fourth straight conference series to start the year.
It's the first time since joining the league in 1992 that the Gamecocks don't have one series win over the first four weekends of SEC play.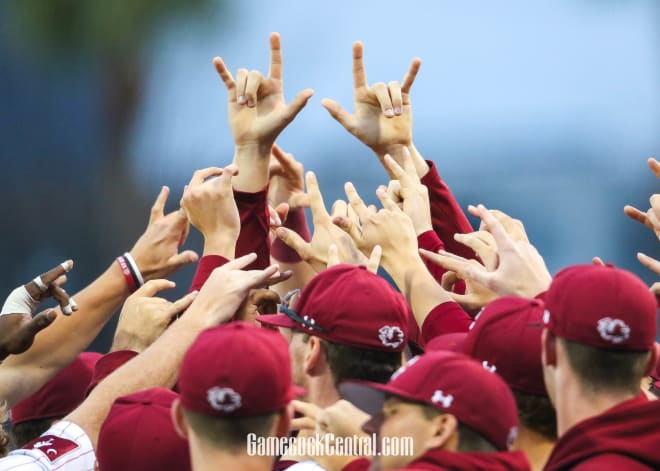 "Nobody's going to feel sorry for us. I told them South Carolina's been kicking butt for a long, long time and nobody's going to feel sorry for them right now," Mark Kingston said. "They better come out ready to fight. The guys that continue to fight and not feel sorry for themselves will continue to wear that uniform."
Also see: Name to watch in baseball recruiting
After putting up four hits in a 9-0 loss earlier Friday, the Gamecocks (18-13, 2-9 SEC) mustered a season-low three hits against starter Brock Love and reliever Jeremy Randolph.
They'd score just one run in 18 innings—a solo shot from Jacob Olson to extend his home run total to a team-high 12 this year—but nothing else. After striking out five times in game one, they get punched-out 12 times in game two.
Andrew Eyster, who started in the field for the first time in two weeks and picked up a hit in game two, said postgame it's incredibly frustrating with their not being one common issue to fix offensively.
"I think a lot of people feel it personally, too, with the ups and downs. Not only as a team but every individual has his ups and downs," he said. "We just have to figure it out and be more consistent. That's the key to being more successful in a game is consistency. As an offense, as a team we have to figure out how to continue to do that."
Also see: Latest scoop on a few big spring game visitors
The Gamecocks have now been held to five or fewer hits in seven of their 11 SEC games and are averaging three runs while slashing .187/.273/.340 in conference play.
Friday's doubleheader sweep comes on the heels of upsetting No. 3 NC State 10-8 Tuesday, but Kingston the Tide's pitchers didn't give his hitters a lot to hit today.
"They pitched really well. They threw two guys out there that had good command, good stuff," he said. "We have to better than that, obviously. I'm not going to put it all on them. They pitched well but South Carolina needs to compete better than that."
Reid Morgan motored through three two-hit, shutout innings before hitting trouble in the fourth. He'd give up three runs on five singles, four of those runs coming with no outs, before settling back down.
He'd finish giving up just one more run in 6.1 innings.
"They battle with two strikes. Any time they got two strikes, they battled," Morgan said of Alabama. "They got hits in the right time, in the right places and I couldn't make any better pitches than I did but they just fought their butts off."
Click for game two's box score
But, despite the struggles, the Gamecocks did have a chance to take the lead or tie in the eighth, loading the bases with two outs for Jacob Olson, who ultimately struck out swinging to end the threat.
"We weren't good enough in any aspect," Kingston said. "There's nothing good to take from today other than at the end in the eighth inning we had a chance to still win the game. We didn't get it done but they kept fighting until the end. It's not an issue of them trying hard enough. That's not the issue, we just need to be better."
The Gamecocks now try and salvage one game after finding themselves near the bottom of the SEC almost halfway through conference play.
"We just have to come together as a team and find the guys that want to do it and find the guys that don't," Morgan said. "The guys that don't want to do it? So be it. They'll find out eventually that it's time to go and hopefully they'll catch on board. But the guys that want to do it, we'll be a family."
Also see: Team and recruiting scoop heading with spring practice ending
Key moment: The Gamecocks loaded the bases with two outs in the eighth and set Jacob Olson to the plate as the tying run but he struck out swinging to end the threat.
Up next: The Gamecocks try and salvage one game in Saturday's series finale, which is scheduled to start at 2 p.m. ET on the SEC Network Plus. No official starter has been named yet.