Gamecocks think they have 'best receiving corps in the nation'
Nick Harvey's spent four seasons at Texas A&M and saw—and played against—some of the best receivers in the conference, if not the country.
He had to face Alabama's, Auburn's and LSU's crop annually and was tasked with covering Christian Kirk, a second round pick this year, every day in practice.
So Harvey knows what good in the SEC looks like, and in just over a week practicing with South Carolina he's already seeing signs of those other great groups.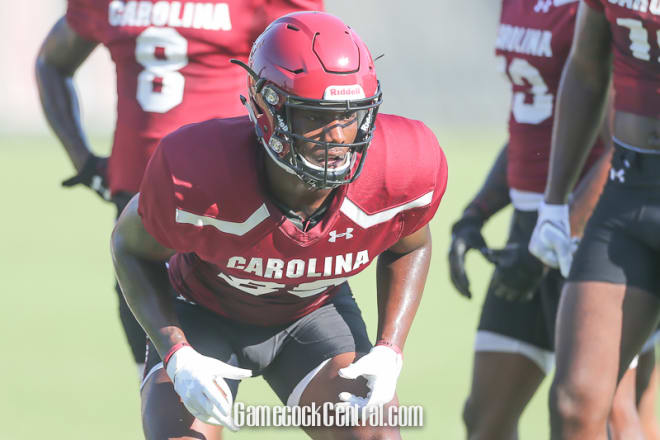 "Bryan Edwards, Shi Smith, Deebo (Samuel), OrTre (Smith)," Harvey said. "I feel like we probably have the best receiving corps in the nation right now. It's tough every day."
Also see: Insider notes on South Carolina's newest baseball commitment
Harvey's one of South Carolina's newest additions to the roster, coming over as a graduate transfer from Texas A&M where he spent the last few seasons.
It's been a baptism by fire through the first almost 10 days of camp trying to learn the Gamecocks' defensive scheme while having to also keep up with the likes of Samuel, who's on the All-SEC list and a few major national watch lists this preseason.
He compared Samuel to Kirk, who compiled 919 yards and 10 touchdowns last season, saying both are "great" players. Samuel, like Kirk, is a speedy receiver that can catch and double as a possession receiver.
But Harvey isn't the only new Gamecock that's been blown away by what the Gamecocks have at the receiver position.
Quarterbacks coach Dan Werner has been watching that group since he arrived on campus in January and has been insanely impressed.
"It's up there with the best ones I've had and I've been really lucky to have some great ones," he said. "I'm really, really excited."
Also see: Will Muschamp updates this team after the first week of camp
And when Werner says he's been around great ones, he's not embellishing. He was at Ole Miss to see Mike Wallace and Laquon Treadwell, and spent his time at Miami around guys like Roscoe Parrish, Andre Johnson and Devin Hester.
Those players had a knack for big plays, and that's something Werner and the Gamecocks are hoping South Carolina's receivers will be able to replicate this season.
"You don't have to force a ball thinking, 'This is my chance to get a big play,'" Werner said. "Because these guys are going to make plays for you all the time."
Also see: Gamecocks have big three-star OL on campus for UGA game
With this group of receivers, the Gamecocks are putting an added emphasis this season on the deep ball, Werner said, and being able to stretch the field vertically.
Werner's worked on implementing his brand of RPO-style of offense, merging it with offensive coordinator Bryan McClendon's up-tempo offense.
That way, the Gamecocks can take advantage of one-on-one matchups and put their receivers in space for quarterback Jake Bentley to throw the ball to.
"With the guys we have, I tell Jake, 'If you just get it out there, they're probably going to make a play for you,'" Werner said. "I think he's bought into that."