Gamecocks beat Akron
SOUTH CAROLINA GAMECOCKS FOOTBALL
South Carolina got off to a fast start, but slowed as the rain picked up on a dreary final day of football at Williams-Brice this season.
Playing a makeup game against Akron, the Gamecocks put up 28 points in the first half and coasted in the second half with some sloppy play but ultimately beating the Zips 28-3.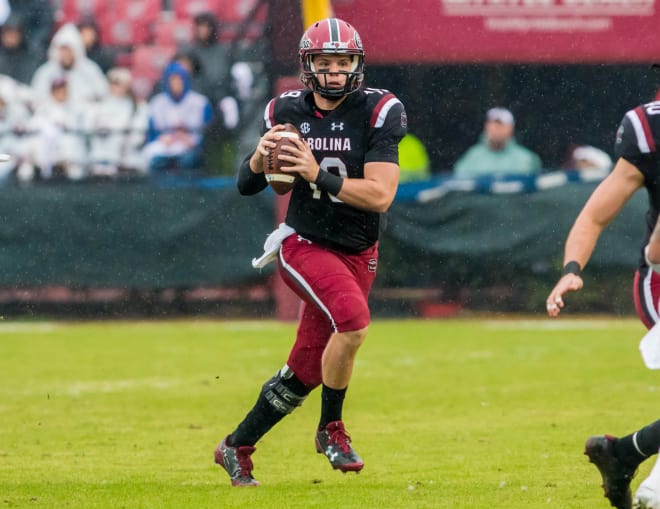 The win, which came in a game rescheduled after a hurricane forced the Gamecocks (7-5) to cancel a game against Marshall guarantees South Carolina a winning record for the 14th time since 2000.
South Carolina got on the board first after getting good field position thanks to a good Bryan Edwards punt return. That set up a Deebo Samuel 18-yard touchdown catch-and-run for his 10th touchdown of the year.
Also see: Saturday visitor scoop
That moves him into a tie for second all-time for receiving touchdowns in a single season, three shy of tying Sidney Rice's record of 13 touchdowns in one season.
After an Akron field goal, Jake Bentley and Bryan Edwards connected for a 70-yard touchdown to push the lead to double digits.
On that pass Bentley became just the fourth player in school history to throw for 7,000 yards, joining just Todd Ellis, Steve Taneyhill and Stephen Garcia. He also has a new season high in passing yards at 2,915.
Also see: Full updates from Williams-Brice
Samuel scored his second touchdown of the day in the second quarter, recovering a snap that went over the punter's head for his 26th career touchdown.
They scored again near the end of the first half, using a five-yard touchdown pass to Samuel, his third total touchdown of the day.
Samuel is now tied for fourth all-time with 28 total touchdowns.
South Carolina's second half was largely underwhelming with the Gamecocks putting up no points and 135 yards offensively in the last 30 minutes. As a team, they turned the ball over six times.
Defensively, the Gamecocks held Akron to 256 yards with a lot of freshmen seeing extended action.
Israel Mukuamu picked up his first-career start and had five tackles, one shy of a team-high. Freshman Ernest Jones also had a fumble recovery, the first of his career.
Statistical leaders: Bentley, 199 passing yards; Mon Denson, 110 rushing yards; Bryan Edwards, 109 receiving yards; TJ Brunson, 6 tackles
Up next: South Carolina finishes with a record of 7-5 and their next game will be the team's bowl. Formal announcement of that will happen Sunday afternoon.