Gamecocks walk-off No. 3 NC State on Jacob Olson blast
SOUTH CAROLINA GAMECOCKS BASEBALL
CHARLOTTE, N.C.—Jacob Olson wasn't about to make the same mistake twice with the game on the line.
Coming up in the ninth of a tie game, the tying run on first, Olson found himself 1-1 after swinging at a ball well out of the zone. He told himself to stick to his game plan.
It worked on the next pitch, with Olson belting his second walk-off homer of the season, a two-run shot as the Gamecocks upset No. 3 NC State 10-8 Tuesday night at BB&T Ballpark for the team's first win in the stadium.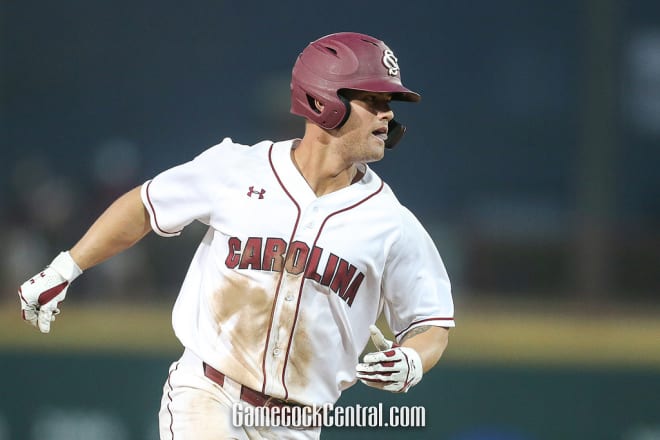 "I'm happy we won, I'm happy this group of guys keeps believing," Olson said. "I can't express enough how this team believes and we get it done. I'm happy we got the win. My class, we had never won in Charlotte so it was good to get that one. It felt good."
Also see: Latest scoop on Tank Bigsby and Jordan Burch
South Carolina was able to overcome four errors and a rough start. After spotting the Wolfpack four runs in the first inning, the Gamecocks (18-11, 2-7 SEC) got all of those back and then some in the bottom half of the inning.
They'd plate seven runs on six hits in the inning with six coming off home runs from Olson, Luke Berryhill and Brady Allen.
It was the second-biggest inning of the season for the team, who scored eight in the second inning against the Citadel March 5.
"It shows this team we're making progress," Kingston said. "If we can commit to the things we're working on, we can combine power and great at-bats."
Also see: What are the Gamecocks getting in Jalyn McCreary?
N.C. State stormed back though, scoring three unanswered runs before Olson's homer in the ninth to tie the game thanks to a game-tying single from Will Wilson and errors from TJ Hopkins.
After Wes Sweatt (2-2, 4.26 ERA) pitched a clean ninth, the Gamecocks got a one-out single from TJ Hopkins before Luke Berryhill hit what looked like an inning-ending double play but the catcher was able to beat the throw to first.
Olson was up next, and the rest is history.
"You never know when a hustle play will help you," Kingston said. "That's why one of our mantras is we're going to play hard at all times for every out of the game."
TJ Shook was a big part of the win today, too, rebounding after a rough start Sunday to pitch three scoreless innings, scattering three hits and striking out four.
"He helped us win today. When he's in the game today they didn't score any runs," Kingston said. "So sometimes you want everyone to start but some guys are better in the bullpen and vice versa. We have to keep trying to use guys in roles so they can succeed."
The Gamecocks rebound from a tough series loss last weekend to Auburn with a big win over a team ranked in the top five in every major poll.
They're now hoping this transitions into a few more wins in the SEC.
"Last year we kind of went through the same thing," Olson said. "We got a win like this, then swept LSU and built off of it. Hopefully, this is it and we can turn this around this week."
Also see: Insider notes on McCreary's recruitment
Player of the game: Olson hit two home runs and drove in four of the team's 10 runs Tuesday.
Key moment: Luke Berryhill hit what looked like an inning-ending double play in the ninth but hustled it out and beat the throw to first. Olson homered in the next at-bat.
Up next: South Carolina travels to Alabama for a three-game series starting Thursday with the Tide. First pitch is scheduled for 7 p.m. ET Thursday.