Gamecocks' Wonnum returns in style
SOUTH CAROLINA GAMECOCKS FOOTBALL
D.J. Wonnum had been waiting for a moment like Saturday's for over a month.
The junior, who was forced to sit out and watch for five games rehabbing an ankle injury, made the most of his first game back and—as only Wonnum could—made the play to seal a 27-24 win over Tennessee.
With the Volunteers driving on what could have been a game winning drive and facing a fourth down, Wonnum came off the edge and sacked Jarrett Guarantano to end the drive and give South Carolina's offense the ball.
Enter to Win! We're giving away three $100 gift cards to Garnet & Black Traditions!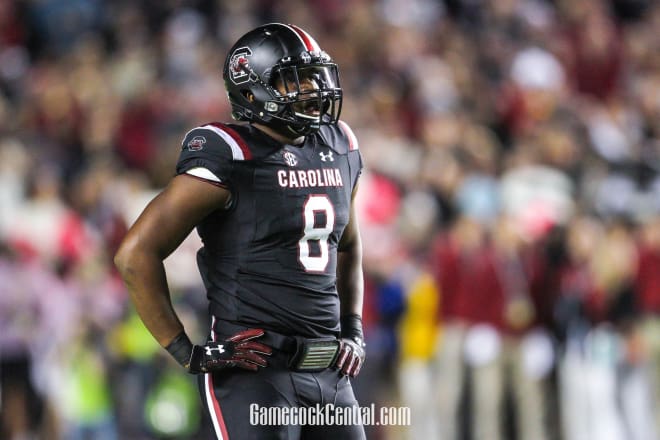 "That's just who he is," Bryson Allen-Williams said, smiling. "I told him walking back he's the GOAT. That's my guy. I see the way he practices, I see the way he trains and the way we compete with each other he's a talented player."
Also see: Insider recruiting scoop after a big win
Wonnum finished his first game back from that ankle injury with three total tackles, two of those being sacks on Guarantano.
It wasn't easy, Wonnum said after the game, but he tried to stay as positive as he could through the rehab process.
It paid off with the edge rusher and one of the Gamecocks' permanent captains doing what captains do and making a big play.
"While being hurt I worked for it," Wonnum said. "I worked and kept working and never got down and made a big play."
Also see: Which plays mattered the most in Saturday's win?
It was the first game since the season opener that the Gamecocks (4-3, 3-3 SEC) had both upperclassmen pass rushers on the field at the same time in Wonnum and Allen-Williams, who had taken over at the BUCK position this season.
The two combined to play in the backfield for big portions of the game, racking up five seven tackles and two sacks.
"I love this man. I tell him all the time that he's my guy," Allen-Williams said. "Just working with him and competing with him, it makes my job easier having him on the other side of me."
Also see: Full updates from Will Muschamp's postgame press conference
Wonnum missed five games after leaving the team's season opener with an ankle injury. A setback that he originally thought wouldn't keep him out a game turned into a month-long process that forced him to watch as the Gamecocks went 2-3 without him in the lineup.
Now that he's back in the lineup, Wonnum is likely not going to leave it again if he's healthy.
It's a big re-addition to the lineup, not just for his physical abilities but the leadership and experience he brings to a somewhat young Gamecock defense.
"DJ's a good football player, very productive in everything he does. It was great to have him back," Will Muschamp said, chuckling. "He's a great football player but he's also a great presence to have on your football team in terms of leadership, calmness in how we play. a lot of guys look to DJ when things maybe aren't going so well. He's one of those factors that as a coach you breathe a little easier when he's around."