Get Gamecock Central free until Tennessee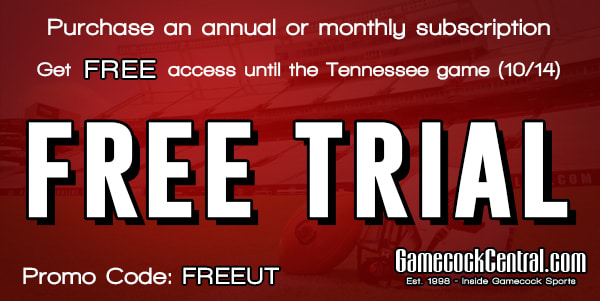 Have you been on the fence about experiencing all of the great content that GamecockCentral.com provides to its premium subscribers?

For a limited time, you have the opportunity to get free access to GamecockCentral.com until the USC/Tennessee game in October. Hop on over and experience all of our exclusive, in-depth content on USC athletics and recruiting with the promo code: FREEUT

*This offer is valid when registering for either a monthly or annual subscription package.

*** Totally new to GamecockCentral.com? CLICK HERE FOR YOUR FREE ACCESS

*** Former subscriber or registered free user with us? CLICK HERE TO TAKE ADVANTAGE OF THIS OFFER

***Already a member? Click here for live coverage from today's open practice***
****

We're well aware that there are plenty of news sources online for news about South Carolina athletics. At Gamecock Central, we pride ourselves on providing our vibrant message board community with the latest behind-the-scenes news on the South Carolina athletics programs and recruiting. With the 2017 season around the corner and 2018 recruiting set to hit full swing, you do not want to miss out on our coverage.

In the world of instant news, we not only provide you breaking news but aim to take you beyond the headlines. Chris Clark's regular feature, The Insider Report, gives accurate and in-depth information with the latest on Gamecock recruiting. Wes Mitchell's Carolina Confidential gives you the inside scoop on happenings with Carolina's football team as well as even more insight from the recruiting trail. Instead of just post-practice quotes, our practice insiders take you behind the scenes with what's happening behind closed doors, how players are progressing, and how those close to the program feel about the team. GamecockCentral.com subscribers get access to The Insiders Forum, where members can ask our staff a question at any time, discuss with other knowledgeable USC fans, or find plenty of other news and notes. Try it, and you'll notice the difference.

You don't have to just take our word for it, however. What do our subscribers have to say about the GamecockCentral.com experience?
"GamecockCentral has been and will continue to be the best site on the internet for Gamecock sports fans. Their in-depth and honest coverage is unmatched! I have been viewing the site for 15 years, been a member for five and I have checked out just about every site out there for Gamecock sports. I can unequivocally say the GamecockCentral team is by far the most trustworthy group I have found. In a world of innuendo and rumor they bring the facts. I ask questions daily of the staff and get very straight and informative answers. I cannot say enough good things about the wealth of "inside" info available from the insiders account. I spent a decade on a free account and while it was better than nothing you just cannot match what is available on The Insiders Forum. The insight from, and access to, the writing team and all those "in the know" on recruiting and team news, as well as the very active forums, makes my subscription worth every penny. The access to the extensive Rivals network is also a huge plus for me. If you crave Gamecock sports like I do you should not go another day without an Insiders account to GamecockCentral." – ChucktownCock2001
Click here for more testimonials from our subscribers.
To read even more about GamecockCentral.com, go here.
OFFER DETAILS
What is the cost once my trial period ends?

After your first several days (or maybe even hours), we think you'll be hooked on our insider content and community of Gamecock fans. You may cancel your membership at anytime within the trial and you will not be charged. At the end of your 14-day free trial you will be charged on our regular auto-renew system (the low rate of $9.95/month or $99.95/year, depending on which you registered for at the time of sign-up), if you do not cancel beforehand. An annual membership with GamecockCentral.com is just 27 cents per day. Please review Rivals.com's Terms of Service for more information on how billing practices are conducted. If you need help with anything, then contact us at team@gamecockcentral.com.
Offer valid through 8.31.17