Grading the South Carolina Gamecocks: Missouri
South Carolina pulled out a dramatic win over Missouri, using a last-second field goal to beat the Tigers behind a solid outing from backup quarterback Michael Scarnecchia.
Here's a report from Williams-Brice handing out grades for Saturday's performance that went down to the wire.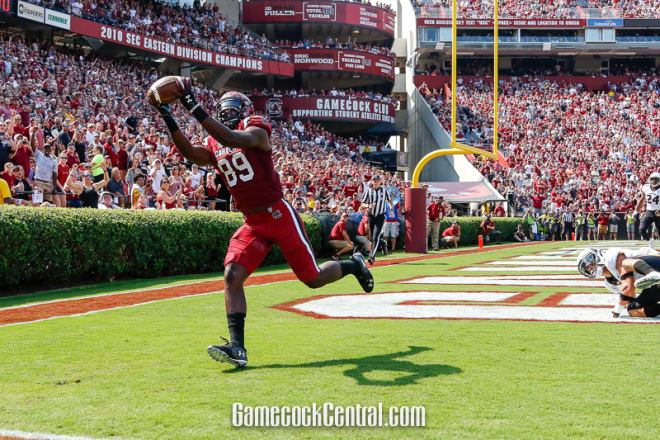 Quarterback: A
Admittedly this is grading on a curve for a fifth-year senior with less than 15 career pass attempts before Saturday making his first-career start. Scarnecchia played virtually mistake-free football completing 57 percent of his passes for 249 yards and three touchdowns with no interceptions.
Also see: Josh Low breaks down the drama
Running back: C+
The backs rushed for 128 yards, which is a decent total but the Gamecocks averaged just 2.7 yards per carry running it 47 times. Rico Dowdle and Ty'Son Williams had 53 and 51 yards, respectively but no other player had more than seven yards and they struggled to find holes consistently.
Receivers/tight end: B-
After a rough game against Kentucky where the receivers dropped a handful of passes, the group responded with 20 receptions with Deebo Samuel pacing the group with four catches for 88 yards. Bryan Edwards complimented that with 73 yards through the air and Kyle Markway had arguably the biggest play of the game with a 27-yard reception on the eventual game-winning drive.
Also see: Recruiting scoop on a few visitors
Offensive line: C-
South Carolina's offensive line struggled to get a lot of push in the run game with the team picking up less than three yards per carry. They were able to run at times but struggled to get consistent push. They did protect Scarnecchia well, giving up just one sack after giving up four last week.
Defensive line: D+
The defensive line couldn't set the line of scrimmage well against Missouri's running attack, giving up a season-high 286 yards on the ground, including 144 to Damarea Crockett and Larry Rountree combined. It would have been over 300 excluding the minus-17 yard rush on a botched punt.
They got a few pressures on Drew Lock, sacking him once, and did play well in the red zone.
Linebackers: C
The linebacker trio of TJ Brunson, Bryson Allen-Williams and Sherrod Greene combined for 17 tackles, including three for loss. Sherrod Greene's interception returned for a touchdown was a big moment in swinging the momentum. There were a few misfits in the run game but the linebackers had a solid showing.
Also see: Which plays meant the most in Saturday's win?
Secondary: B-
The already-thin secondary made a few plays in the run game but struggled to tackle in the open field in the run game. They were able to limit Lock's effectiveness with him completing less than 50 percent of his passes for just 204 yards. Jaycee Horn had a huge game with three tackles and four pass breakups with Jamyest Williams picking up a big interception late.
Special teams: B-
Outside of one botched punt and a failed fake field goal attempt, the Gamecock special teams unit played pretty well. Parker White was a perfect 3-for-3 on field goals, including a game-winning 33-yarder. Joseph Charlton had four punts for a 40.8 yard average with one downed inside the 20. On the fake field goal, Will Muschamp said it was something he saw on film and it almost worked.
*** Current subscribers: To discuss this story, head over to The Insiders Forum, our private, members-only message board!
*** Not a subscriber? Get in-depth and insider coverage of the South Carolina Gamecocks with a subscription to GamecockCentral.com!
ABOUT: Established in 1998, Gamecock Central provides in-depth coverage of Gamecock sports and recruiting, and is home to The Insiders Forum, our private, members-only message board. How did we get started? - More Gamecock news - Free alerts/newsletters - Sign up for an account
Thank you for visiting our site. We hope you'll hang around to check it out.