Grading the Gamecocks: Tennessee
SOUTH CAROLINA GAMECOCKS FOOTBALL
Quarterback: B
Jake Bentley's stats aren't gaudy at all—11-for-16, 152 yards, a touchdown and one pick—but it tells the story of a player that managed a good game and connected on a few big pass plays.
He hit Bryan Edwards on a beautifully thrown deep ball for 73 yards to set up the game-tying score and would have hit Shi Smith for another big play but Smith dropped the ball. He also had 20 rushing yards as well, including a scramble on a two-point play to tie the game.
Enter to Win! We're giving away three $100 gift cards to Garnet & Black Traditions!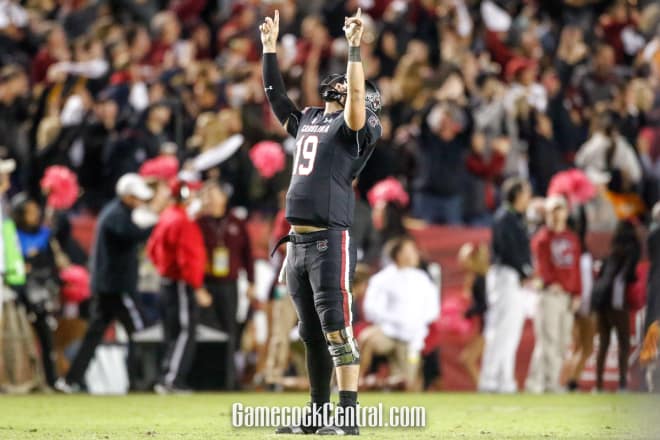 Running backs: A
Saturday was probably the best game the running back group as a whole had this season, rushing for 224 yards and averaging 5.9 yards a carry after taking out sack yardage.
Will Muschamp said this was the first time in almost a month, since the Vanderbilt game, the backs were making people miss at the line of scrimmage and getting upfield. It showed with Rico Dowdle notching his third 100-yard game of the year.
Also see: Insider recruiting scoop after a big win
Receivers/tight ends: C
The group had a better day but, outside of Edwards's 73-yard reception and a miraculous catch by Deebo Samuel in the end zone, didn't do much on the stat sheet. Samuel finished with only three catches no other receiver or tight end had more than one reception.
Shi Smith, who finished with no catches and dropped the surefire go-ahead touchdown pass.
Offensive line: B+
This group continues to have a big year, even after losing their starting left tackle for the game and with a true freshman in Dylan Wonnum making his first career start.
Outside of one missed communication it seemed like that resulted in a sack but protected Bentley from there on out. They also helped pave the way for 224 rushing yards, the third time this season the Gamecocks have rushed for over 200 yards.
Also see: Josh Low's instant analysis
Defensive line: B-
The stats may not reflect it, but the Gamecock defensive line had a solid day stopping the run—they gave up 144 yards and 4.2 yards a carry—and getting to Jarrett Guarantano with two sacks and six tackles for loss.
D.J. Wonnum had a monster game in his first game back from injury, picking up two sacks, including the game-clinching one on fourth down with just over a minute to play.
Linebackers: C
T.J. Brunson and Sherrod Greene were incredibly active as the team's top two tacklers Saturday, combining for 22 tackles and a quarterback hurry but there were a few miscues in coverage on some underneath routes that they struggled to stop, especially on third down.
Tennessee was 11-for-16 on third down, the most given up by South Carolina's defense all season.
Also see: Full updates from Will Muschamp's postgame press conference
Secondary: D
It was a struggle at times, especially in the pass game. They didn't give up a lot of yards, just 207, but allowed Guarantano to complete 69 percent of his 39 attempts for two touchdowns and struggled to help cover the underneath routes, which included Steven Montac getting carried into the end zone on a Jauan Jennings touchdown.
Playing mix and match and rotating in a few different players in the secondary, they also struggled in run fits and tackling at times at the second left.
Special teams: A
Parker White hit both field goals, including the eventual game winner. Joseph Charlton punted twice and averaged 50 yards a punt. Will Tommie had four touchbacks on four kickoffs and Samuel looked like the Samuel of old with a big 34 yard kickoff return.