Hardeman claims four scholarship offers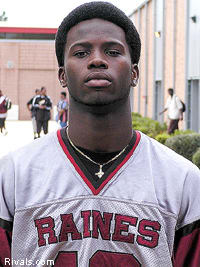 Jacksonville (Fla.) Raines strong safety
Donsay Hardeman
had a strong showing at the Tallahassee, Fla., NIKE camp and managed to capture the attention of several college coaches. The 6-foot-2, 200-pound Hardeman now claims four scholarship offers.
"I know I have offers from Clemson, Illinois, Middle Tennessee and I also think South Carolina has offered me," Hardeman said. "There may be more, too, but those are the ones I can think of off the top of my head."
Despite the four offers, Hardeman is no hurry to narrow the list of schools he's considering.
"Man, I am wide open to any schools that recruit me," he said. "I can't even name a list of schools right now because I don't want to leave anybody out. Right now if a school is interested in me, then I'm interested in them."
Hardeman, who has 17 career interceptions, has three primary things he's seeking in a school.
"I want to get a good education and I want to play for a good coaching staff," he said. "I especially want to play for a coaching staff that knows what it takes to make it in the NFL because that's my ultimate goal."
Hardeman, who runs the 40-yard dash in 4.5-second range and bench presses 275 pounds, is also in no hurry to make a final decision.
"I'm not sure which camps I'm going to this summer, but I want to get to a few so I can learn about the schools," he said. "Then I want to get to some games and take my visits after the season. I figure I'll know enough after that to pick a school. And, like I said, I like everyone right now."
Give GamecockCentral.com a try. Click here to take advantage of our 7-Day Free Trial and get all the INSIDE SCOOP on Gamecock football and recruiting.