High school coaches rail against new NCAA rule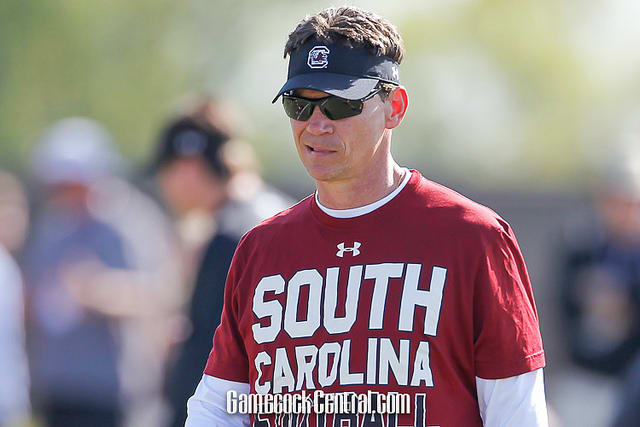 In mid-April, the NCAA Division I Council passed a package of recruiting reforms that touched on new official visit dates, summer camp limitations, added a tenth assistant coach for programs and adopted a new rule pertaining to "individuals associated with prospects."
All but the tenth assistant rule has generated its fair share of controversy, but the "IAWP" rule is subject to some of the strongest criticism.
The rule states that schools may not hire individuals associated with a prospect -- for example, a parent or a high school coach -- to an off-field position on that school's staff for a period of two years prior and two years after enrollment. A program could still tab a parent/guardian, high school coach, or the like of a prospect to a position on its staff, but it would have to be as one of the on-field, countable assistant coaches. Effectively, if a college program wanted to add a talented high school coach to a position such as an analyst or high school relations director, that college program would be barred from recruiting that coach's school for some time.
South Carolina head coach Will Muschamp has made his thoughts known on the subject recently, saying that he was "totally against" the rule prohibiting high school coaches from being hired to off-field positions.
"My brother's a high school coach in Atlanta. He'd love to have an opportunity to coach in college," Muschamp said on Sports Talk with Bo Mattingly out of Arkansas.
To wit, several high school coaches contacted by GamecockCentral.com believed it's detrimental to advancing their careers, and could also hurt prospects' chances of being recruited in certain situations.
SUBSCRIBE NOW to GamecockCentral.com and get the inside scoop on USC athletics and recruiting

"It's the worst rule I've ever seen in my life," Charlotte (North Carolina) Harding head coach Sam Greiner said. "They (the NCAA) had no interaction with the high school coaches. All it hurts is the high school coaches. It punishes us."
In effect, programs which have an eye toward adding a high school coach to a support staff role would be discouraged from doing so if that program wishes to recruit players from a talent-rich high school. There are numerous examples of current college coaches climbing the ladder from analyst or off-field positions to their current statures, an opportunity that high school coaches now fear is in danger. The new rule mandates that high school coaches with recruited prospects would need to jump straight to a 10th assistant role instead of working their way up the rungs.
Current college coordinators Chip Lindsey (Auburn) and Jeremy Pruitt (Alabama) began their college careers as analysts, hired straight from the high school ranks. Clemson hired successful Palmetto State coach Kyle Richardson out of Northwestern in 2016, signing defensive end/linebacker Logan Rudolph in the 2017 class. USC running backs coach Bobby Bentley served as an analyst at Auburn from 2014-15, hired from Byrnes in the Upstate. Had this rule been in place at that time, Auburn would not have been able to recruit Byrnes for a time after -- or would not have been able to hire Bentley at all had it recruited Byrnes in the past two years.
"The part of this rule that stinks is that if they (college programs) like him and want him as a coach because they believe he will help their program, then he is not able to get a great opportunity for him and his family and further his career," said Memphis (Tenn.) White Station's Joe Rocconi.
Said South Pointe (S.C.)'s Strait Herron, who has captured multiple state championships and had several Division I signees at his program: "There are guys out here that are trying to better themselves every day. This policy hurts their chances to excel."
Said Spring Valley (S.C.)'s Robin Bacon: "When you do a blanket statement like that, you're punishing a lot of high school coaches who have earned it. For a lot of us, the goal is to coach college football. The biggest thing I would ask for the NCAA is to look at each case individually."
CHECK OUT The Insiders Forum to ask our staff a question, get insight into your Gamecocks, and interact with other Carolina fans

Greiner, who projects to have a pair of Division I signees at least in the next two recruiting cycles, believes that not every coach has aspirations of moving to the next level. But those who wish to do so should have that chance to begin ascending the ranks, even with prospects at their school.
"Most are satisfied," he said. "They get paid enough where they are, like what they're doing, family is growing up in the area. You're talking about slim pickings with people that want to make a jump to college. You're saying your career stops there, segregating high school coaches."
Said Rocconi: "I understand why they're putting in the rule, in the past when a college just hired a high school coach to get a player. But I never understood how a coach could take the job when obviously they don't care about you as a coach, just want your kid."
Herron offered up a hypothetical catch-22 from the NCAA for coaches, with the potential for a choice between career advancement and helping high school players.
"If I wanted to be considered for a college job I either need to keep my fingers crossed that I never have a good athlete, which in turn means I will get fired soon and therefore never get hired by a college anyway, or continue to work my tail off for the sake of the players, win many games and when colleges come tell them he isn't good enough to play at your school in hopes that he doesn't get offered," he said.
Greiner described the NCAA's efforts to curb hire-for-play schemes as an overreach.
"Say there's a player at your school and they want to give you an analyst job to get that kid," he said. "Guess what, all the other schools are doing that too. Nobody is going to move their family unless they have aspirations of going to college before."
Said Rocconi: "It seems like this is one of those things that the NCAA is trying to control but you can't decipher between the colleges that are genuinely hiring and colleges that are using it to get a kid."
ALSO SEE: Inside the commitment - breaking down the process that led to LB Ernest Jones picking the Gamecocks