Hixon reveals South Carolina commitment
The final silent #WelcomeHome has been revealed.
Jackson (Ga.) class of 2022 three-star defensive tackle Felix Hixon announced a commitment to South Carolina on Monday, choosing the Gamecocks after taking five official visits during the month of June.
Hixon was recruited to South Carolina by defensive line coach Jimmy Lindsey who quickly started building a relationship with Hixon and his family when he landed the job in Columbia.
ALSO SEE: Inside the commitment - Felix Hixon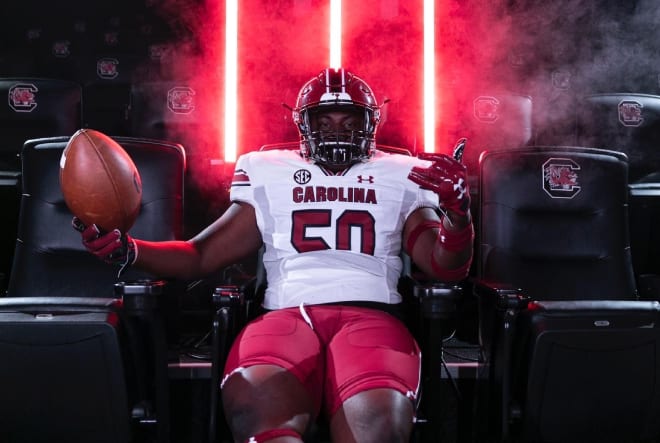 The 6-foot-3, 284-pounder chooses the Gamecocks over finalists Georgia Tech, Wisconsin, Illinois and Virginia.
He also had early offers from schools like Arkansas, Duke, Florida, FSU, Georgia, Penn State and Tennessee.
Hixon took a midweek official visit to South Carolina four weeks ago, a trip that he gave strong reviews.
"The visit was great," Hixon said at the time. "It was actually great to be around the coaches and the players and actually get to see the facilities in person. It was great to actually be here for the second time. Last time, I came to see around, of course I couldn't go in the facilities and things like that. But to actually go into the facilities, it was amazing. I had an amazing time."
Based on his feedback at the time, the relationship with Lindsey was also a likely key in his decision.
"It's been great," Hixon said. "As soon as he came here, he hit me up and told me he was going to be the new d-line coach and from then we've always stayed in touch. It's been great ever since. He wants me to play interior defensive lineman, three-technique mainly. From the past, we had already done some defensive line stuff on Zoom and he showed me how he does things. He said he sees me fitting right in."
South Carolina head coach Shane Beamer Tweets out #WelcomeHome whenever a prospect pledges to the school. Beamer's Tweet about Hixon came out June 23 at 12:12 p.m. after he committed to the head coach over the phone.
Hixon is ranked the No. 37 defensive tackle in the country.