Hood: SEC unlikely to add ninth game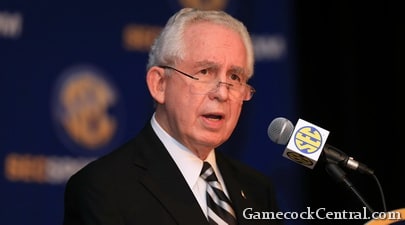 The Pac-12 was the first league to increase the number of yearly conference football games to nine.
The Big 12 is joining them in making the leap. And so is the ACC, which announced five days ago that its schools will play nine conference games when Pittsburgh and Syracuse join the league, possibly as early as 2013.
The SEC, though, will stick with eight league games for the time being.
And don't look for that to change anytime soon. Why? Several reasons.
First, the SEC is the toughest college football conference in the country by a wide margin. That fact was again proven this past season when two league teams competed in the BCS national championship game.
The rest of the country is sick and tired of the SEC dominating college football, but are powerless to stop the freight train simply because most SEC schools make winning football games a high priority, and are willing to spend just about any amount of money to make it happen in terms of facilities, recruiting budgets, etc.
Adding a ninth conference game would decrease the odds of a SEC team participating in the championship game under the current format because it will make it even harder for a conference school to go through a season unscathed.
At this point, SEC has little incentive to add a ninth conference game. With six straight national championships by four different programs, the astute adage that "if it ain't broke, don't fix it" has full force and effect.
But there are couple of reasons why it won't happen anytime soon. First, a nine-game conference schedule means every year half the league's teams would play five home and four road conference games, while some would have four home and five away.
If you've been playing attention, you know that any competitive advantage given to one SEC team is greeted with hysteria from other schools. What are the chances Alabama will agree to a system that forces them to play five conference road games in a year when arch-rival Auburn has five home games? Less than zero.
Emotions, intensity and passion already run high in the SEC, and having an unbalanced conference schedule would drive those intangibles off the charts.
Also, adding another conference game means conference school would be limited to seven home games every other year. Again, that won't be acceptable to those schools that rely on the income generated from home football games to fund their athletic departments and pump money into the local economy.
If forced to choose between a conference road game and playing a cupcake at home, most SEC schools will choose the latter because their stadiums are already close to being sold out.
The nine-game conference schedule is sure to be a topic of discussion among the football coaches and presidents when the league conducts its spring meeting in Destin, Fla., in early June.
Some, though, see a nine-game schedule as inevitable. And they might be right.
Four possible scenarios could change the SEC's thought process. All four, of course, involve money.
The league's TV partners could force the issue when all sides eventually sit down to renegotiate the mega-deals consummated three years ago. Currently, the SEC is receiving about $225 million per year from CBS and ESPN.
However, deals cut by the Pac-12 and Big 10 last year will give those two leagues larger annual payouts from their TV networks.
If the SEC demands a renegotiation (commissioner Mike Slive has acknowledged the current deal contains "look-in" provisions allowing the two sides to evaluate the deal based on current market conditions), CBS and ESPN could agree to pay the conference tens of millions of dollars more as long as they bump up the number of conference games to nine.
Second, the SEC could move to nine league games on the premise each school play the additional conference contest at a neutral location, preferably a NFL stadium, with both teams splitting the tickets on a 50-50 basis or, if that's not possible, the two schools sharing the gate.
Right now, several cities in the Southeast have NFL quality stadiums - Atlanta, Charlotte, Jacksonville, Nashville, New Orleans, Tampa and Miami. And with Missouri and Texas A&M joining the league in 2012, you can add Dallas, Houston, Kansas City and St. Louis to the mix of potentially available NFL stadiums.
You need only seven stadiums to make the concept work, so it's feasible. Does that mean we could possibly see USC play a SEC opponent at Bank of America Stadium in Charlotte or the Georgia Dome in Atlanta? Yes.
The third factor which could sway the SEC to play nine conference games is the implementation of a legitimate playoff system.
Once a four-team or eight-team playoff is established by the power brokers that run college football (will a plus-one system be enough?), the consequences of a single loss will be less devastating. As a result, SEC teams might be willing to assume more risk in terms of scheduling.
Finally, adding a 13th regular season game could make the SEC contemplate adding a ninth conference game. But the chances of that happening are very slim in the current climate where some people already oppose the current 12-game setup.
Right now, the SEC's public position is it will stay with eight conference games even though most of the other BCS leagues are going to nine.
But circumstances are different in the SEC.
So, until one or more of the aforementioned four scenarios becomes reality, the SEC is extremely unlikely to add a ninth conference game to the slate.
Just because SIGNING DAY is over doesn't mean our coverage of the
big day stops. We have more analysis of USC's 2012 signing class, plus
all of our normal content on GamecockCentral.com. Don't miss a thing
D. McCallum