How the Gamecocks plan on trying to stop Benny Snell
In the SEC, South Carolina's no stranger to facing good running backs every week.
This week against Kentucky is a different story.

The Gamecocks will face arguably the best back in the conference in Benny Snell, a back that had a Heisman campaign built for him and is a one-of-a-kind running back, head coach Will Muschamp said.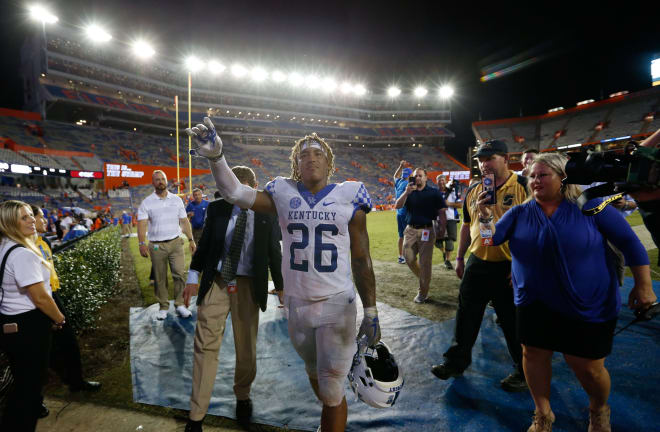 "There's not many of them out there," Muschamp said. "You need to emphasize gang-tackling, you need to emphasize swarming the football, you need to emphasize finishing on the ball-carrier. Those are obvious things that you talk about every week but obviously, the antennas are up a little bit more because our players respect him as a football player and a running back."
Also see: Hoops hosting major 2019 target this weekend
Snell currently ranks first in rushing yards per game (135), touchdowns (seven) and all-purpose yards per game (138.8), and second in scoring averaging 10.5 points per game.
He's the leader of Kentucky's offense, rushing most recently for 165 yards and four touchdowns against Mississippi State. He will be the focal point of South Carolina's game plan this week.
"Our biggest goal is to stop the run," linebacker T.J. Brunson said. "At the end of the day, they're going to try and run the ball. Our goal is to stop the run and the rest of it will be playing ball."
Also see: Insider notes, observations from Tuesday's baseball scrimmage
It's easier said than done, stopping a back like Snell, who Javon Kinlaw said would be playing on Sundays soon.
To get the defense ready for it, Deshaun Fenwick has been playing the role of Snell on scout team in practice but for the most part the defense is going up against the first-team offense to make sure they're prepared for Snell's bruising style.
"It's kind of similar to our style," Bryson Allen-Williams said. "We've been doing a lot of good on good with our offense. That's probably one of the only ways you can simulate a good, physical running team is with your number one offense."
Also see: A lot of star power on the field this weekend against the Wildcats
Playing against downhill running teams like Kentucky, the Gamecocks will come out in a base 4-3 defense to put more guys in the box as opposed to the nickel package.
The only problem, Allen-Williams said, with that is the Wildcats like to spread the ball on the perimeter as well, which could be hard for a 4-3 style of defense to stop sometimes.
For Allen-Williams, he could see some time at the BUCK spot, where he played the last two weeks with D.J. Wonnum out or could see some time at linebacker as well - all in an effort to stop Snell.
"Whatever the coaches call, whatever they ask me to do at my position, I got to make sure I do it," he said. "Everybody has to do their job. It's not going to be one person that comes out and dominates. We have to play team defense because one crease and he can take it to the house."
*** Current subscribers: To discuss this story, head over to The Insiders Forum, our private, members-only message board!
*** Not a subscriber? Get in-depth and insider coverage of the South Carolina Gamecocks with a subscription to GamecockCentral.com!