Hyman Responds To Moratorium Efforts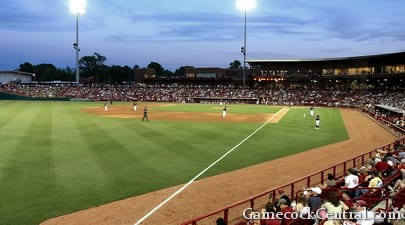 The first five years of Eric Hyman's tenure as South Carolina athletics director featured a lot of ups and downs.
Fortunately, there were more of the former than the latter.
Two days before Hyman's fifth anniversary as AD, the USC baseball team captured the national championship by winning the College World Series in Omaha.
That title is rightfully seen as the pinnacle achievement of Hyman's first five years. Other teams have won conference championships (men's soccer, women's soccer) while, department-wide, USC athletes have earned academic success in the classroom.
Hyman agrees the national championship in baseball paved a road for other Gamecock athletic teams to follow.
"The greatest thing about the baseball team achieving what they did was it showed we can do it," Hyman said. "You have to believe you can. It reassures us we can do it. If you think you can, you can. If you don't think you can, you will have a difficult time. It's gravitated to all the coaches and athletes. All the teams feed off each other. There's definitely been a ripple effect. It's already had an impact. It showed we can achieve on this level."
Some pundits maintain the national title shattered the glass ceiling over USC's head. Did it?
"The glass ceiling is where we put it based on the expectations," Hyman said.
Gamecock athletes have led or tied the SEC Commissioner's Fall and Spring Academic Honor Roll for eight consecutive semesters.
Financially, the department earns a small profit annually and has $11 million in reserve, satisfying a goal of depositing 15 percent of the operating budget in reserve. The department was millions in the red when Hyman started at USC on July 1, 2005.
At a recent meeting of the Board of Trustees, Hyman announced USC is finalizing a six-year, $19 million deal with Under Armour. USC also receives about $6 million per year from ISP, the school's multi-media rights holder.
For the most part, everything seems to be going swimmingly in Gamecock Nation. But Hyman takes a more cautious approach.
"I've done this too long and I don't get drunk on the highs because the lows will get you," Hyman said. "I just try to stay even keeled. I'm excited for the Gamecocks Nation."
Hyman believes the financial, facility and academic success of the athletic department will put USC into position to win more national titles.
"I think we're doing some things that will help us," Hyman said. "The presentation you make is part of the decision-making process (recruits) make. I've tried to model ourselves after what the university has done. I think we've made some inroads."
But storm clouds are building. S.C. Gov. Mark Sanford contends increased building costs on the campuses of public college and universities in the Palmetto State has resulted in unwarranted tuition hikes.
He held a Higher Education Summit Tuesday at the Airport campus of Midlands Technical College that was described in media reports as 'testy' at times between government officials, college administrators and legislators.
The State Budget and Control Board votes today at a meeting scheduled to begin at 2 p.m. whether to impose a moratorium, backed by Sanford, on all building projects at the state's public colleges and universities.
If that happens, Hyman predicts a "tremendously negative impact on University of South Carolina Athletics as we are trying to become a nationally prominent program."
"We do not use state money to underwrite our construction projects," Hyman wrote in a recent open letter to Gamecock fans. "There is no correlation between the construction projects in Gamecock Athletics and raising tuition."
Moreover, Hyman contended, the USC athletic department relies primarily on funding from private sources such as wealthy boosters, the YES Program and Gamecock Club to pay for new facilities.
Booster Delores Anderson donated about half the cost of construction of the new $13 million academic support center that opened in January.
"USC Athletics does not begin a construction project until they know they can pay for it through money they raise," Hyman wrote. "The current economic conditions have so lowered the cost of construction and borrowing that it is wise to build needed buildings now, if there is a revenue stream to support it.
Hyman told the Board of Trustees that private donations and the YES programs annually generate more than $6 million in revenue.
"The USC Athletics Department is a self-sufficient entity financially, drawing no support from the State of South Carolina. The USC Athletics Department raises all of its money for operational costs, salaries and construction projects and actually gives money to support the university. We do not use state money to underwrite our construction projects."
Since Hyman introduced the Long-Range Facilities Plan in November of 2006, USC has undertaken extensive improvements to its athletic facilities, including Williams-Brice Stadium.
One of the next planned major projects is a $1 million improvement to the home team locker rooms at Colonial Life Arena. Anderson donated the money for that project.