Hyman still preaching patience with hoops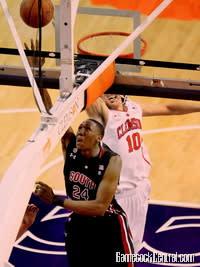 When it comes to the struggling South Carolina men's basketball team, South Carolina athletic director Eric Hyman has some advice for Gamecock fans angry about USC's winless start (0-4) in the SEC.
Patience is a virtue.
After 15 losses in USC's last 17 conference games dating back to last Jan. 22 (the stretch includes a 66-55 loss to Ole Miss in the SEC Tournament), some USC fans are ready to toss fourth-year coach Darrin Horn overboard and hire a new coach.
Not so fast, Hyman says.
"We're struggling," Horn acknowledged Monday on the 'Inside the Roost' program on 107.5 FM The Game. "Obviously, I've reflected back and thought a lot about the program. It just takes time to do it."
Hyman points to the fact nine of the 11 scholarship players this season are freshmen or sophomores. The only two upperclassmen are fifth-year senior Malik Cooke and junior forward Lakeem Jackson.
Many USC fans, though, are unwilling to cite youth as a legitimate excuse for the team's losing record (8-10) so far in 2011-12.
"I remember when players like Dominique Archie, Tarence Kinsey, Tre Kelley and Brandis Raley-Ross were freshmen or sophomores, and they struggled," Hyman said. "Experience is important. We just have to be supportive of our student-athletes and the university. I know the tremendous pride South Carolina fans have in their athletic teams and that's one reason why we can succeed."
Hyman is accustomed to the negative feedback he has received from USC fans concerning the men's basketball program. He says he received many angry e-mails and phone calls from Gamecock fans following the discouraging football losses to Clemson and Iowa to close out the 2008 season.
"I know our teams want to do the best they can and try to perform up to expectations. Sometimes it happens on their time line, sometimes it takes longer," Hyman told Gamecock Central recently. "If you're going to do it the right way, it just takes longer. You have to have the patience and understanding that if you're going to do it the right way, it takes a little longer.
"I understand the passion and I understand the feelings. A program has to create hope. But on the flip side, it takes time to do it the right way."
Just like with all of USC's teams, Horn said he will conduct a thorough review of Horn's program following the 2011-12 season.
When Dave Odom resigned following the 2007-2008 season, Hyman conducted a nationwide search for USC's new coach. Consistent with his philosophy, Hyman spoke with numerous people around the Gamecock program before deciding Horn was the best candidate.
"Years ago, when we developed a profile of what we were looking for (in a head coach), I sat down with the men's basketball team and a bunch of former players for a couple of hours," Hyman said. "Darrin Horn fit that profile. At the press conference, one of the former players told me that we had hit all the bullet points we talked about."
The last time USC beat an SEC East team in hoops? Jan. 15, 2011, when the Gamecocks stunned Florida 72-69, on the road in Gainesville. Since then, USC is 0-11 against former SEC East opponents, since the division no longer exists.
Since conference play started over two weeks ago, USC has experienced trouble putting two halves of good basketball together. Last Saturday's loss at Auburn was typical of the problems plaguing USC against SEC opponents: USC grabbed a 28-24 halftime lead, but came out of the halftime locker room unable to hold onto the ball and quickly surrendered the lead as Auburn went on a 20-6 run in the first 10 minutes of the second half. USC couldn't catch up and fell, 63-52.
USC hosts Alabama Wednesday at 8 p.m. After that, the Gamecocks play four of five games on the road, including stiff tests at Florida, Tennessee and Arkansas. The lone home contest during that stretch? No. 1 Kentucky (19-1) makes its annual visit to Colonial Life Arena on Feb. 4.
Four of USC's first five conference opponents possess an RPI that ranks among the nation's top 40: Kentucky (5), Alabama (29), Vanderbilt (30) and Florida (36).
By this point, though, USC fans don't want to hear about the high degree of difficulty of the Gamecocks' 2011-12 schedule.
"People that I have the utmost respect for told me a while back that the league was much better this year," Hyman said. "It's a tough league and it's gotten better. There was a period when it wasn't as strong, but that's not the case any longer. The league is tougher, but it is what it is. It goes in cycles."
In Horn's first three seasons, USC split six games with Vanderbilt. This year, the Commodores are a senior-laden team and the experience showed in a 67-57 setback in Columbia on Jan. 10.
"A couple of years ago, Vanderbilt was playing four sophomores and a freshman," Hyman said. "Now those guys are seniors. You have to have the experience. One of the keys to success in any sport is having juniors and seniors. It doesn't matter what program it is."


D. McCallum