iPad inundation: Gamecocks tracking player film study
Usually, coaches don't want players glued to their technology. While that's true for the majority of the time in meetings and during instructional times, when the players are away from the facility coaches want them glued to their devices.
That applies specifically to the Gamecocks' iPads, which players are expected to use on a daily basis.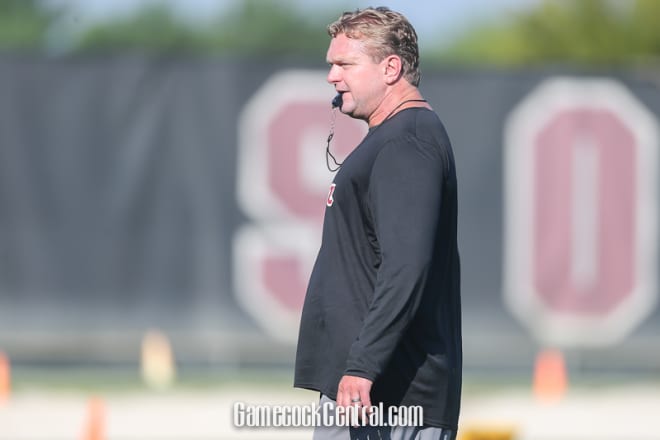 "Every couple days I get a sheet I asked for and it tells me who's on their iPad and who's not. If you have missed assignments and I don't see anything on the iPad as far as being logged in when you're outside the building?" Wolford said, shrugging his shoulders.
Also see: Insider scoop on a few new visitors for the Georgia game
Every player on the team is issued an iPad that's loaded up daily with video from practice the player is expected to go over at night on his own before walking into the facility the next day for practice and team meetings.
Wolford, and every other coach on staff, is able to get reports to see which players are spending the most, or least, amount of time studying.
"Every night you'd be expected to look over your install and watch one-on-one pass rush, critique yourself and the stuff we don't get to cover in film," Wolford said. "If you have a bunch of missed assignments and you're not looking those things over, you're sending the wrong message to this organization."
Also see: How do the Gamecocks plan on getting more explosive?
But each position likes to handle those reports differently, though.
Quarterbacks coach Dan Werner said he doesn't pay much attention to the reports, saying if a player doesn't watch film it'll show on the practice field and he won't be playing much.
A few other positions take the reports into account, but maybe none more serious than the offensive line.
There, it's stressed from day one if a player's not watching film on his own outside of the facility that it's going to be a rough day at practice.
If a player's not watching film, then the leaders on the offensive line get to decide a fitting punishment for the offending player.
A lot depends on how the leaders are feeling that day—punishments could range from extra sprints to bear crawls to anything else—but whatever it is, it's usually not pleasant.
"It's a brutal day at practice, but that falls back on the leaders and the punishments we want to give out to the young guys," Zack Bailey said. "It's important to us: watching film and understanding your craft and technique."
Also see: Is Jaydon Hill's mind made up already?
The Gamecocks have been putting an extra emphasis on making sure players are spending a little extra effort in their down time in learning the playbook.
Having it on an iPad helps, with the information more readily available for players to access in their apartments and away from the facility.
It also helps the younger players still learning the system get a head start by getting into the film and playbook so they're not playing catch up during the season and can focus then on competing for playing time."
"Whenever we're not here, we have time on our own to make sure we get it all. You got the younger guys that get ahead by looking at the playbook when we're not here," Deebo Samuel said. "You're going to take advantage of the opportunities or you're not."