Is Walker the best hitter in the country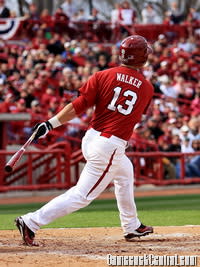 In two seasons, junior Christian Walker has transformed from heralded high school prospect to one of the top hitters in all of college baseball.
The proof is in the numbers and, of course, the national championship rings.
Walker batted .358 with 10 homers and 62 RBI in 2011, earning the team's triple crown and third-team All-America honors from Baseball America.
Projected by some as a high draft pick in June, the 2012 season will likely be Walker's final year in a Gamecock uniform.
In two national championship seasons, Walker has compiled an impressive batting average of .344 with 19 homers and 113 RBI. His 171 career hits assures him of reaching the 200-hit plateau as long as he stays healthy throughout the upcoming season.
"I have tremendous respect for Christian Walker as a player," USC coach Ray Tanner said recently. "Starting this fall, the scouts have really started to rank him pretty high among the best hitter in the country. His hand-eye coordination is incredible. He hit 10 homers last season and the reason he hit 10 instead of 17 or 18 is because he is a really good hitter. He'll take the ball the other way and he'll take what you give him."
Walker is more than just a power hitter. He has 33 doubles in two years, putting him within range of becoming just the eighth player in school history with 50 or more career doubles.
"Could he hit more home runs? He probably could," Tanner said. "But he wouldn't be as good of a hitter, as far as numbers are concerned. He's also been a big-time clutch guy, as we all know. We're glad to have him in the lineup. I think we have enough good players around him that he has enough protection."
In all three scrimmages this past weekend, Walker batted third with third baseman LB Dantzler in the cleanup spot. Dantzler has displayed enormous power in the first six scrimmages, raising the confidence level of the USC coaches that he will prevent opposing hurlers from pitching around Walker.
"I try not to swing for home runs too much and just stay gap-to-gap and let the rest come," Walker said.
Walker earned respect for playing the national championship series with a broken hamate bone in his left wrist. He went 2-for-4 in the 5-2 victory on June 28 that clinched USC's second consecutive title.
In Game 1 the previous night, Walker was directly involved in one of the most memorable plays in USC baseball history when he singled up the middle with one out in the 11th inning. When Walker attempted to steal second, the throw by Florida catcher Mike Zunino sailed into center field, allowing Walker to scramble to third.
However, the center fielder's throw then bounced past the third-base bag and into the stands, allowing Walker to score the go-ahead run.
The broken hamate required surgery and prevented Walker from participating last summer with the USA Baseball Collegiate National Team.
"I couldn't do too much after coming off the surgery," Walker said. "I was definitely looking forward to that, so it was disappointing. I was pretty excited to have the chance to go from Omaha to Team USA, but there was nothing I could do about it."
Along with the rest of his teammates, Walker's 2012 goal is simple: a three-peat in Omaha. But Walker is the only returning infielder starter in the wake of the departures of Scott Wingo, Peter Mooney and Adrian Morales.
"The expectations are always going to be in the back of our minds, but at the same time we didn't let it bother us last year, coming off the first one," Walker said. "Hopefully, we will have the same team reaction this year. I see it more of a challenge than a burden. We had a great team the last two years."
The loss of the aforementioned infield trio, together with his junior status, means Walker must take on a greater leadership role in 2012.
"Even though I'm not a senior, I definitely see myself as a leader, along with (Evan) Marzilli and a couple of the older guys," Walker said. "We all feel we have a role (as leaders) on this team."
Three years ago, suggesting USC would win back-to-back national titles would have been far-fetched for the Limerick, Pa., native.
"We have a great group of guys and a great group of coaches. It's all coming together for us," Walker said. "(Having three new infield players) will be a little different, but as far as the chemistry goes, it's still there. We have a great group of new guys coming in. All the guys are there mentally. Right now, we couldn't ask for anything more from them. There is no doubt in my mind we can be just as successful as we have been."
Besides his impressive abilities with a bat in his hands, Walker has turned himself into an outstanding defensive first baseman. He was named to the all-SEC defensive team.
When he arrived at USC in the fall of 2009, the Gamecock coaches thought he would play the outfield or third base. But he was moved to first midway through his freshman season and he has remained there since. Nowadays, he can scoop bad throws with the best of them.
"I definitely feel a lot more comfortable at first base," Walker said. "After my freshman year, I lost some weight and felt a lot lighter on my feet. Ever since then, everything has been positive."


D. McCallum