Look Back, Look Ahead: Freshmen impact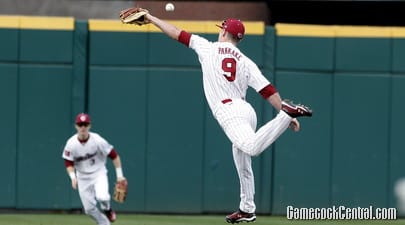 Fourteen new players saw action for the first time in a South Carolina uniform during this past weekend's three-game sweep over VMI.
While that may not sound unusual, consider that nine of those first-time performers were true freshmen. USC started five true freshmen in the second game of Saturday's doubleheader, a 13-1 win, a nod to the impressive array of young talent on the 2012 roster.
USC coach Ray Tanner is known for relying more on older players, so his extensive reliance on younger players throughout the course of the weekend was a bit out of the ordinary.
Over the course of the three games, 45.5 percent (46-of-101) of the total at-bats by Gamecock hitters were taken by true freshmen. Four true freshmen, including the designated hitter, started the season-opener.
"I don't think I've ever started four freshmen," Tanner said. "That can be dangerous. They're good players, but they don't have experience. That's the key factor. Hopefully, they get that experience and get into the comfort zone very quickly. You have to really grow quickly when you have young guys."
Freshman catcher Grayson Greiner had an impressive debut by hitting .400 (4-for-10) in three games. He had two hits in the opener and gunned down the potential tying run at second base in the ninth inning. He was also 2-for-4 with a double and run scored in the 13-1 win on Saturday.
"Grayson has an incredible future here," USC associate head coach Chad Holbrook said Monday on 107.5 The Game. "We think the world of him. For a freshman to come in and catch the way he caught and hit in the middle of our lineup, that was certainly an impressive feat. We're very pleased with Grayson's development. We really like the way he catches, but he also swings the bat very well, too. He'll be in the middle of our lineup going forward."
Evan Beal, Connor Bright, TJ Costen, Tanner English, Kyle Martin, Jordan Montgomery, Joey Pankake, Joel Seddon and Greiner are the nine true freshmen that saw action on opening weekend. Redshirt freshman Drake Thomason also played.
English went 3-for-11 in the series and made the top defensive play of opening weekend when he threw out a VMI runner at the plate in a key spot during the lid-lifter of Saturday's doubleheader. English is best known for his speed, but he possesses a cannon arm as well.
"That was a big play, no question about it," Tanner said. "He can play defense, he can run and he can throw with the best of them. We've had some guys come through this program like Marcus McBeth and Jackie Bradley Jr. and Tanner that can make a play (with their arms). It's hard to get an assist from the outfield. There aren't many. He came up with a big one and gave us a chance to win."
English tallied two hits in the opener, collected a RBI single in the 3-2 victory on Saturday and finished his weekend with two runs scored and an RBI in the final game. Not bad for a guy playing major college baseball for the first time in front of a combined weekend total of 25,000 fans.
"Tanner English played a lot this weekend and got into a lot of situations," Tanner said. "He beat out a double-play ball (Saturday). This was valuable for him. We've been practicing since the fall, but it's not the same as cranking it up this weekend."
Costen belted his first career homer, a two-run shot in the eighth inning, and scored two runs in the second game on Saturday.
In the series finale, Martin started at first base and went 3-for-5 with a double, RBI and two runs scored in the 13-1 victory. Martin is stuck behind Christian Walker at first, so his playing time might be limited in 2012. Starting next season, though, he should be USC's starting first baseman.
"The more at-bats we give Kyle Martin, the more he's going to be comfortable," Tanner said.
PLAYER OF THE WEEK: Evan Marzilli;
LAST WEEK'S RECORD: 3-0;
OVERALL RECORD: 3-0 (0-0 SEC);
POLLS: No. 3 in Baseball America; No. 2 in Collegiate Baseball; No. 2 in NCBWA poll.
LAST WEEK'S RESULTS:
Fri. 2/17 - v. VMI, W 2-1
Sat. 2/18 - v. VMI, W 3-2 (Game 1)
Sat. 2/18 - v. VMI, W 13-1 (Game 2)
CARTER COUNTRY: Junior right-hander Ethan Carter returned to the mound for USC for the first time since the 2010 College World Series, in relief of Matt Price on Saturday, and was credited with the victory in the 3-2 win.
After taking the mound with the bases loaded and no outs in the top of the sixth, Carter hurled a career-high four innings for USC. He gave up a run on a single but got a huge boost when English threw out the potential go-ahead run at the plate.
Carter, who pitched last year at Louisburg (N.C.) College, fanned six of the 13 VMI batters he faced. With his patented slider working flawlessly, 32 of the 42 pitches Carter threw were strikes, an impressive strike percentage of 76.2 percent.
"My job was to go in there and pound the strike zone," Carter said. "I felt pretty good with all my stuff. It was nice being back out there. I told the guys (Friday) in the locker room that it felt good to put the uniform back on again."
ELON COMES CALLING: USC will return to action at 3 p.m. on Friday in the opener of a three-game series against Elon, whose program has risen in the Division I ranks in recent years. The Phoenix finished last season 36-21 overall, 23-7 in the Southern Conference.
Elon hosted a four-team tournament this past weekend and won all three games, beating Akron on Friday in the season-opener before sweeping George Mason on Saturday.
Game times for the Elon series are 3 p.m. Friday and 1:30 p.m. on Saturday and Sunday.
NOTES
* It might be a new season, but one thing remains the same for USC - great pitching. In the three wins over Elon, 11 pitchers saw action and combined for 36 strikeouts and just four walks in 27 innings. They compiled a 1.33 ERA while VMI hitters batted just .121 for the weekend with only one extra-base hit and 11 total hits.
* Junior left-hander Tyler Webb won his seventh career game in the 2-1 win over VMI in the opener. Webb's last win came on May 17, 2011, in a 9-5 win over UNC Asheville. Webb relieved starter Michael Roth and worked 2 1-3 scoreless innings with just one hit and struck out four.
* USC is ranked second in the nation in college baseball attendance after opening weekend averaged 7,751 fans per game.
* Junior Evan Marzilli was USC's leadoff hitter in all three games this past weekend and hit .500 (6-for-12) with a .538 on-base percentage. Marzilli enjoyed a 3-for-4 day at the plate and scored the game-winning run in the opener. He went 3-for-4 with a triple, a run scored and two RBIs in Saturday's 13-1 win.
* In addition to Beal, Bright, Costen, English, Greiner, Martin, Montgomery, Pankake and Seddon, other players debuting for USC this past weekend were third baseman LB Dantzler, right-hander Hunter Privette, outfielder Sean Sullivan, Thomason and second baseman Chase Vergason.
* USC's 16-hit total in the 13-1 win over VMI on Saturday represents the most hits by a Gamecock team since April 24, 2011, when the Gamecocks tallied 18 hits in a 13-4 win over Mississippi State. It is also the highest hits total by a Gamecock team on Opening Weekend since Feb. 23, 2008, when it had 19 hits in a 22-5 win over East Carolina.


D. M cCallum