LSU owns glass in win over USC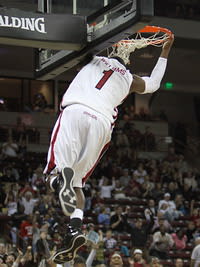 The play got South Carolina back in the ballgame. The call shoved it right back out.
USC (10-16, 2-10 SEC) made a run, as it usually does, but fell short. Back-to-back 3-pointers from Cooke made it 56-52 with three minutes to go, but then Hamilton got another putback against Gill, who refused to plant and flop, and Ellington turned it over.
"We've got to play better, period," Horn said. "We've got to coach better and we've got to play better. That's the thing that we keep coming back to. We've got to do the things that we can do."
The problem with that on Saturday was twofold. The Gamecocks again didn't get production from players they need to get production from (Ellington, Leonard, Harris with eight points but also four turnovers). They also didn't rebound, getting whipped 36-23 on the glass.
"That's an individual thing, with guys going to get rebounds, and that didn't happen today," Horn said.
Cooke, who said after a five-game losing streak before the win over Georgia that the team's belief wasn't being shaken, also seemed to be losing faith.
"We've got to stop making excuses for ourselves and take some accountability and pride in what we're doing," Cooke said.
The defense, which used a 1-3-1 to help beat Georgia, was constantly missing against LSU early as the Tigers stroked four 3-pointers. It tightened late, but the Gamecocks were too far down and LSU had already established what it wanted to do.
The Tigers ran into the lane against Gill and Harris, and pushed Gill out of the way. "I need to set my feet and take a charge," said Gill, who scored nine points. "I've got to be smarter than that."
The buckets weren't falling, but USC got back in the game. Williams' dunk had the Gamecocks there, and the technical had them back out. Ellington's turnover and Turner's 3 cemented it.
"We can practice 10 hours a day and watch as much film as we want and motivate and encourage," Horn said, "but guys have got to show up and do what they're capable of doing."