Martin likes USCs summer progress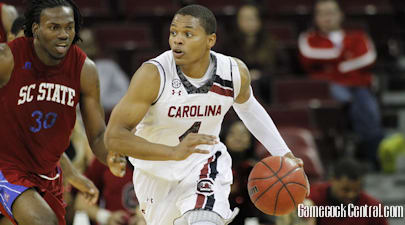 [rl]
South Carolina's basketball team ended last season by winning four of its last six games and making an unexpected run into the SEC Tournament quarterfinals.
They've continued that progress into the summer, by all accounts.
Frank Martin, a man not known for being particularly easy to please, is proud of the Gamecocks' progress since the season ended in March.
Martin said he was "extremely happy" with the effort he's seen from South Carolina's players, including the incoming freshmen, in summer workouts.
"It's day and night with the approach, the physicality, the attention to detail and the sense of urgency for every drill in the middle of summer," said Martin, who is entering his third year as the team's head coach.
Martin understands the talent he has in sophomore guard Sindarius Thornwell, an SEC All-Freshman team selection and the team's leading returning scorer with 13.4 points per game last year. And he probably doesn't mind having senior point guard Tyrone Johnson, who missed the second half of last season with a broken foot, back to 100 percent.
Sophomore guard Duane Notice, who stepped into a starting role after Johnson's injury last January, has stood out this summer, Martin said.
"Duane's been awesome," Martin said of the Canadian, who averaged 8.2 points and 2.9 assists per game last season. "Duane's had a great spring and summer, which doesn't surprise me."
But Martin has been thrilled with his other players as well.
"The Lithuanians are better; Demetrius (Henry) is better," Martin said. "I have a different feel about our team than I've had at any time since I've been here, which excites me because I had a pretty good feel for this group of guys last summer.
"But right now, it's better than it was last summer. That's what I look for. I look for that progress."
Martin is hoping that USC's improvement will translate to more wins next season. That Gamecocks finished 14-20 last season, including a 5-13 mark in the SEC, where they finished the regular season one spot from last.
USC lost guard Brenton Williams, who led the team in scoring with 14.9 points per game, to graduation. And guard Jaylen Shaw (Coastal Carolina) and forward Desmond Ringer (Mercer) transferred after one year in the program.
A few incoming freshmen hope to plug those holes in the roster. Guards Marcus Stroman and TeMarcus Blanton and guard/forward Shamiek Sheppard have joined the team for summer workouts.
Thornwell, who was in their shoes this time last year, has marveled at how quickly they are adjusting to the college level.
"They want to get better," Thornwell said. "They're in the gym, always working on their game. They listen. They're willing to learn and to go hard and compete, so that's the biggest thing you can ask.
"They come in here and compete and go at us, even though they're young."
"We all get to play together, gain that confidence in one another," Thornwell added. "When fall comes, we can bring it together as a team and hopefully do better."
But USC has suffered its setbacks on that front as well. Sheppard could miss some time after "tweaking" his knee recently, Martin said. The 6-foot-6 Brooklyn, New York, native has yet to be evaluated by the team's trainer.
The fourth signee of the class, 6-foot-9 forward James Thompson, a Baton Rouge native, was arrested in Louisiana earlier in June on charges of aggravated battery and domestic abuse by battery.
Martin would not comment Thursday when asked about Thompson's future with USC.
USC players will participate this July in the S.C. Pro-Am, a basketball league featuring high school, college and professional players from South Carolina. Thornwell and Johnson should be the only Gamecocks to miss any of it, as they will skip the Pro-Am playoffs to represent the United States in the Four Nations Cup in Europe from July 31 to Aug. 8.