Martin: More 3s needed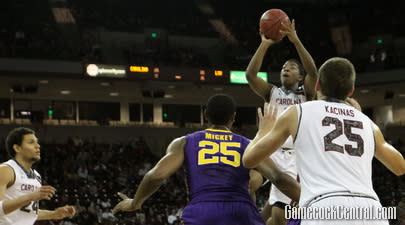 When South Carolina faces Ole Miss and star guard Marshall Henderson tomorrow at the Colonial Life Arena, it will be a matchup of two of the SEC's top three-point shooting teams.
That's not a misprint.
Everyone knows Henderson is a lights-out shooter. Yesterday, USC head coach Frank Martin described Henderson as the best three-point shooter in the nation, a player who can go on 8, 10 and 12-point runs all by himself in the span of four or five possessions and change a game. Behind him, the Rebels are first in the SEC in three-point field goal percentage at .385, led by Henderson, who leads the league and is third in the country in three-pointers made per game at 4.5 and is second in the league in scoring at 19.2 points per game.
The Gamecocks? It may come as a surprise to learn that USC is second in the SEC in three-point shooting percentage at .364 just behind Ole Miss. What may not come as a surprise is that that stat is a bit misleading, as the Gamecocks are next to last in the SEC in three-pointers attempted per game.
In other words, when they take them, they make them, but most of the time they don't.
For Martin, the stat reflects his offensive philosophy as a whole.
"I just want us to shoot good shots," Martin said. "That's all I want. I don't like shooting threes unless we pressure the rim first, that's just my kind of pet peeve.
"If we start shooting 27 and not making any of them, two weeks later you're going to ask me why aren't you going inside more. I want guys to take good shots.
"To me, a good shot is number one, a shot you can make. A shot that's in rhythm and a shot you can rebound. To me, that's the definition of a good shot. We've got one guy that's on attack mode from the three-point line at all times, and that's Brent (Williams)."
Williams leads the Gamecocks in three-pointers taken (79) and made (31) for a percentage of .392. That's not the best on the team. That distinction belongs to Jaylen Shaw, who is shooting .471 from behind the arc on 8-of-17 shooting. Guard Ty Johnson, who is out for the season with a broken foot, is second on the team in percentage with .421 on 8-of-19 shooting.
Duane Notice, who will see the lion's share of the minutes vacated by Johnson's injury, is shooting three-pointers at a .360 clip on just 9-of-25 shooting. Martin said his he's OK with his shooters taking more threes.
"Duane Notice will shoot some for us," Martin said. "Sindarius (Thornwell), the other day he shot one early (against LSU) and it went in and it kind of gave him that confidence to be more aggressive. Sin has to be a lot more aggressive offensively. He has to play a lot more like he played the other day. I don't know if it's because that first three went in and that gave him the oomph to be more on the go, but he's got to be able to shoot a couple every once in a while.
"I've had teams where we've had guards that could really, really shoot it, and they shot a whole bunch more. We probably need to shoot some more than what we're shooting, but I like balls going in more than I like shots, and we're shooting a good percentage, which means the right guys are shooting it. It's our job as coaches to get those guys more opportunities."
That opportunity comes knocking tomorrow at 4:30 p.m.