Marty Simpsons big-play breakdown: Defense

In this special feature, former Gamecock football player Marty Simpson takes a look at some of the big plays -- both good and bad -- when the Gamecock defense was on the field during the Vanderbilt game.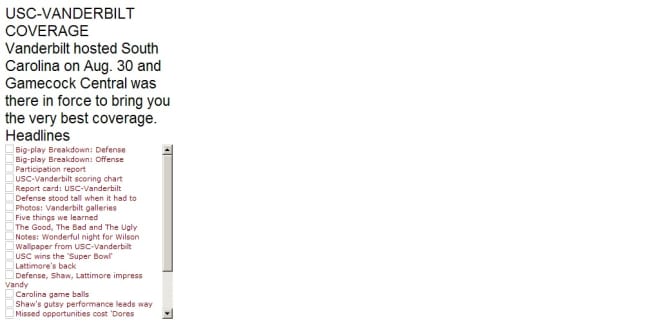 Note 1: Jimmy Legree made two very nice plays early in the game at cornerback. He looked physical, aggressive and ready to play football. This was very encouraging.
Note 2: D.J. Swearinger was strangely missing from this game. It just seemed like last year he showed up in every tackle everywhere on the field. I didn't really notice him at all in this game.
Note 3: This is a special teams note, but still worth mentioning. It doesn't matter who the players or coaches are, the specials teams continue to be an area of struggle for the Gamecocks. Right after the offense responds heroically to the Vandy touchdown, the kickoff coverage team allows a huge return. Kudos to Damiere Byrd for running the guy down and saving the game.
And now, here are your Gamecock defensive plays broken down, as chosen by the SEC Network.
Shaq Wilson interception
[Click on the video to play it.]
First of all, congratulations to Shaq Wilson for being on the team since Sterling Sharpe was in school. Is it just me or does it feel like Shaq has been a Gamecock longer than Spurrier? But seriously, congrats to the eighth-year senior for making, what turned out to be, the biggest play in this football game. It has to warm your heart to see a guy like Wilson, go through what he's gone through, and then play as well as he played versus Vanderbilt.
The initial alignment could have caused confusion when the wing back went into motion but it didn't phase the Gamecocks one bit.
[This is an image, not a video.]
Wilson was on this play from the beginning. Not only did he sniff out the screen/throwback like a ballhawk, but he went up and made a very athletic play to actually catch the football. You may be saying to yourself that he got away with a little early contact and he could have been flagged for pass interference, but I believe he was savvy enough to realize the receiver was behind the line of scrimmage and therefore could be contacted prior to the reception. In other words, he didn't care if he bumped the running back because he knew he was allowed to. Just like the linemen pulling to block out there knew he could hit Wilson while the ball was in the air. All of these things were legal because the ball was being thrown behind the line of scrimmage.
[This is an image, not a video.]
One thing worth noting about this play is how different it is from the one Auburn runs with LutzenkerkenzollonatorbuyaVowel. When Auburn runs their version of it, LutzenkerkenzollonatorbuyaVowel lines up on the right side, and they roll to the right and then run him out through all the traffic of a few picks and screens (including one from the umpire!) This play was much easier for Wilson to make. I am just noting this if you are thinking to yourself, "Well at least Auburn's throw-back won't work against us this year." The jury is still out on that.
One last thing that I noticed was how quickly the announcer notices that Wilson won't have the speed to take it to the house. You can almost sense the Gamecocks also know this and are hustling to get in line for a lateral. I think if you zoom the audio mics into the helmets of the Gamecocks trailing the play you will hear them yelling, "Pitch it, Shaq! Pitch it!"
[This is an image, not a video.]
Jordan Matthews 78-yard TD reception
[Click on the video to play it.]
The first noticeable thing about this play is that the receiver who ends up catching this pass runs straight down the field without being touched by any Gamecock defender. I am not talking about after he catches it, but prior to catching it. (Because he obviously wasn't touched after he caught it either!)
The Gamecocks appear to be in a three-deep zone, based on DeVonte Holloman's zone drop into the flats. Holloman needs to collision the receiver off the line of scrimmage to disrupt the timing of this play. During the game, they showed an end-zone view of this pass and the Vandy quarterback did an amazing job of dropping this ball into the receiver's hands just over the linebacker's reach. Had Holloman created some form of collision, even a minor one, then this pass would have been that much harder to pull off, and may have even been picked off by the linebacker.
[This is an image, not a video.]
Also, the main reason this play was even a completed pass was because of the poor judgement on the free safety's part. Brison Williams was in perfect position to deliver an Ed Reed-type kill shot on this receiver and he, for some unknown reason, decided to play the ball as if he had a shot to intercept an overthrown pass. Free safeties roll around in their sleep dreaming for a kill shot to be set up as sweet as this one was, and Williams didn't take advantage. I predict he will receive the necessary coaching in the coming days, and this problem will get corrected. I also predict a few scout-team wide receivers will get injured in the process.
For readers who don't know what scout-teamers are, they are the back-up reserve players who simulate the other team's plays during the week. Typically, full contact is allowed on scout-teamers since they won't play in the game on Saturday anyway. I am implying that Brison Williams will likely take a scout-team wide receiver's head off in practice to make up for this mistake.
[This is an image, not a video.]
Jordan Rogers crazy scramble play
[Click on the video to play it.]
This play is first and foremost set up by the offensive left tackle bear-hugging and grabbing Jadeveon Clowney. I realize that holding won't get called every play, so I will continue to break this play down assuming this went uncalled for a good reason (wink, wink).
Taylor at the left end position does a good job speed-rushing to beat his man, but actually over pursues. He got too deep and didn't fight back across the face of his blocker soon enough to close down the alley for the quarterback to scramble out of.
[This is an image, not a video.]
As an offensive coach you are always teaching your quarterback to NEVER throw this ball and somehow the Vandy quarterback gets away with this one. Favre couldn't complete this same pass for the Vikings versus the Saints, but somehow the Vandy quarterback does.
Credit Shaq Wilson with amazing hustle. It's worth watching the play again and just watching Wilson the entire play. Also worth noting is Victor Hampton had an opportunity for a kill shot as the receiver caught this pass but did a similar thing to Brison Williams as he just misjudged where he was in relation to the ball and receiver.
Plays like this happen sometimes. It's a tribute to this Gamecock defense that they were able to mentally recover and hold Vandy to a field goal after such a crazy play. Look for these problems to get corrected, because all of these problems are very coachable and teachable, and therefore, correctable.
From coach to comedian: Marty Simpson
is a former Academic All-Conference player who scored the Gamecocks' first 6 points in the SEC. During 8 years as a high school varsity coach, Simpson led his team to the state finals and saw one player advance to set an NFL rookie record. Simpson now divides his time between his family, running
Blue-Eyed Panda
, Co-Hosting The Corey Miller Show on 560 The Team, and traveling the country as a stand-up comedian.
Check out Marty's comedian website here.