MBB: Auburn routs South Carolina 109-86
Auburn had a record-setting offensive performance in a 109-86 win over South Carolina.
Against Missouri, Frank Martin said the Gamecocks' defense was "not good." It got worse against Auburn. The 109 points is tied for the seventh most ever allowed by a South Carolina team. It is the most ever allowed in an SEC game. The most points ever allowed by South Carolina is 126 by Kentucky in 1979. Marshall scored 116 in 1980.
Auburn smashed the record for the most points South Carolina had allowed under Martin, which was 97 by Georgia in 2014. The 109 points are the most ever scored by Auburn in a road SEC win.
The Tigers shot 52% for the game and 52% from three, while making 15-16 free throws. They had 21 assists on 40 baskets, and a plus-10 rebounding advantage
"All we've talked about for the past five days is we can sit around and make excuses or embrace the hand we've been dealt," Martin said. "The self-accountability is not there and the lack of team discipline that you build over the course of the season is not there."
Auburn took control of the game with a 16-2 first half run that saw South Carolina miss 14 of 15 shot attempts and go almost eight minutes without a basket. That run broke open a game that had seen eight lead changes in the first seven minutes, but it was South Carolina's abysmal defense that made sure Auburn never had to worry about the threat of a comeback.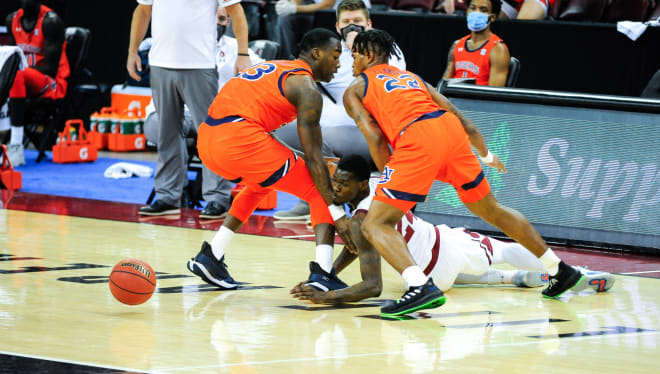 South Carolina scored consecutive baskets just nine times in the game because it could never get a stop. The only time South Carolina scored three consecutive baskets to form any sort of run was an 8-0 run with two minutes left that cut a 31-point deficit to 23.
"Everyone has to be accountable and have the courage to fight," Martin said. "We were 0-for-the-day with being accountable."
"We never punched back," he added, later saying, "We're just *there.*"
Auburn had five players in double figures, led by Allen Flanigan's career-high 24. Freshman sensation Sharife Cooper had 16 points and 12 assists, although he had the only missed free throw for Auburn.
Keyshawn Bryant led South Carolina with 24 points. He added five rebounds and a trademark highlight-reel dunk. AJ Lawson broke out of his slump with 23 points, including 6-8 from three. Jermaine Couisnard added 16 points, six assists, and five rebounds, but shot just 4-16. South Carolina shot 41% for the game, and 9-24 from three, but made up for it by going 21-29 from the line. It just wasn't enough to overcome the defense.
"We've just got to communicate better. We weren't communicating on the court," Lawson said. "To get past this we've just got to communicate."
Notes:
South Carolina was without starter Alanzo Frink and key reserve Jalyn McCreary. Both were at the game wearing masks. … South Carolina has allowed 100 or more points 29 times in program history, and is 1-28 in those games. The lone win was a 111-107 victory over Tennessee in 1992-93. South Carolina is 46-1 when scoring 100 points, with the only loss 107-106 to Miami (Fla.) in 1959-60. … Bryant started the second half in place of Seventh Woods. Woods had four points on 1-5 shooting. … Freshman center Tre-Vaughn Minott, who joined the team He entered at the media timeout and played the final 3:58 of the game. Minott, who is every bit of 6-9, 280 pounds, had a turnover. … Nathan Nelson played six minutes. He scored the second basket of his career (the other was against Wyoming last season). … Wildens Leveque led all players with a career-high 10 rebounds. He also had a block and two steals. … After scoring a career-high 17 against Missouri, Trey Anderson was scoreless in four minutes. … South Carolina's next game is Wednesday against Georgia.