MBB: Gamecocks cruise over Aggies
SOUTH CAROLINA GAMECOCKS MEN'S BASKETBALL
South Carolina got hot from three and pulled away from Texas A&M in the second half for a 71-54 win Tuesday night in College Station, Texas.
South Carolina made its first four three-point attempts of the game, part of an early 16-4 run that put the Gamecocks out in front by 10. Texas A&M chipped away at the lead, getting as close as three points during the rare stretch when South Carolina's threes weren't falling. That stretch didn't last long.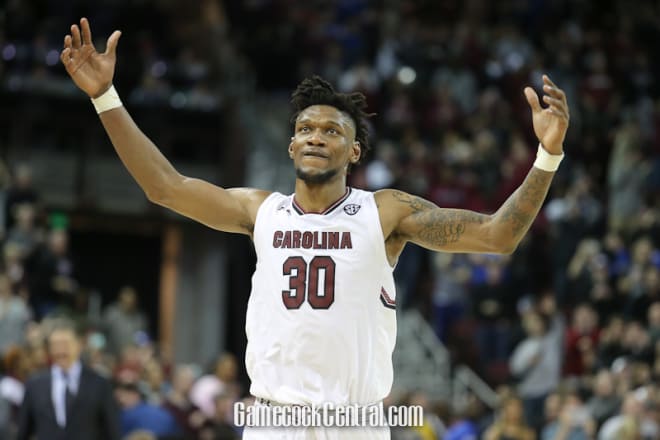 Felipe Haase made a three to start the second half, followed by five points from Chris Silva to push the lead to 11. The teams traded baskets and then the Gamecocks went on a game-clinching 9-0 run that lasted nearly five minutes. Four different players scored during the run, which ironically did not feature a single three-point basket. It was the perfect run for the short-handed Gamecocks, not only because it stretched the lead to 17, but because it drained so much time off the clock.
South Carolina shot 13-of-23 from three, and five different players connected from behind the arc. Surprisingly, Silva was the hottest shooter. He was a perfect 4-of-4 from three, doubling his previous career high. Silva was dominant all over the court. He finished with 22 points and a career-high 17 rebounds. He also had an assist, a block, and two steals as Texas A&M was unable to find anyone who could handle Silva.
Hassani Gravett also made four three-pointers, and finished with 17 points and eight assists. Gravett gave the Gamecocks a scare when he banged heads with Keyshawn Bryant and briefly left the game holding the back of his head. He didn't sit long, playing 38 minutes. Bryant added 15 points.
Defensively, South Carolina held Texas A&M to just 37 percent shooting, and 22 percent from three. Wendell Mitchell, who went off for 20 points in the first meeting, scored just 15 and shot 6-of-16 and 1-of-7 from three.
With the win, South Carolina moves to 10-7 in the SEC, and holds serve in the race for fourth place in the conference. South Carolina currently holds tiebreakers over everyone except Mississippi State, so it needs the Bulldogs to lose another game.
Notes:
Tre Campbell played a career-high 38 minutes and had a career-high nine assists. … Walk-ons Nathan Nelson and Quad Borup both got in the game in the final minute. … South Carolina was a dismal 8-of-19 from the foul line, and at one point was 3--of-10. … Despite Silva's effectiveness on the boards, Texas A&M had a 36-34 rebounding edge. … Maik Kotsar played 17 minutes off the bench, scoring five points and grabbing four rebounds. … Alanzo Frink played just four minutes. … South Carolina returns home to host Georgia in the regular season finale Saturday.