MBB: Gamecocks roll past Spartans
SOUTH CAROLINA GAMECOCKS MEN'S BASKETBALL
South Carolina basketball exorcised some demons with an 81-64 win over Norfolk State Tuesday night at Colonial Life Arena.
The Gamecocks never trailed, and led by as much as 28 in the second half. It was a typical November game against an overmatched opponent, and that was a good thing. After struggling through their first two games, also against overmatched opponents, the Gamecocks needed to get some momentum as the schedule gets harder.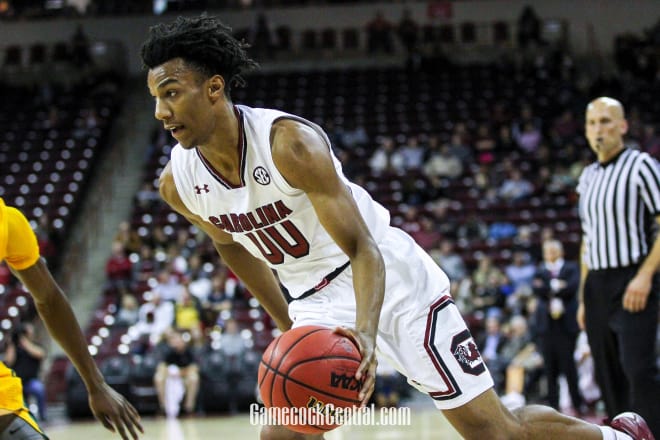 South Carolina only led by 14 at halftime. It had taken 20 threes (making just nine) and attempted only nine free throws. South Carolina was settling for jump shots instead of attacking the basket, while Norfolk State got to the line 15 times. South Carolina addressed the problems at halftime, and came out on fire.
"I was happy for our guys," head coach Frank Martin said. "They needed something good to happen for them."
The Gamecocks made their first four threes of the second half, mainly because they were open looks created through the offense. Hassani Gravett led the way with a career-high five threes (on six attempts), scoring 18 points. After being outrebounded by 16 by Stony Brook, South Carolina outrebounded Norfolk State 36-24. It played energetic defense and patient offense, all the things it didn't do in that loss.
"It's good to come out and play well," Martin said. "It was good to see us play through our principles for the first 32 minutes of the game. We had a really good practice yesterday."
Chris Silva was benched in that loss. He was ineffective on offense and a liability on defense. He didn't dominate Norfolk State, finishing with eight points, four rebounds, and three blocks, but he played hard, and that made Martin happy.
"Chris was engaged, and now we've got to get Chris going offensively," Martin said. "That will come for Chris when our guards learn to play with him better."
Freshman A.J. Lawson continued to shine. Lawson finished with 18 points, eight assists, and six rebounds. He did have five turnovers, but Martin called them "freshman turnovers" that he is willing to live with. Lawson has increasingly taken on point guard responsibilities and his playmaking was key in the second half.
"He's got imagination as to what's there," Martin said. "Here's the best part about A.J. Lawson: he wants you to coach him."
Norfolk State made a late run after the game was decided to make the score respectable. Nic Thomas led the Spartans with 15 points.
Notes:
Silva was recognized before the game for scoring 1,000 career points. ... The game was part of the Naismith Hall of Fame Tip-Off Tournament. The tournament continues with the two games this weekend in Connecticut. ... T.J. Moss scored three points with an assist and rebound in ten minutes of action. Moss missed the first two games with a foot injury. ... Keyshawn Bryant had a quiet game, with just four points and four turnovers in only 13 minutes. ... Announced attendance was 9,038. ... South Carolina's next game is Saturday against Providence.
Related Game Coverage