MBB: Michigan too much for South Carolina
SOUTH CAROLINA MEN'S BASKETBALL
The Gamecocks finished their cross-country trip 0-2, falling 89-78 at Michigan Saturday.
If there are moral victories, South Carolina got one Saturday. Just 4-4 on the year, coming off a loss to a two-win Wyoming team, and on the road for a week, it would have surprised no one if #5 Michigan, one of the hottest teams in the country, had run South Carolina out of the gym.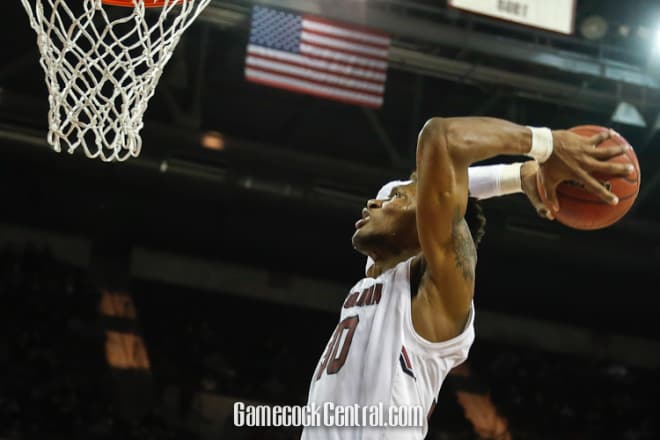 Instead, outside of a 13-2 first half run and a 16-9 second half run, South Carolina nearly played Michigan to a draw. Chris Silva looked like himself again. The freshmen, A.J. Lawson and Keyshawn Bryant, more than held their own, and each scored in double figures.
Both Michigan runs played out in nearly the same way. The South Carolina defense gave shooters a little bit of room, and Michigan's shooters, primarily Jordan Poole, took advantage. The game was tied at 27 late in the first half when Michigan went on the first run. Ignas Brazdeikis made a pair of free throws, and then Isaiah Livers drained a three. Lawson scored for South Carolina, but otherwise it was all Michigan. In one key sequence, Silva was fouled and missed both free throws. On the other end, Hassani Gravett made slight contact with Poole after a three-point attempt and was called for the foul. Poole made two of the free throws.
The Gamecocks hung in and trailed just six at halftime, but the 16-9 run early in the half gave the Wolverines a double digit lead the would maintain throughout the second half. Once again, it was Poole who led the way. He scored ten points during the stretch, part of his career-high 26. He finished 4-7 from three, with five rebounds and four assists.
Aside from Poole's shooting, the game was decided in two areas, neither of which will make Frank Martin happy. Michigan outrebounded South Carolina by 13 (although only by one in the second half), and shot twice as many free throws as South Carolina. The foul discrepancy was particularly frustrating, and Martin drew a technical in the second half for pointing out how uneven the officiating was. His complaints got the whistles even out some in the second half, but by then the damage was done.
Michigan went 23-20 from the line, while South Carolina was just 9-14. Michigan shot 10-24 from three. The encouraging thing for South Carolina was that it shot 5-11 from three and 52 percent overall, actually making four more baskets than Michigan, but the free throws made too much difference.
Silva finished with 18 points and 12 rebounds, by far his best game of the season. Not only did he put up numbers, but he was the Gamecocks' emotional and vocal leader, willing them to stay in the game and directing the defense. He got help from Maik Kotsar, who tied his career-high with 16 points. Bryant finished with 13 points and four rebounds, and put his athleticism on display. Within a few minutes of game time, Bryant posterized Charles Matthews and then sent a layup by Poole into the crowd. Lawson had another efficient game with 10 points and five assists.
Notes:
Evan Hinson saw his first playing time of the season against Michigan. He joined the team Monday, traveled with the team but did not play against Wyoming, and then made his debut against Michigan. Hinson finished with two points and a rebound in 12, but provided his usual hustle and toughness. … Alanzo Frink had four points in ten minutes against Michigan, after scoring four against Wyoming. He displayed the physicality that Martin had raved about, and didn't back down against taller players. … Gravett had nine points off the bench. … South Carolina is off the next week for exams. Its next game is another tough one, at home against #4 Virginia on December.
Related