MBB: South Carolina edges Auburn
SOUTH CAROLINA GAMECOCKS MEN'S BASKETBALL
Felipe Haase hit a go-ahead three with 31 seconds left, and Chris Silva added two free throws with 2.3 seconds left as South Carolina edged Auburn 80-77 Tuesday night at Colonial Life Arena.
Silva had the game of his life for the Gamecocks. He scored 32 points and grabbed 14 rebounds, both new career-highs. He also blocked four shots and fouled out two different Auburn players.

"Chris was phenomenal," Gamecock coach Frank Martin said.

Early foul trouble - it took just 4:27 for South Carolina to get into the bonus - put Auburn in a hole, but South Carolina couldn't pull away. South Carolina led by 11 midway through the first half, but Auburn chipped away and a pair of free throws by Bryce Brown with 1.1 seconds left gave Auburn a one-point halftime lead, 38-37.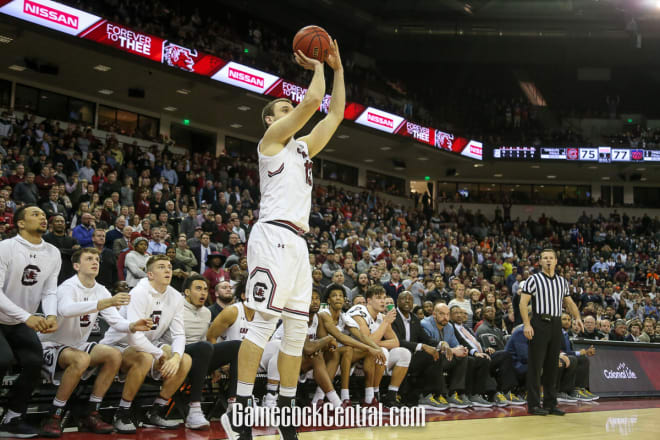 The second half was more of the same. South Carolina pulled out to a nine-point advantage once, and 10-point lead twice, but as soon as Silva checked out for a breather, Auburn made a comeback. A pair of South Carolina turnovers helper Auburn score six straight, and then Brown and Chuma Okeke hit back-to-back three to cap a 12-0 run that gave Auburn a two-point lead.
Hassani Gravett tipped in a missed three by Keyshawn Bryant to tie the game, and the teams traded baskets until the final minute. With 55 seconds to play, Brown made a pair of free throws to put the Tigers up two. On the ensuing possession, the Gamecocks struggled to get organized. The play was called for Gravett, and finally he got room to drive the right side of the lane, pulling in the defense. He was supposed to look for a shot or a pass to Silva for a layup, but Haase was spotted up in the corner, and when his man came to help, Gravett kicked to Haase. Haase bobbled the catch, and then calmly sank the game-winning three.

"Coach subbed me in for Maik (Kotsar) so I knew he wanted space because they don't guard Maik at the three-point line like that," Haase said. "We ran the play for Hassani, and he drove, my guy helped, and Hassani made the pass. I didn't catch it clean, but it still went in so it worked."

Okeke got a look at a three from the corner, but missed over Silva. Danjel Purifoy got the offense rebound, but his putback was off and Silva grabbed the miss. He was fouled and made both free throws to clinch the win.

Silva scored seven points over the final eight minutes and dominated the game. His previous season high was 21 points, and his career-high was 27. He surpassed that on a three-point play with 7:46 left. Silva had the first 30-point performance by a Gamecock since Sindarius Thornwell's legendary 44-point game against Alabama two years ago. Tuesday night's game will go down in lore next to that game. He missed just two shots the entire game, going 11-of-12 from the floor and 10-of-11 from the line.

"I was just trying to play with a free mind and post up as hard as I can," Silva said. "My teammates were getting me the ball and I was trying to make the right play at the right time."

"Silva was the difference in the game, he was dominant," Auburn coach Bruce Pearl said.

"He fouled out two of our post players. We had nobody who could guard him."
But it was hardly a one-man show for the Gamecocks. Gravett scored 13 off the bench, adding six assists. Haase, making just his fourth start of the season, added nine points and six rebounds, and Maik Kotsar, who lost his starting spot to Haase after spraining his ankle on Monday, had nine points, five rebounds, and two blocks.

"Last night he (Kotsar) had no chance to play," Martin said. "He came to shootaround today and says I'm going to give it a go. He wobbled around at shootaround. I really don't know how he played."

After being outrebounded by 20 at LSU, South Carolina outrebounded Auburn 40-34. Defensively, South Carolina held Auburn to 41 percent shooting for the game, and without a field goal for the game's final 4:01.

"It's a real good win," Martin said.

Notes:

The student section was packed more than 30 minutes before tipoff. It may have had something to do with the free Gamecock Jesus t-shirts that were given out. … With the win, South Carolina kept pace with Kentucky, also 5-1, for third place in the SEC behind undefeated Tennessee and LSU. … During a first half timeout, cheerleaders and Cocky threw Bojangles' biscuits into the crowd. … According to the SEC Network, Silva is the second player in any conference in the last 20 seasons to have 30 points, 10 rebounds, and four blocks on 90 percent shooting in a game. … Harper and Brown each had 17 points for Auburn. Okeke added 13 and seven rebounds. … Announced attendance was 13,857, the highest of the season. … South Carolina steps out of conference for its next game, at Oklahoma State and former Gamecock Mike Boynton on Saturday.