MBB: South Carolina holds off Georgia
SOUTH CAROLINA GAMECOCKS MEN'S BASKETBALL
The Gamecocks built a big first half lead and then held on with timely shooting to beat the Bulldogs 86-80
Coming off back-to-back losses and facing a struggling Georgia team, the game was a virtual must-win. South Carolina had two good days of practice leading into the game and it showed early. South Carolina scored the first seven points of the game and held Georgia scoreless for the first 3:21.
South Carolina steadily built a lead behind another outstanding game from Chris Silva, going up by as much as 15. But Silva can't play 40 minutes, and when he went to the bench for a rest, Georgia mounted a comeback. When Silva did check back in, he quickly picked up his second foul and went back to the bench. He ended up playing just 10 minutes in the first half, and South Carolina's lead was just 45-40 at the break.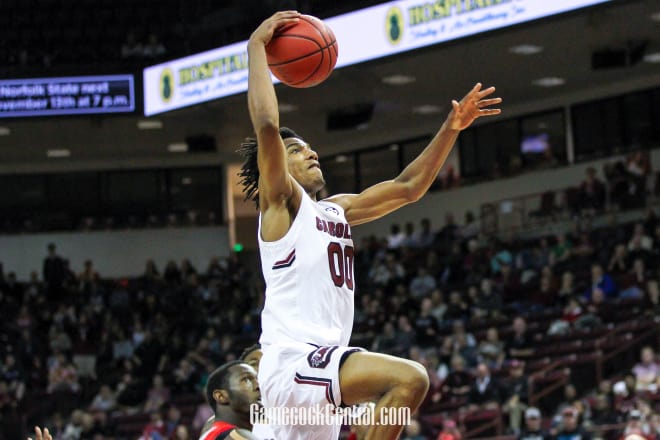 The Gamecocks were unable to put together consistent offense in the second half, but seemed to get a big shot every time the Bulldogs got close. Felipe Haase hit three consecutive threes over 1:42 to turn a four-point margin into a 13-point lead.
South Carolina couldn't hold on to that lead either, and once again clinging to a five-point lead in the final minutes, South Carolina turned the ball over on bad entry passes on three of four possessions. The only successful possession was a big one, with Hassani Gravett hitting a step-back three.
Gravett came up big again in the final minute. Up three, he dribbled out the shot clock and missed a shot in the lane, but Gravett and Silva and a host of other players all went for the rebound, and they somehow tapped it out to A.J Lawson. Lawson was immediately fouled and made both free throws. Georgia somehow got off three shots from three, but missed each one before Lawson got the rebound. He was fouled again and made a free throw for the final score.
Silva scored 19 points to go with six rebounds, but once again he did most of his damage in the first half. Silva only scored six in the second half and South Carolina did not get him the ball often enough. Lawson also added 19, breaking out of a brief slump. He also led South Carolina with seven rebounds. Greavett (13) and Keyshawn Bryant (11) also scored in double figures, and Bryant added six rebounds.
South Carolina shot 57 percent from the floor while holding Georgia to 41 percent, but free throws and offensive rebounds helped Georgia overcome the poor shooting. Georgia got 21 second chance points off 20 offensive rebounds, and shot 22-25 from the foul line while South Carolina was just 9-16.
Derek Ogbeide led Georgia with 16 points off the bench. Nicolas Claxton, Georgia's sophomore big man, had nine points and nine rebounds and struggled against the stronger and more experienced Gamecocks.
Notes:
South Carolina has now won five straight over Georgia. It is the longest winning streak in the series since six straight from 1953-56. … Georgia outrebounded South Carolina 39-30. … South Carolina was an impressive 11-16 from three, mainly because it took good, open shots, many of them from the corner. Tre Campbell went 3-5, and Gravett and Haase were each 3-4. … South Carolina shot 69 percent from three, 57 percent from the floor, and 56 percent from the free throw line. … South Carolina's next game is Tuesday at Kentucky.