MBB: South Carolina holds off Coastal Carolina
SOUTH CAROLINA MEN'S BASKETBALL
South Carolina held off Coastal Carolina 85-79 behind career-highs from A.J. Lawson and Hassani Gravett.
Coastal Carolina led by as many as eight in the first half, as South Carolina got off to a cold shooting start. But six consecutive three-point possessions (five threes plus an and-one) tied the game.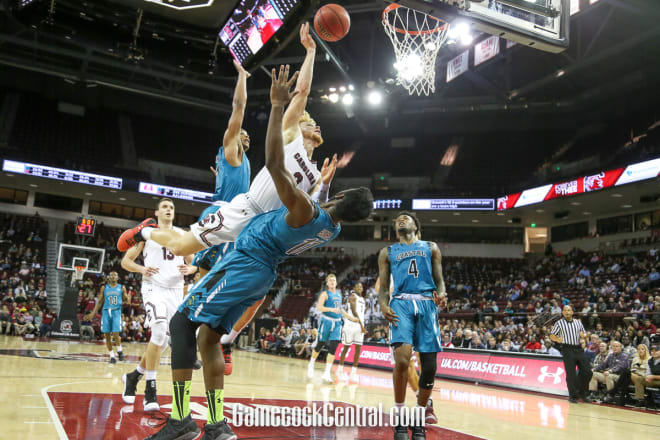 In a game that did not have a lot of defense, it was the few stretches when the Gamecocks could string together stops that made the difference. They held the Chanticleers scoreless over the final 3:37 of the first half and took a 50-41 lead into the break. That lead was short-lived, however, as the Gamecocks committed six turnovers in the first six minutes of the second half. The Chanticleers wiped out the deficit and took a 59-58 lead with 13:53 left.
The game was tied at 61 when the teams huddled for the under 12 media timeout. Out of the break, South Carolina ran a post up for Chris Silva. Silva scored easily, energizing the Gamecocks. After a miss, Lawson was fouled on the rebound. He made the front end of the one-and-one and then missed the second, but Silva grabbed the offensive rebound and dunked. Silva played strong defense, forcing a missed layup, leading to a pair of free throws from Lawson. After another miss, Lawson found Silva open for a free throw line jumper to cap a 9-0 run. That run was the difference, with South Carolina fending off Coastal Carolina down the stretch.
That stretch was a flash of the dominance Silva is capable of, but has been absent this season. Silva finished with just nine points and five rebounds, but had a career-high six blocks in just 19 minutes.
"I tried to go back to what I used to be and enjoy the game," Silva said. "I've been overthinking and putting too much pressure on myself. I kind of forgot how to enjoy the game, and coach reminded me of that."
South Carolina cracked down defensively once again, although this time it was largely getting its defense from its offense. Lawson and Gravett both drew fouls on Zac Cuthbertson, Coastal Carolina's leading scorer. Cuthbertson, who had 24 points and 12 rebounds, had to sit with nine minutes left, the best defense South Carolina played during the game in which they gave up 40 rebounds and 13 second chance points.
"We're a soft basketball team," Frank Martin said. "We don't rebound and we don't make competitive plays on balls in the balance."
South Carolina somehow held Coastal Carolina to 39 percent shooting and forced 18 turnovers, but it wasn't easy. The most common sight on defense was one of the veterans, Silva, Gravett or Maik Kotsar, screaming at the freshmen to get them in the right position.
"With there being so many young guys they get so wrapped up in trying to do what's asked of them, guarding their matchup, they don't talk as much," Gravett said. "Somebody's got to do it. Guys like me and Chris and Maik, guys that have been here and know the system, have got to be vocal."
South Carolina made 10-26 from three, but just 2-8 in the second half. Instead, it was the free throw line where South Carolina did its damage. It shot 33 free throws for the game, and 24 in the second half alone. Lawson attempted 15 free throws, a career-high. He made 11 to go 73 percent from the line, much improved from the 50 percent he shot coming in. The repeated trips to the line (plus 10 second half turnovers), meant South Carolina attempted just 18 field goals in the second half, a statistical oddity.
Lawson and Gravett were sensational. Lawson scored 25 points, going 11-15 from the free throw line, to go with six rebounds and two assists. Gravett, who started the Wofford game, returned to his sixth man role and was the calming influence South Carolina needed. He 23 points, 15 in the second half, and four assists. Coastal Carolina's Cliff Ellis said the plan was to focus the defense on the post and dare the guards to make shots.
"We know with this team that the game goes through Silva and Kotsar," Ellis said. "You've got to make other people beat you. Gravett did what he was supposed to. At the same point in time Lawson played well too."
Notes:
Earlier on Friday, Silva was named one of 30 candidates for the Senior CLASS Award. The award is given to seniors who have notable achievements in four areas of excellence: community, classroom, character and competition. … South Carolina shook up the starting lineup, inserting freshmen T.J. Moss and Keyshawn Bryant alongside Lawson, Kotsar, and Silva. That allowed Gravett to go back to the bench and reduced Tre Campbell's role. … Freshman Alanzo Frink saw the first playing time of his career. He checked in with 14:11 to play in the first half and finished with a rebound, assist, and steal in nine minutes, all in the first half. … Attendance was 9,315. … South Carolina's next game is December 5 at Wyoming.
RELATED COVERAGE