Muschamp confirms Orth as starting QB, wants Gamecocks 'angry, desperate'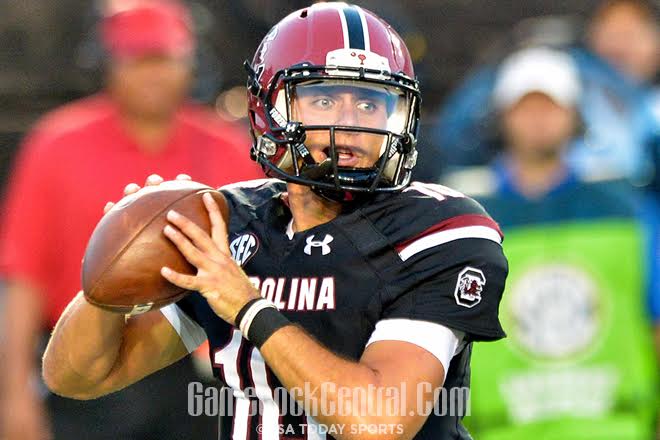 Earlier this week, Perry Orth told reporters he expected to start at quarterback for South Carolina when the Gamecocks squared off with Mississippi State Saturday night in Starkville (7 p.m., ESPN2) in a critical SEC confrontation.
Thursday night, Will Muschamp confirmed the fifth-year senior would make his 10th career start after spearheading the Gamecocks' second half come-from-behind 13-10 win in Nashville with a solid second half.
"Perry will start the game and then we'll see how the game is going," Muschamp said Thursday night on his weekly call-in show.
Nevertheless, Muschamp said freshman Brandon McIlwain will step on the field again after making his Gamecock debut in the second quarter of the season opener.
"We certainly have some things for Brandon that showcase his ability," Muschamp said. "Both those guys are going to help us win. Our offense moved up and down the field when Brandon was playing quarterback (at Vanderbilt). I have tremendous confidence in him. He brings an element to our football team and he is going to help us win games starting Saturday because of his ability. He's a guy we're real excited about."
The most important jobs for the quarterback are ball security, third down conversion and creating explosive plays and 'momentum plays,' Muschamp said.
Freshman Jake Bentley, while the No. 3 quarterback on the depth chart, is involved in the mix and competing for playing time every day.
"We have three guys at quarterback we know we can win with and feel very comfortable with," Muschamp said. "They all deserve to play. Certainly, they all deserve to start. They all had good camps and have shown the ability to lead and direct our football team in a winning way. We'll continue to see who plays well and who has the hot hand. As long as they continue to move our team and win games, we'll continue to play two guys.
"Jake is going to be outstanding. We're really excited about him. We're repping him with our No. 1 group preparing him to be a guy in the conversation. Perry and Brandon are our quarterbacks right now, but Jake has a very bright future."
Defensively, the Gamecocks don't expect to record many sacks since the quick bubble screen is a base play in Mississippi State's offensive package.
"They do a really good job with the RPOs (Run Pass Options)," Muschamp said. "The ball is out of the quarterback's hands very quickly. So, for all the fans that complain about the pass rush, I can say it's going to be hard to get there because the ball is out pretty quick.
"The tempo they create is an issue. We'll continue to comingle four and three down fronts like we have done. We'll continue to evolve and find out what our players feel most comfortable in for them to play fast and react instead of think. We need to be in the right spots."
The Gamecocks are preparing to deal with a raucous atmosphere Saturday night in Starkville. Muschamp wants his team to respond in kind.
"We need to be an angry, desperate football team Saturday night," Muschamp said. "That's what we have preached to our players throughout the week. Mississippi State plays with a certain physicality about themselves. They obviously practice the right way, as do we. We're looking forward to the physical matchup on Saturday night."
Muschamp has piped in loud music during practice since the first week in August as both sides of the ball have to deal with loud noise – the offense on the road and the defense at home.
Muschamp doesn't anticipate noteworthy changes to the travel roster, meaning wide receiver (and former QB) Lorenzo Nunez will likely stay home again.
"We feel comfortable about where we are," Muschamp said. "Lorenzo is progressing very well. We are pleased about where he is and more than anything where he is going to be in the position as we move forward."
NOTES
-- Muschamp reiterated OL Donell Stanley suffered a high ankle sprain on the first offensive play at Vanderbilt and should be sidelined until after the bye week (10/15).
-- Muschamp said freshman RB Rico Dowdle is "picking up his work" and making progress from his injury, while Larenz Bryant remains bothered by a hamstring. Tight end Kyle Markway practiced this week and will make the trip to Starkville. However, his amount of playing time is questionable.
-- Muschamp said four Gamecock offensive linemen are able to play all three inside positions: Alan Knott, D.J. Park, Zac Bailey and Corey Helms. Additionally, impressive walk-on Chandler Farrell can play inside as well. "We'll go with the best combination and that could be D.J. inside or outside (at tackle) and Blake Camper at tackle," Muschamp said. "We have a lot of variations."
-- Muschamp praised OL Shawn Elliott for cross-training the offensive linemen to get the top five offensive linemen on the field.
-- Saturday's clash marks the first meeting between Muschamp and Dan Mullen as head coaches. Muschamp, of course, schemed against Mullen's offense as Auburn's defensive coordinator in 2015.
-- Muschamp attributed some of USC's early problems at Vanderbilt to nerves. However, as the game went along, the young players settled down and played better.
-- Muschamp on the performance of Fr. RB A.J. Turner at Vanderbilt: "He had some mistakes early in the game, but his ability level took over as the second half wore on and he played outstanding football." As with most freshmen, the game began to slow down in the second half for Turner and fellow freshman WR Bryan Edwards, Muschamp said. "He needs to be able to play most downs," Muschamp said. "He can take it the distance at any time. I was pleased with his contact speed (at Vandy). He ran through contact very well. That is something he did in camp."
-- Muschamp said he wants USC's kickoff coverage team to sprint downfield and at least be at the 30-yard line when the opponent's returner catches the football. However, that didn't happen on the two returns by Vanderbilt. Muschamp attributed that to lack of effort and ordered changes to the kickoff coverage unit.