Muschamp: Remnants of Air Raid still seen in ECU's new offensive scheme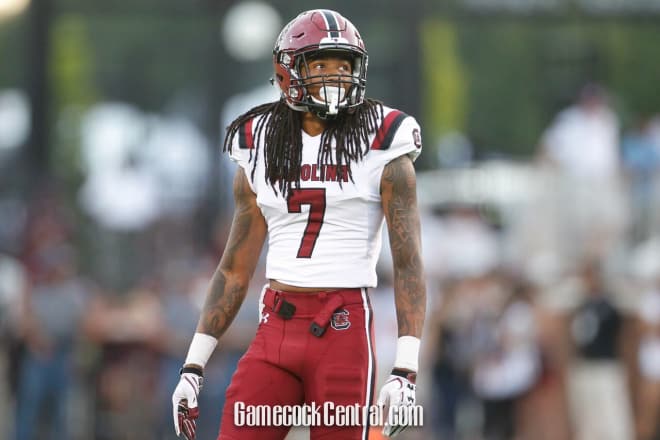 A disciple of Mike Leach and the Air Raid offense, former East Carolina coach Ruffin McNeil left the cupboard full in terms of offensive skill position players for the new leader of the Pirates program – former Duke offensive coordinator and quarterbacks coach Scottie Montgomery.
After two games, East Carolina quarterback Philip Nelson, a transfer from Rutgers, has completed an impressive 81.33 percent (61-75) of his passes for 695 yards and six touchdowns with just one interception.
Last Saturday, Nelson enjoyed a near perfect day as he completed 33—of-43 passes for 297 yards and one touchdown in ECU's 33-30 victory over North Carolina State in Greenville, NC, improving the Pirates to 6-1 in their last seven games against ACC opponents.
Senior Zay Jones, who has caught at least one pass in 37 consecutive games and currently leads all active FBS in career catches (258), spearheads a trio of East Carolina receivers with 15 or more receptions in the first two games.
Jones had 17 receptions for 253 yards in the first two games, while slot receiver Quay Johnson (16) and running back Anthony Scott (15) follow closely behind, giving the Pirates a three-headed monster catching the football.
Remnants of the Air Raid can still be seen in East Carolina's offensive scheme, USC head coach Will Muschamp said.
"There is a lot of carryover and a lot of very similar concepts," Muschamp said. "I don't know if Coach (ECU offensive coordinator Tony) Peterson and Coach McNeill's paths have ever crossed, but there is some obvious likeness schematically. Coach McNeill did a very good job recruiting skill kids, I can tell you that."
Jones' father, Robert, played for the NFL's Dallas Cowboys and was a friend of Muschamp's when he was coaching at Texas from 2008-10.
"He (Zay) has really good ball skills and vertical speed down the field," Muschamp said. "They are very athletic at the skill positions. What they are doing offensively really fits well. We have our work cut out for us. We need to prepare well. We had a good Sunday practice, off Monday and a good practice (Tuesday) morning."
Will Muschamp acknowledged Tuesday ECU's impressive array of talent at the offensive skill positions will present challenges for the Gamecock secondary.
"They are a very talented team," Muschamp said during his weekly press conference at Williams-Brice Stadium. "Philip Nelson is very accurate. He will play on Sunday. He is strong in the pocket and has legs. He feels very comfortable in what they do offensively. Tony Peterson, their offensive coordinator, has done an outstanding job."
In an effort to counter ECU's prolific offense, Muschamp has moved Chris Moody back to safety from SAM linebacker with Chaz Elder sidelined with an injury, while JUCO transfer Steven Montac has moved to safety as well. Jasper Sasser and D.J. Smith are battling for playing time at safety, as well. Jordan Diggs and Antoine Wilder are the nickels.
JUCO transfer Jamarcus King is set to make his first start at cornerback.
"He brings some length and coverage skills down the field," Muschamp said. "Hopefully, we'll be a little more physical than we have at the position."
James Summers, who started some at quarterback in 2015 after projected starter Kurt Benkert suffered a season-ending ACL injury in preseason camp, is now at running back. He is ECU's second leading rusher with 136 yards on 16 carries, trailing only Scott (22 carries for 161 yards) in rushing yardage and carries.
"They have a lot of really good skill players," Muschamp said. "James Summers does a lot of stuff for them. He is a big athletic guy that's hard to tackle being 6-foot-3, 220 pounds."
NOTES:
-- Saturday's game at Williams-Brice is the middle contest of back-to-back-to-back tilts against Power 5 schools for East Carolina. Last week, the Pirates beat NC State. Next weekend, they travel to Virginia Tech.
-- Eleven East Carolina players are natives of the Palmetto State, including WR Malik Gray, a high school teammate of USC's Deebo Samuel at Chapman High School in Inman.