Muschamp teleconference recap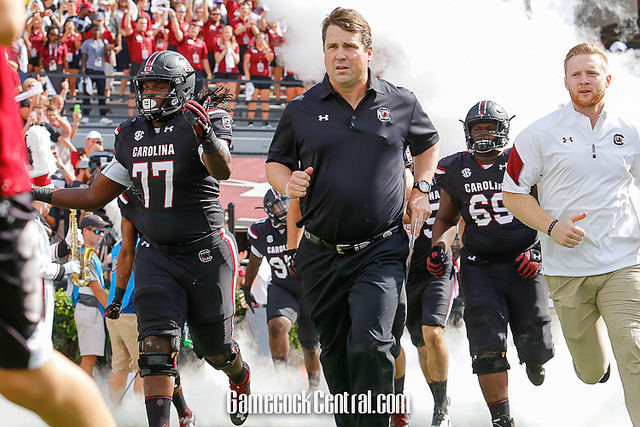 Will Muschamp held his weekly teleconference tonight following USC's 20-15 win over East Carolina.
After watching tape, USC got out to a fast start. The kickoff return was well-blocked - TJ Brunson and Kiel Pollard were two freshmen that had nice blocks.
- USC gave up three negative plays in the run game on offense. They need to change cadence up because the defenses are timing things well. With a freshman QB, the staff is trying to simplify things but they want to change it up to give the defense some issues.
- USC had nine explosive plays in the game. They were 3-12 on third down though, and that really hurt. Muschamp feels they're correctable issues and that's exciting.
- 19 guys on defense played 30-plus snaps.
- Chris Lammons was the player of the game defensively. Several players were involved with turnovers. Brandon McIlwain was the player of the game and Zack Bailey the OL of the week.
- David Williams had four explosive plays.
- Ulric Jones, Hayden Hurst, AJ Turner, Elliott Fry were special teams players of the week.- The team came in with a little pep in the step, Muschamp said, after the game. They were challenged to bring emotion and intangibles and many guys responded.
ALSO SEE: Top 20 prospect K.J. Henry goes in-depth on South Carolina visit | Four-star QB Dakereon Joyner sees fit in Gamecocks offense | More scoop from Gamecocks' recruiting weekend
- We have to eliminate those guys that have the issues with consistent, day to day performance and bringing it, Muschamp said.
- Muschamp said that he has great respect for the Stoops family and that Mark and the other brothers do a great job and have played defense and adjusted to what teams do over time.
- Muschamp said McIlwain's media availability is "day to day". He has a lot on his plate and needs to worry about being the QB, Muschamp said. As they continue to work through, if there are opportunities that can help Brandon then they'll look at it.
- Deebo Samuel injury update. It was a tweak. He should be able to go on Saturday. The strength levels are up according to testing that USC does. If they're up enough by game time, he will be cleared.
- There were no significant injuries during the ECU game, Muschamp said.
- There was a miscommunication on a third and one play that should have been a first down and was a critical play, Muschamp said. Things that USC needs to "clean up", but he's pleased with where McIlwain is.
- McIlwain has a lot of confidence in himself, but not in an arrogant way, in a positive manner. He believes in his ability and that's a calming factor for everyone, Muschamp said.
- Muschamp is hoping to get Dowdle back to practice in about a week and they plan on playing him if he gets back to practice.
- Jake Bentley is still repping. There's a developmental period in practice for guys, some that have played a bit and some that have not. Bentley got every rep in that period and they had a scrimmage during tonight's practice.
- Steven Montac did some nice things at safety and DJ Smith played better, Muschamp said. Javon Charleston needs to keep coming along. The guys that practice best will start. Muschamp also mentioned Chris Moody as having done some things and Jasper Sasser in situations.
- USC was soft in the run game on the third ECU series, Muschamp said. The wildcat with James Summers hurt them. They played blocks well up front but didn't fit the run well. In the passing game, it was a "dink and dunk thing." USC has three scholarship corners and the staff knew they would play upwards of 80 snaps a game and that they couldn't give up any big plays. It's about what you do on offense, too. They need to clean up their eye discipline with the linebackers on some of the plays and hold disguise better.
- There were two critical fourth downs in which USC tried to "thud" tackle instead of wrapping and running their feet. They had calls they wanted but didn't execute.
- Muschamp was pleased with having four sacks against a team that gets the ball out quickly.
- Right now it's McIlwain's job, whether or not Orth gets in depends on how the game is going.
- Abu Lamin is back, but depends on how he practices as to whether he will get into the rotation.
- USC has been spending time evaluating its own film and then practicing, and prep for Kentucky and studying their film from the last game begins tonight.
ALSO SEE: Top 20 prospect K.J. Henry goes in-depth on South Carolina visit | Four-star QB Dakereon Joyner sees fit in Gamecocks offense | More scoop from Gamecocks' recruiting weekend