New assistants eager to get started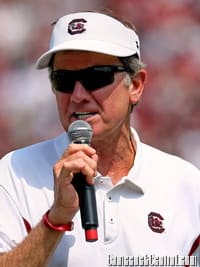 New strength and conditioning coach Joe Connolly realizes he has large shoes to fill.
Trying to replace the popular Craig Fitzgerald, who left a couple of weeks ago to become head strength coach at Penn State, won't be easy.
But Connolly's mission should be made easier by the fact he was one of Fitzgerald's top lieutenants during his first three years with the South Carolina program.
"He helped put the program together with Coach Fitzgerald, so he was ready to step in when Craig left to go to Penn State," head coach Steve Spurrier said Wednesday during a press conference introducing the four newly hired assistant coaches.
As a result, neither Connolly nor Spurrier expect much will change in terms of whipping the football players into shape.
"The foundation of the (strength and conditioning) program will remain the same," Connolly said Wednesday. "No question our philosophies are very similar in terms of intensity, consistency, hard work, discipline and all those things that we preach to our guys. Those things will absolutely remain the same."
Thus, Connolly expects a smooth transition as the Gamecocks prepare diligently with winter workouts for the start of spring practice on March 12.
"This is my fourth season here. Things have progressed in my involvement with the team," Connolly said. "Now that Coach Spurrier has graciously named me the head strength coach, things won't change. It's still about the athletes and the kids and how they are. They have great personalities. They want to work hard. They want to win. It's easy for me because of the guys we have now. They do a tremendous job.
"It's like getting handed the keys to a Ferrari. I have to keep this baby on the road and that's what I'm going to do."
Despite the loss of Fitzgerald, Spurrier expects USC's stellar strength and conditioning program will keep humming along with the 29-year old Connolly in charge. Connolly was reunited with Fitzgerald in 2009 when he left Louisville.
"I don't think we're going to skip a beat with our strength and conditioning," Spurrier said.
Another new assistant being handed the keys to a luxury automobile is running backs coach Everette Sands, a Palmetto State native and former running back at The Citadel who coached for one year at N.C. State before being selected as Jay Graham's successor a little more than two weeks ago.
The depth at running back is as good as any position on the team with Marcus Lattimore, Shon Carson, Brandon Wilds and possibly Kenny Miles returning. Wednesday, USC added Mike Davis, the No. 1 running back prospect in Georgia, and Kendric Salley.
While Lattimore is entrenched as the starter, the competition for the No. 2 job could be fierce in the fall.
"I have a full stable," Sands said. "I'm looking forward to getting Marcus back. He's a great back in his own right. I'm looking for Shon Carson to do a lot because he is more of a quicker, faster guy. Brandon Wilds had a good year last year after Marcus got hurt. Kenny Miles still has a decision to make (whether to return), but I'm looking forward to getting him back. I'm looking forward to the opportunity to coach these guys."
Sands emphasized he is ready to return to the Palmetto State. He logged two stints at The Citadel (1999-2000; 2005-2010) before attaining his first job at a BCS school with the Wolfpack in 2011.
"It was exciting when Coach Spurrier called and asked me to come back here," Sands said. "Being here at South Carolina in the SEC, I'm at a great place for football."
Sands has extensive recruiting experience in South Carolina, North Carolina and Georgia, and hopes to utilize the relationships he has built over the years to help boost USC's recruiting efforts in those areas.
His new recruiting territory with USC includes the southwestern region of the Palmetto State and the southeastern vicinity of Georgia, he said.
Unlike Sands, who will have an established group to work with in the spring, new special teams coordinator Joe Robinson must decide on replacements for a pair of senior kickers since both placekicker Jay Wooten and punter Joey Scribner-Howard have exhausted their eligibility.
"It'll be pretty exciting in spring practice, won't it," Robinson smiled. "I've had a chance to watch them on film and meet some of them. We'll find out what we've got as we go through spring practice. We also have a young man coming in that was part of this recruiting class too (Nick St. Germain). We'll put him in there with them when he gets here in the fall and we'll see who emerges as the best."
Robinson has been known as an aggressive special teams coach (see all the fakes LSU ran under his direction), and he doesn't intend to lift his foot off the pedal any time soon.
"We want to be aggressive and put pressure on the opponent," Robinson said. "It's important in every game. Special teams have great value in terms of field position. We can make a difference in every game that way. In this conference, there's such a premium on possessions. People do a great job running the football and controlling the clock.
"We have to be very careful not to allow any possessions and allow field position for the opponents. We also have to try our best to occasionally try to steal a possession and dominate field position. With the emphasis Coach Spurrier puts in special teams, our players should be excited about being a part of it."
Robinson will also encounter that age-old question - should special teams consist mainly of established starters or younger players eager for an opportunity to impress the coaches?
"The staff here has recruited so well for so many years that I think we're going to find there are a lot of young players hungry to be on the field," Robinson said. "If young players can fill those spots, we'll be excited. But we'll do what we have to in order to be successful. If the starters have to be out there in certain situations, they'll be excited to do it, too."
After coaching at his alma mater, Arkansas, for two years (2008-2009), Kirk Botkin spent two years in the high school ranks at Texas High School in Texarkana, Texas, largely because of family reasons (his father-in-law was seriously ill). He was expecting to coach there a third year until he received a phone call from an old friend.
"I've known Lorenzo (Ward) for a while now and he's a special guy," Botkin said. "Everybody can tell you that he is. When he called me about the chance to come work here, I was excited because I know he is a good person and a good football coach along with Coach Spurrier. We've kept in touch and been good friends for a while."
After two years away, Botkin is happy to be back coaching in the SEC.
"I want to compete against the best and play at the highest level," said Botkin, an All-SEC tight end with the Razorbacks in 1993 before spending four years as a player in the NFL with three different teams from 1994-97. "I want to win championships and that's what we're about here. That's one reason I came here."
Head Coach: Steve Spurrier
Quarterbacks: G.A. Mangus
Running Backs: Everette Sands
Wide Receivers: Steve Spurrier, Jr.
Offensive Line: Shawn Elliott
Special Teams/Tight Ends - Joe Robinson
Defensive Coordinator: Lorenzo Ward
Defensive Line: Brad Lawing
Linebackers: Kirk Botkin
Secondary/Spurs: TBA
Strength and Conditioning: Joe Connolly


D. McCallum