Nightmare inning dooms Gamecocks in series opener
SOUTH CAROLINA GAMECOCKS BASEBALL
As Texas A&M celebrated and handed out hugs while packing up in the visitor dugout after a win, Mark Kingston was addressing his team, trying to find words to address another tough series-opening loss.
His message postgame to his team, which stood silently listening to him, was simple.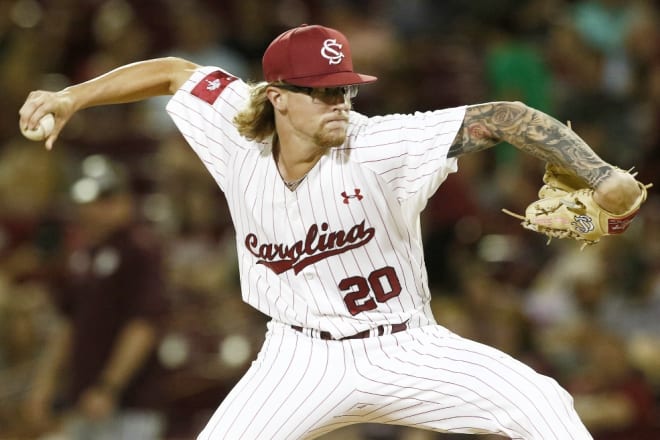 "No matter how many times it doesn't go our way, we need to be ready to fight. That's the bottom line," Kingston said. "At this point, we've taken a lot of body blows but we're not going to go down. We're going to keep fighting. We're going to come out tomorrow and try to win a baseball game."
Also see: Projecting this season's special team depth chart
The Gamecocks (22-16, 4-12) dropped another series opener Thursday night, seeing a one-run lead late slip away as the Aggies pieced together a huge seventh inning to cruise to an 8-2 win off of South Carolina's frontline starter Reid Morgan.
They lost this one despite leading entering the seventh inning, just the fourth time all year they've lost after leading through six innings, and are now winless in six SEC series openers.
In those six games, the Gamecocks are being outscored 51-15.
"It's difficult. I mean it's just like a fight," Morgan said. "If you're getting hit and hit and hit it's hard to get up. But we have to keep pushing. We're going to stay confident, stay with our plan and try to get a win tomorrow."
Click for Thursday's box score
Through those six innings, it looked like a vintage start for arguably the team's best pitcher this season. He'd given up just one run, unearned, and struck out five.

Things quickly spiraled after that with his team clinging to a one-run lead, Morgan gave up a leadoff single to start the seventh and, after a sacrifice bunt, back-to-back hits that plated two runs and before he knew it he and the Gamecocks were down 3-2 and the righty was exiting the game to a standing ovation.
Morgan (3-3, 3.55 ERA) finished his outing allowing four runs (three runs) on eight hits and striking out seven to just one walk. It's the junior's sixth quality start in 10 career outings.
In total, the Aggies got seven runs on five hits, two walks and a wild pitch before Gilreath stopped the bleeding in the seventh.
"They had a bunch of lefties up there and he kept throwing balls in the middle of the plate," Kingston said of Morgan. "His location was really good the most of the night and in that seventh inning all of a sudden everything was finding the middle of the plate. Sometimes that happens. He was at 82 pitches, which isn't a high amount, but for whatever reason he just lost his command that inning."
Also see: Four star end 'loves' South Carolina
It looked, at least early on, the Gamecocks could get to Aggie starter John Doxakis early, plating two runs in the third inning off back-to-back, two-out singles from George Callil and TJ Hopkins.
After that, they'd load the bases in the inning off the potential first round pick but Andrew Eyster grounded out to third ending the threat on a full count after Doxakis threw him three straight balls to start his at-bat.
The Gamecocks had just two hits over the final six innings, both coming from Luke Berryhill on a single in the sixth and a double in the ninth.
"We had a good thing going there. Eyster came up with the bases loaded there and got a 3-0 count and you felt really good about the momentum of the game at that point," Kingston said. "It ended with a groundout and it took a little bit of the steam out of us. We still had six innings to play at that point but I think them getting out of that and minimizing the damage was something that ended up being very positive for them."
Doxakis finished scattering four hits over 6.1 innings and struck out eight. As a team the Gamecocks mustered five total hits and struck out 12 times, walking twice.
"At the end of the day, Friday night in the SEC is all about having future first-round draft picks and guys that are the best in the business," Kingston said. "Reid battled him close to seven innings pitch for pitch but in the end he got the best of us."
Also see: Full updates and analysis from Founders Park Thursday
Player of the game: Luke Berryhill finished 2-for-3 with a double.
Key moment: Luke Berryhill singled to open the Gamecocks' sixth and was immediately caught stealing for the first out. Of the team's five hits, he had two of them.
Up next: Game two in the series is scheduled for Friday night at 7 p.m. with Cam Tringali (2-0, 2.81 ERA) scheduled to start. Weather could impact that game, however, which will be on the SEC Network Plus.